You probably wouldn't leave either of these bicycles tethered with a cheap lock and cable outside the neighborhood Starbucks.
Bicycles associated with 7-time Tour de France winner Lance Armstrong and 4-time Vuelta a Espana winner Roberto Heras are being auctioned this month to raise money for charity.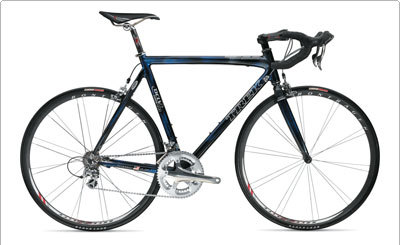 The Armstrong bike, a Madone 5.9 SL, was donated by Trek to Richardson's Bike Mart in the Dallas area. Armstrong started his bike racing career with the Richardson's team back in 1987.
Richardson's commissioned Alan Friedman to make a "Diamond 7" plaque attached to the front of the bike. According to a press release, the plaque is made from 14K white and yellow gold and contains seven one-carat yellow cultured Gemesis diamonds and 300 white diamonds in a spoke pattern.
The goal is to raise $100,000 at the Lance Armstrong Foundation Gala in New York on Oct. 19.
Meanwhile, over at eBay, Spanish cyclist Heras is auctioning off the bicycle he rode on the final day of his fourth Vuelta a Espana victory in 2005.
From the Vuelta a Espana website:
"Roberto Heras is to use a special bike during today's last stage of the Vuelta. The frame, which is similar to that of the BH-Global Compact that he uses normally, has been painted in gold tones and covered with inscriptions alluding to his 4th overall victory in the Spanish race."
Heras, 31, hopes to raise $64,000 (50,000 euros) in this auction to go to Hurricane Katrina relief efforts. On Friday morning, the bidding on the gold-themed bike stood at 24,600 euros, or about $30,000.
Bidding closes Monday, Oct. 17.