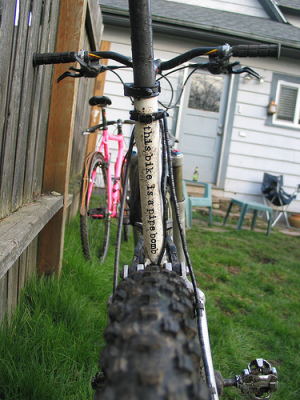 (Updated: OU drops "inducing panic"charges against student whose bike had the sticker, AP 3/6/06)The Ohio University campus police are still doing a "heckuva job." I just thought Barney Fife would have retired since I attended the college in southeastern Ohio 30 years ago.
A campus policeman noticed the sticker for a punk rock band "This Bike is a Pipe Bomb" on a bicycle chained up outside a restaurant Thursday morning.
Before the morning was over, streets around the restaurant were closed and four buildings were shut down. The Columbus bomb squad arrived to blast the bicycle with water and pry it apart with the "jaws of life."
Guess what? No bomb. What's worse, grad student Patrick Hanlin is not only out one bicycle, but he's been hit with a misdemeanor charge of inducing panic, the Columbus Dispatch reports.
At a news conference, Dean of Students Terry Hogan said the sticker was benign, the concern was that it was on a bike. A reporter then asked if nothing would have happened if the sticker were on a telephone pole.
"I think that's probably right," Hogan said, definitively. "I think the response was an appropriate one."
OU President Roderick McDavis agreed. "We don't take this as a joke."
No? A lot of others do.
This isn't the first time the sticker has caused a problem for a cyclist. The Dispatch reports the band's name prompted police in Austin, Texas, to detain a woman who had the same sticker on her bike at a peace rally in 2001. She was released after officers verified that the band exists.
Found at fixedgear…