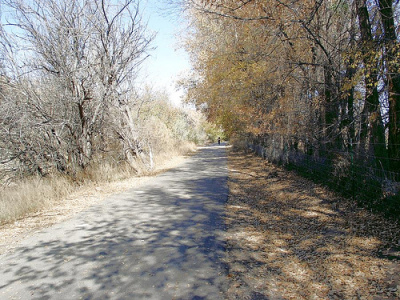 A few days ago I mentioned that the Seattle Burke-Gilman Trail had been named among the West's Top 10 City Bike Rides by Sunset Magazine. What are the other 9, you ask?
Leading the list is the Paseo Del Bosque Trail, left, in Albuquerque, New Mexico. The 16-mile bike path, which runs along the Rio Grande, has no street crossings along its entire length. It also has no water or restrooms.
The flat trail passes beneath the busy highways and is a good place to see coyote, road runners and migrating waterfowl.
Thanks to the Why Howard Laughed blog, where Howard compiled a list of the trails mentioned with links to websites. He must have a subscription, as the article in the October issue (on newstands now, as they say) isn't posted on the Sunset website. The remainder are:
2. Boulder Creek Path, Boulder, Colorado;
3. Cherry Creek Trail, Denver;
4. South Bay Bicycle Trail, Los Angeles;
5. Willamette River Loop including East Bank Esplanade, Portland, Oregon;
6. Jordan River Parkway Trail, Salt Lake City;
7. Golden Gate Bridge, San Francisco;
8. Los Gatos Creek Trail, San Jose;
9. Burke-Gilman Trail, Seattle
10. Rio Salado Paths, Tempe, Arizona
Just an additional plug for the Burke-Gilman Trail, which is about 30 years old. Glancing at the article in the supermarket, I read that Burke-Gilman joins the Sammamish River Trail. It creates a continuous paved bike path all the way from the Puget Sound to Redmond, a distance of 27-some miles.
That's true, but last spring the route got longer. The East Lake Sammamish Trail was opened along an old rail line from Redmond to Issaquah. This trail, packed gravel, adds another 11 miles of riding for the energetic cyclist.
See also: Threats to one of the West's best urban bike trails…
The picture of the Bosque Trail above from buggs at flickr.com.