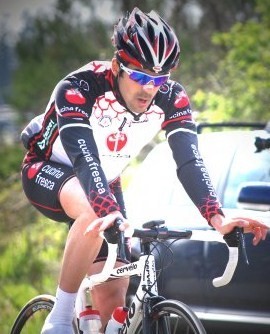 [Update: Tuesday, July 28 – A service to celebrate the life of Jose Hernando will be held beginning at 6:30 p.m., Friday, July 31, at the Graham Visitor's Center at the Arboretum in Seattle. Please show up at 6 p.m. Check on CaringBridge for directions and other details.
Also, Gang of Peanuts blog writes about Hernando.]
Bicyclist Jose Hernando died Friday from injuries he suffered in a collision with a van last week on Lake Washington Boulevard near Seward Park.
Hernando, 44, was a member of Team Cucina Fresca and raced in the master men's division. A ceremony at 5 p.m. on Saturday at Seward Park will honor his passing. He leaves behind his wife, Chanel, and two children.
According to reports, the collision happened about 6:30 p.m. July 19. Hernando was on a training ride heading south on Lake Washington Boulevard when he collided with a northbound Chevy van that was turning left onto South Orcas Street.
A web page set up at Caring Bridge explains that Hernando was rushed to Harborview Medical Center where he underwent treatment in the intensive care unit.
The Saturday ceremony is a Sacred Pipe Ceremony and will be held in the field below the eagle's nest at Seward Park. Directions will be posted at the park entrance. From Caring Bridge:
"This is not a memorial service. Instead, this ceremony will provide us with an opportunity to pray for the good and peaceful passage of Jose's spirit. As a pipe carrier, the pipe ceremony is Jose's way, and we welcome everyone to come and share their prayers."
My deepest condolences to his family and friends.
Photo above from the Team Cucina Fresca website.