Spokane (WA) and Albany (OR) on the list from Pacific NW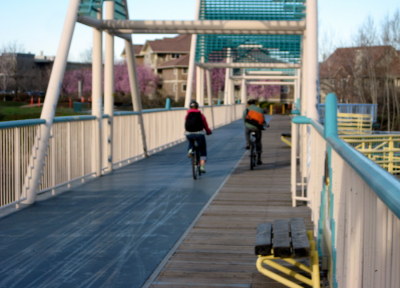 The hard work by bicycle advocates in some cities continues to show pay-offs as the League of American Bicyclists named 16 new members to its list of Bicycle-Friendly Communities.
All 16 cities entered the list at the bronze level, showing some level of achievement in engineering, education, encouragement, enforcement and evaluation as it relates to bicycling.
The so-called spring cycle of bicycle-friendly community awards also included five renewals and 19 honorable mentions.
Spokane
One of the new bicycle-friendly communities is Spokane, Washington, which I just happened to visit earlier in April. Above is a photo of the Centennial Trail's bicycle-pedestrian bridge over the Spokane River at the Gonzaga University Campus.
The trail passes through the city of Spokane mostly along a scenic riverfront trail. In all the trail runs for 37 miles from the Idaho border to Nine-Mile Falls west of Spokane.
That's not all that Spokane has to offer bicyclists, however. The city hired its first bicycle/pedestrian coordinator and the City Council approved a bicycle master plan in June 2009. Also Bike to Work Spokane reports that nearly 1,500 bicyclists signed up Bike to Work Week last year.
Nationwide
In all, there are about 140 cities nationwide that have been awarded designations as Bicycle-Friendly Communities since the program started in 1995. Cities and towns that apply but aren't designated as bronze, silver, gold or platinum level cities get suggestions from the LAB staff on how to improve cycling conditions. In time, many of those cities find their way onto the list.
This link takes you to an interactive map of all the bicycle-friendly cities with descriptions of each city's commitment to bicycling. Just click on the state to find links to bicycle-friendly cities.
Here are all the communities honored in the latest round from the League. Congratulations to everyone who worked hard to win these designations.
Silver Renewals
Austin, Texas — 2007
Flagstaff, Arizona –2006
Gainesville, Florida — 2004
Salt Lake City, Utah — 2007
Bronze renewal
Chico, California — 2004
New bronze awards
Albany, Oregon — 2010
Davidson, North Carolina — 2010
Dayton, Ohio — 2010
Franklin, Pennsylvania –2010
Lansing, Michigan — 2010
Marquette, Michigan — 2010
Newark, Delaware — 2010
Pittsburgh, Pennsylvania — 2010
Portage, Michigan — 2010
Ridgeland, Mississippi — 2010
Roanoke, Virginia — 2010
Rochester, Minnesota — 2010
Simsbury, Connecticut — 2010
Spokane, Washington — 2010
Springfield, Missouri — 2010
Urbana, Illinois — 2010
Honorable Mentions
Cleveland Heights, Ohio
Columbus, Ohio
Driggs, Idaho
Edina, Minnesota
Edmond, Oklahoma
Elgin, Illinois
Falmouth, Massachusetts
Goshen, Indiana
Harrisonburg, Virginia
Helena, Montana
Loveland, Colorado
Midland, Michigan
Montclair, New Jersey
North Lake Tahoe/Truckee resort area, California
Saline, Michigan
Troy, Ohio
Tuscaloosa, Alabama
Tybee Island, Georgia
Victor, Idaho