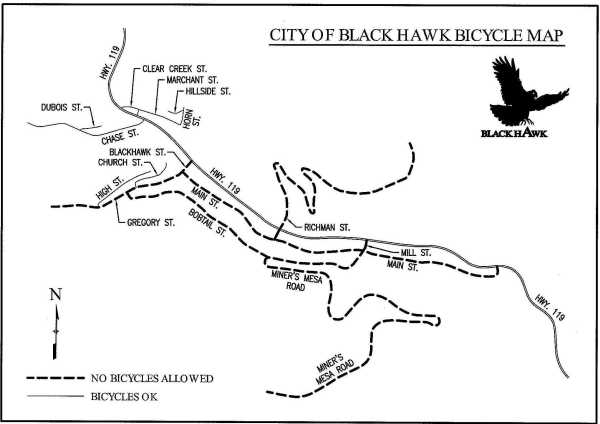 ---
See update: June 13, 2010 — "Bad days in Black Hawk, Colorado"

Bicycle advocates are reacting with outrage….
---
Riding a bicycle is banned on many streets in Black Hawk, Colorado, and police are enforcing the law by ticketing violators. Eight were nabbed this past weekend.
The old mining town west of Denver created the bike-free zones in January.
While many cities in Colorado and the US are working to make streets safer and more accessible to residents who choose bicycles over motor vehicles, Black Hawk simply made bicycling illegal on most streets.
Make a choice?
Black Hawk City Manager Bill Copp told TheDenverChannel.com.
"If you go down Main Street there is not much room for a bicyclist, a bus or a car, a truck. We are trying to promote safety. … It's a choice. We made our choice and now the bicyclist needs to make his or her choice."
There's really not much of a choice for the bicyclist. Copp said bicyclists can either dismount and walk through town or ride their bicycles around it.
Or they can get a ticket. A bicyclist told TheDenverChannel.com that a policeman issued her a ticket for $68.
In spite of signs posted around town, police still issued 8 tickets this past weekend alone. The signs are posted on Gregory Street, Main Street, Richman Street, Mill Street, Miner's Mesa Road, Bobtail Street, and Selak Street.
Small town; big precedent
Black Hawk is a small town. City-Data.com reports it's 1.46 square miles in size; its population in 2008 was 105, down 11% from the 2000 census. The old mining town makes most of its money off the tourism trade; it legalized gambling in 1990 and now is home to 16 casinos, according to a list at the city's website.
In spite of its small size, I wonder if this will set a precedent that other cities in the state will want to follow.
Bicycle friendly state
Generally speaking, Colorado is no bicycling backwater where bicyclists are victim to reactionary policies. It's ranked 15th on the League of American Bicyclists list of bicycle-friendly states.
The Colorado statute governing use of bicycles on roadways states "every person riding a bicycle shall have all of the rights and duties applicable to the driver of any other vehicle…"
The Colorado legislature has recently passed a "safe streets for children" bill, and the state transporation department has vowed to include the needs of bicyclists in all planning, design and operation decisions. Last summer, the governor sign a bill that included several safety measures for bicyclists.
UPDATES:
Bicycle Colorado
The Bicycle Colorado advocacy group has responded by asking bicyclists to call or email town officials, donate to legal efforts to prevent the ban from spreading to other cities in the state, and spreading the word about the law throughout the social media.
Visit Bicycle Colorado's advocacy activities on the Black Hawk case and its Q&A regarding the ban.
Adventure Cycling Association
The non-profit that has created some 40,000 miles of mapped bicycle routes criss-crossing the US reports that Black Hawk is on the route of its Great Parks South route, Section 1. There are two options for those who do not wish to be charged a $68 bicycle-riding ticket:
Walk your loaded touring bike the 1.5 miles through town (on State Hwy 279/Gregory Street) before remounting your bike for refreshment in either Central City or Rollinsville.
Detour around the area entirely by using the Berthoud Pass Alternate bypassing not only Black Hawk but Rocky Mountain National Park.
ACA cartographer Jennifer Milyko makes some positive suggestions on how to deal with the big picture of a town that makes the mistake of banning bicycles from its roads. You can read them at "Ban on Bicycling in Black Hawk, Colorado, Impacts Route."
Websites
Bicyclists and Tourist Boycott Black Hawk Colorado at Facebook
Boycott Blackhawk created by Jason Steele of Denver in reaction to the bicycle ban