Update: Sept. 19, 2010 — "The future looks bright for US cycling after youngsters win nationals"
Update: Sept. 18, 2010 — Time trial decided in less time than the blink of an eye
---
George Hincapie will be cycling on his home turf this weekend when he defends his
US Cycling Pro Road Race Championship
title this Sunday in Greenville, S.C.
The 112-mile race includes four climbs up and over Paris Mountain, which looms as the highest Blue Ridge Mountain summit in this region of South Carolina. In spite of a bum knee suffered during the Tour of Utah last month, Hincapie has an advantage here because that ascent serves as a training ride for the 37-year-old cyclist.
Meanwhile, the field for the national time trial on Saturday is wide open because four-time defending champion David Zabriskie is cycling in the peloton for the penultimate stage of the Vuelta a Espana.
In fact, several cyclists such as Tom Danielson, Tejay Van Garderen, Tyler Farrar, Tom Peterson and Christian Vande Velde are also competing at the Vuelta and won't be available for either race this weekend.
Saturday time trial
If you think the USA Cycling Pro Championships are later than usual this year, you're correct. Held in Greenville since 2006, the bike races have been held around Labor Day. They were delayed for 3 weeks this year to accommodate the Tour of Missouri, which never materialized.
The individual time trial opens the competition on Saturday. The 20.7-mile course comprises three 6.9-mile loops on a fairly level course at a Clemson University facility (see map below).
With Zabriskie out of the picture, Team RadioShack's Levi Leipheimer is favored to win, although he's expected to face competition from 20-year-old Taylor Phinney of the Trek-Livestrong team.
The full list of 15 starters for the individual time trial is available here, with Phinny and Leipheimer going off last.
Sunday road race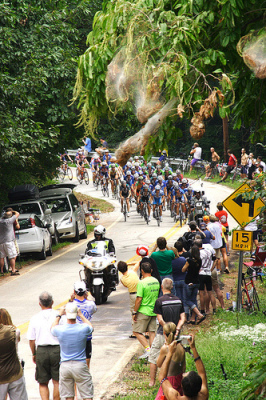 Hincapie will undoubtedly be the crowd favorite to win his fourth national championship (previously 2009, 2006, and 1998 in Philadelphia) for Sunday's road race championship.
Paris Mountain dominates the 112-mile course, which consists of 10 circuits — three short start laps in the downtown area, four longer laps over Paris Mountain, and then three more finishing laps in the downtown area.
If it becomes clear that Hincapie isn't fully recovered from recent crashes to retain his championship, BMC Racing teammates Jeff Louder and Brent Bookwalter certainly have a shot.
Reps from another team — RadioShack — also will be strong contenders. Consider Chris Horner's 10th place finish in the Tour de France this year. Also, Leipheimer will be racing on RadioShack's five-man squad, and might be looking to repeat his 2007 victory in Greenville.
In any case, they'll all have to face Paris Mountain, located about 4 miles north of Greenville. The Paris Mountain State Park is criss-crossed with hiking and biking paths running throughout its old-growth hardwood forest. Mountain bikers like the Old Firetower Bicycle Trail.
Lots other cycling-related events are happening this weekend in Greenville. Check the USA Cycling Pro Championships website for details.
Saturday: Individual Time Trial
Sunday: Road race
See also: Aug. 30, 2009 — "George Hincapie regains US pro cycling road race title"