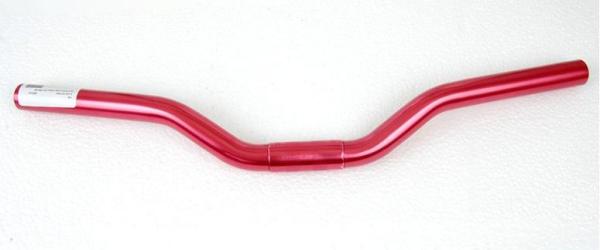 Several importers are recalling 2,000 faulty aluminum riser handlebars made in Japan by the Nitto Co.
The Consumer Product Safety Commission is urging owners to stop riding bicycles equipped with the handlebars and contact the dealer where they were purchased or Euro Asia Imports for free replacements.
The handlebars can break, causing the cyclist to lose control of the bike and fall. There are two reports of breaks and one report of a fall and injury.
The aluminum handlebars come in the colors red, blue, black, gold, green, pink and silver. The word Nitto and B259 are printed at the end of the handlebar, although the model number is probably covered by a grip or tape.
Nitto also makes the "riser" bar in stainless steel, which are not part of the recall. According to the importer, the stainless steel bars have capped ends. Open ends are found on the aluminum
bars.
The handlebars were sold at bicycle specialty stores and dealers in the US and Canada from January 2008 through July 2011 for $60 to $80.
A similar recall in Canada involves 70 handlebars.
For replacement, contact Euro Asia Imports toll-free at (888) 662-1814 between 8 and 5 (PT) Monday through Friday, or visit the Euro Asia Imports website. The faulty handlebars, model No. B259AA, will be replaced with B260AA handlebars.
If you're a resident of Canada, you can check the Canadian recall at Consumer Health Safety.
This is the fifth bicycle-related recall this month. Previous recalls involve Giant bicycles, Thule bicycle trailers, and Triple Eight youth bicycle helmets, and Forte road bike pedals.