Contrite (according to online Merriam-Webster Dictionary): feeling or showing sorrow and remorse for a sin or shortcoming <a contrite criminal> <a contrite apology> <contrite sighs>.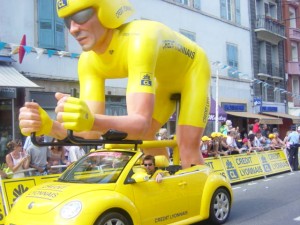 The Oprah Winfrey Network (OWN) airs the first of two shows on Monday's Lance Armstrong interview Thursday night. (Simulcast at Oprah.com at 9 p.m. ET, 6 and 9 p.m. PT.)
Some say Lance Armstrong was contrite when he confessed to Oprah Winfrey about doping during his smeared cycling career. Others say not so much.
Personally, I don't know what difference it makes. He cheated and lied throughout his career.
But we can make up our own minds about his contriteness tonight when the network airs the first of the two-part "Oprah and Lance Armstrong: The Worldwide Exclusive."
We can also decide whether Winfrey asked the right questions. Juliet Macur at the New York Times has a list of questions that she hopes were asked. Good topics there.
The broadcasts are scheduled for 9 p.m. (ET and PT) on Thursday and Friday. The network says the interviews will be simulcast online at Oprah.com at 9 p.m. ET and 9 p.m. PT. That tells me that those of us on the West Coast can see the simulcast at 6 p.m. PT.
Seattle viewing
For much of the Seattle area, OWN is Channel 220 for Comcast; Channel 279 on DirecTV; and Channel 189 or 885 on DISH Network. Elsewhere, just check the channel finder box at Oprah Network.
(For running commentary, might be worth checking #lance or #lancearmstrong or #owntv on Twitter.com.)
Happy viewing.
Meanwhile, the International Olympic Committee has asked Armstrong to return the bronze medal he won at the Summer Olympics in Sydney in 2000.