2018

Cycling for Sight with the Blind Stokers Club — June 30-July 1, 2018 A two-day ride from San Diego to San Marcos. Participants will ride alongside team members of Blind Stokers, a club that enables cycling enthusiasts to ride tandems even though their eyesight prevents them from piloting the bikes. .
Beach Babe Bike Ride July 22, 2018 This 15- or 38-mile bike ride starts in Long Beach. Part of the California Girl Series.
Borrego Double Century — July 21, 2018 Slightly more than 200 miles through the desert, beginning in the southern California town of Borrego Springs. Presented by Mountain High Cycling.
Windmill Century — (2018 TBA) July 15, 2017  Three route options of 26, 62, and 100 miles leave from Pioneer Park in Santa Maria for bicycle rides through lush valleys and past vineyard and ranches. Fully stocked rest stops and BBQ dinner at end of the ride. Presented by the Tailwinds Bicycle Club; benefits Wheelin' Warriors Cycling Team (formerly Special Olympians) and North Santa Barbara County Children's Cycling.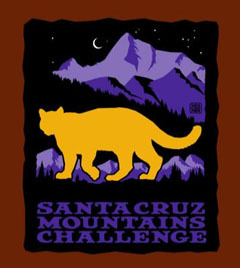 Fall River Century — July 21, 2018 Four options for cyclists who want a one-day bike tour in Northern California. Features a 200K, 100 mile, 100K and 25 mile routes — 2,200 to 4,000 feet of climbing — beginning in Fall River Mills. Pancake breakfast and post-ride spaghetti feeds are available.
Tour de MALT — July 21, 2018 Two bike ride options of 40 and 60 miles route cyclists across the West Marin countryside through areas protected by MALT, the Marin Agricultural Land Trust. The ride begins and ends at Nicasio Valley Farms, where cyclists can enjoy a fresh farm-to-table lunch. Participants also can do the ride as a MALT fund-raiser.
Santa Cruz Mountains Challenge — July 21, 2018 Four routes take riders on mountain roads shaded by redwoods and along the Pacific Coast Highway (SR #1). Distances include 45, 75, 101 and 135 miles with elevations of 2,905' to 13,215'. Leaves at dawn from Baskin School of Engineering, 1156 High Street, Santa Cruz, CA 95064 (Campus of the University of California, Santa Cruz)Sponsored by the Santa Cruz County Cycling Club.
Jump to California calender for August
Back to California index
Back to Biking Bis