Updating to 2018
Levi's GranFondo — See September A chance for all levels of bicyclists to ride with Leipheimer and some of his pro friends. Leaves from Santa Rosa and visits the Sonoma coast, redwoods and vineyards. Three options of 40, 65 and 104 miles. This is a fund-raiser for several local charities and the Dempsey Center for Cancer Hope and Healing. Register ASAP!
Santa Clarita Gran Fondo — Oct. 1, 2017 Featuring 100, 60 and 20 mile routes, this ride travels through the hills and mountains of Santa Clarita Valley.
Surf City AIDS Ride — Oct. 1, 2017 The fund-raiser for the Santa Cruz AIDS Project has four options of 12 to 100 miles that direct riders south down the coast, through rolling hills, and strawberry fields. Seven rest stops are offered, including the famous Gizdich pie stop. Starts and ends at Santa Cruz County Courthouse.
Pablove Across America — Oct. 1-7, 2017 A 550-mile bike ride from the East Bay to LA. The route heads east into Yosemite and Sequoia national parks ending up in Los Angeles. A fund-raiser to support the battle against childhood cancer.
Konocti Challenge — Oct. 7, 2017 Four courses comprising a family fun ride to a century around Clear Lake in Lake County. Benefits Lakeport Rotary.
Grizzly Century — Cancelled for 2017 A 100-mile ride starting in North Fork to promote the Sierra Vista National Scenic Byway. Also, 63- and 25-mile loops.
Mt. Diablo Challenge — Oct. 8., 2017 Eleven-mile ride, all uphill, to the top of Mt. Diablo in East Bay suburbs of San Francisco Bay. 1,000 cyclists expected Must pre-register. Sponsored by Save Mt. Diablo.
Asti Tour de Vine — Oct. 14, 2017 Postponed due to wildfires Northern Sonoma County is the setting for four options of 25k, 50k, 100k or 100 miles (Rockpile Rumble).
California Dream Ride — Starts in Folsom along the American River and heads north to Healdsburg via Lake Berryessa and the Napa Valley, along the Russian River and Redwood forests, then back to the coast to San Francisco, ending in Oakland via the ferry. The ride is fully supported (with lodging in hotels), and covers approximately 280 miles over five days.  All funds support the California Bicycle Coalition's "Bikeways to Everywhere" initiative.  Limited to 50 people.   Dates: Oct. 8-13, 2017 
Women's Gran Fondo 2017 — Oct. 8, 2017 Three options of three route distances: 30, 50, and 70 miles around Calistoga. Starts next to Indian Springs Resort at Belkorp Agriculture. Part of the California Girl Series.
Los Angeles Tour de Cure –  Oct. 14, 2018 Charity bike ride for American Diabetes Association meets at the Santa Fe Dam. Six options of 12 to 100 miles.
Golden Hills Century — Oct. 14, 2017 (formerly Fruit Yard Century, and Riverbank Wine and Cheese Century) The  ride starts in Knights Ferry and explores the Mother Lode foothills on three options — 23, 66 and 100 miles. (Check in at Odd Fellows Hall on Sonora Road) Sponsored by the Stanislaus County Bicycle Club.
Bass Lake Powerhouse Double Century — Oct. 14, 2017   The 200-mile bike ride begins in Clovis and routes cyclists up to about 3,800-foot elevation, with an estimated 16,000-foot total elevation gain. Lights are required for this one, although they can be dropped off at a morning rest stop and picked up at another stop later on the route. Sponsored by the Frenso Cycling Club.
Activis CF Cycle for Life – Sacramento — Oct. 7, 2018 The Cycle for Life bike rides raise money for research and treatment for cystic fibrosis, an inherited chronic disease that affects the lungs and digestive systems of some 30,000 adults and children in the US. The fund-raisers typically feature a one-day bike ride with several mileage options
Tour de Pink (California) — Oct. 27-29, 2017 Young Survival Coalition is sponsoring a charity bike ride for young women diagnosed with breast cancer. The three-day ride rolls out from Santa Barbara to Del Mar
Rat Beach Bike Tour — Oct. 14, 2017 This charity bike ride begins and ends at Seaside Lagoon in Redondo Beach, with options of 15.5, 31, and 62 miles.
Lighthouse 2017 Ride — Oct. 14, 2017 The bike ride offers two hilly centuries and a flat metric century. All rides begin at Morro Bay High School. Sponsored by the San Luis Obispo Bicycle Club. (Note: Register early!)
Wildcat Gran Fondo — Oct. 21, 2017 Ride distances of 15, 25, 50, 70, 106, 126 miles leaving from Palo Cedro Community Park, Palo Cedro CA 96073. Fund-raiser for children's helmet use in Shasta County.
Solvang's Finest Century — Oct. 21, 2017 One hundred miles around Solvang. Presented by Planet Ultra; supports the Challenged Athletes Foundation.
Spooktacular — Oct. 21, 2017 Several strenuous cycling routes — including a century ride with 10,000 feet of climbing — in and around Bakersfield. Rides include Hideous Hundred, Horrible Hundred, Nightmare Ninety, Morbid Metric, Frightful Forty, and Trembling Twenty. Sponsored by Kern Wheelmen.
Solvang Double Century — Oct. 21, 2017 A 194-mile route with more than 11,000 feet of climbing. Presented by Planet Ultra.
Bay to Bay — Oct. 21-22, 2017 Bike from Irvine to San Diego on this Bike MS charity ride. Choose between 25-mile one-day option or 100-, 125-, or 150-mile two-day options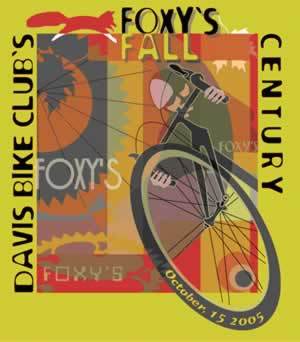 Foxy's Fall Century — Oct. 21, 2017   Billed as a good "first century," the three bike routes — 31, 62, or 100 miles — take cyclists through the orchards and rolling hills of Solano and Napa counties. Begins at Davis High School and sponsored by the Davis Bike Club.
Santa Barbara Century — Oct. 21, 2017 The century and metric century start at Leadbetter Beach and visit beaches and mountains of Santa Barbara, Goleta and Carpinteria. Significant elevation gain on each.
Miramar Bay to Bay MS Tour — Oct. 21-22, 2017 The fund-raiser for the National Multiple Sclerosis Society follows the Pacific Coast from Irvine to San Diego. Bike ride options of 25, 100, 125 or 150 miles.
Patriotic Ride for our Heroes — Oct. 21, 2017 This ride offers routes from 10 to 100 miles in Indian Wells.  Other festivities surrounding the bike ride include car shows, concerts, parachute jumps and a JR ROTC drill competition.
Wheels for Meals Ride — Oct. 21, 2017 The ride that supports the Alameda County Meals for Wheels offers three routes of 70, 35 and 15 miles starting in Pleasanton
Oceanside Double Century — Oct. 27, 2018 This 200-mile bike ride uses roads along the coast as well as climbs into the mountains and desert. Options of 130 and 150 miles also are offered. The ride, which starts and ends in Oceanside, is included in the California Triple Crown Series.
SLO GranFondo — Oct. 28, 2017 This ride out of San Luis Obispo has three distances to choose from that will take you through SLO Town, wine country and the Central Coast.
OC Ride for AIDS  — Oct. 28, 2017 This charity ride for the AIDS Services Foundation gives cyclists three options — 30, 62 or 100 miles. All the loops begin and end at William R. Mason Regional Park in Irvine, and include the Pacific Coast Highway and the Back Bay Bike Trail.
Back to California ride calendar