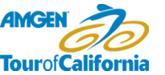 Slovakian cyclist Peter Sagan (Liquigas) won a mass sprint after a grueling 134-mile bike race over four climbs on Thursday.
The Stage 5 race from Seaside to Paso Robles had been rerouted off the scenic Route 101 along the Pacific Coast several weeks ago because highway crews were still trying to clear landsides that blocked the road.
With the abandonment of Stage 1, the stage on Thursday served as the hump day. Only 3 stages remain….