2014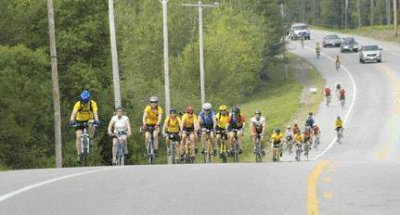 Want to ride for a reason this year? There are hundreds of major bike rides sponsored by big health foundations throughout the US where the top goal is fund-raising, often through a system of pledges for participating bicyclists.
Here are short descriptions and links to the major events. The bicycle ride series include Multiple Sclerosis, Leukemia, Lung, Diabetes, and LiveStrong bike tours. Others, such as the AIDS Lifecycle and Pan Mass Challenge sponsor one event.
If the dates for the charity bike ride are not updated below, check out the website link. Generally, the rides are scheduled within a few days of each other year to year. Here, in no particular order, are some of them:
Charity bike ride series:
American Diabetes Association Tour de Cure
Trainer Chris Carmichael is the honorary chairperson of the American Diabetes Association's 2012 Tour de Cure. The tour is a series of rides in some 80 cities in 44 states nationwide, starting as early as March, so register early. In 2011, more than 55,000 cyclists participated in the rides, raising more than $18 million. One-day events of 10 to 100 miles. Dates: The rides for 2014 are listed by state at the website. These are just a few:
 New England Classic-- Two rides start from Woburn, Massachusetts. The 150-mile ride tours back roads and seacoasts of Massachusetts, New Hampshire and Maine. (There's also a week-long, 500-mile version of the bike ride that explores Massachusetts, Maine, New Hampshire, and Vermont.) Dates: July 12, 2014.
Tour de Cure – Oregon/SW Washington – Five options between 5 and 100 miles. All leave from Hillsboro Stadium. Date: July 26, 2014.
Tour de Cure – Seattle (Woodinville) – Five bike rides, including a 15-mile family friendly ride, a 25-miler and more challenging 45-, 70-, and 100-mile routes. Starts at Chateau Ste. Michelle winery. The 100-mile bike course goes all the way to Granite Falls. Date: May 10, 2014.
Tour de Cure – Spokane– Four options, comprising a family friendly 15-mile ride, and 25, 50 and 100 miles. Meets at Spokane County Raceway. Date: May 17, 2014.
Tour de Cure – California — There are 3 Tour de Cure bike rides listed for California in 2014. They are: Long Beach, April 27, 2014; Napa Valley, May 4, 2014; Orange County, Oct. 25, 2014. Others to be announced.
A number of state chapters for the American Lung Association sponsor fund-raiser bike rides. Begin searching by going to "In Your Community" US map, which supplies links to local websites by state. Look for the "Events" tab. Just a few events:
Clean Air Challenge (Alaska) — A one-day bike ride with classic views of Denali Range and Talkeetna Mountains. Options of 10, 26, 58, 84, and 100 miles. Date: May 10, 2014.
Reach the Beach (Oregon) — Ride starts in four locations: Portland (100 miles), Newberg (80 miles), Amity (55 miles), and Grand Ronde (28 miles). Date: May 17, 2014.
Ride Around the Sound (Washington) — A one-day charity ride features three ride options  within a scenic loop around the southern Puget Sound, ending with a ferry ride to the finish party in West Seattle. Rides of 93 miles (starting in Seattle), 73 miles (Normandy Park), and 38 miles (Tacoma). Date: Sept. 13, 2014.
Big Ride Across America — A 7-week, fully supported cross-country bike tour that leaves from Seattle on June 15 – Aug. 2, 2014.
Autumn Escape Bike Trek (Massachusetts) — A 160-mile bike tour along Cape Cod from Plymouth to Provincetown; includes many miles on the Cape Cod rail-trail. A 2-day, 105-mile option is also available.  Dates: September 26-28, 2014.
Arthritis Foundation
AbbVie Marin Headlands Bike Classic (California)   The inaugural one-day ride in 2014 features the Marin Headland and views of the Golden Gate. Three options are offered — 35 miles, a metric century and a full century. The ride starts at Kentfield Physical Education Complex, 700 College Ave., Kentfield. Date: July 12, 2014.
Amgen People's Coast Classic (Oregon) The fund-raiser for the Arthritis Foundation is a 363-mile bike ride down the coast of Oregon, from Astoria to Brookings. The fully supported six-day tour is primarily camping, but participants can get other lodging information. Breakfasts and dinners also provided. Also, 2- and 4-day rides are possible. Dates: Sept. 7-12, 2014.
Arthritis Foundation's Amgen California Coast Classic  The ride is a 520-mile, 8-day bike tour from San Francisco to Los Angeles. Riders can experience sun, rugged coasts, quiet beaches, lighthouses, giant forests, and famous wineries. The ride is a 8-day, 520 mile tour from San Francisco to Los Angeles. Dates: (8-day) Sept. 13-20, 2014.

2014 Mid Atlantic Classic Bike Tour  (North Carolina) The bike tour offers one-day, two-day, or three-day options in North Carolina's wine country. Maximum mileage is the three-day 225-mile bike tour. Full support and three meals a day. Dates: April 25-27, 2014.
The ride supports volunteers form one-on-one relationships with persons with intellectual disabilities to increase self-confidence, encourage social inclusion and enable lifelong friendships. Boston to Hyannis Port, MA — May 31, 2014; Carmel to San Simeon, CA — Sept. 6, 2014; Washington DC — Oct. 18, 2014, and Miami — Nov. 21, 2014.
Bike and Build (Cross country)
Ten teams, mostly comprised of college students, raise money for affordable housing and bicycle across the US on different routes, stopping along the way to provide hands on help at construction sites. 2012 is its 10th year. The bicyclists ride about 75 miles a day and share chores on the van-supported ride. (Read more about Bike and Build and sign up early)
Breakaway from Cancer (California)
L'Etape du California celebrates a  stage of the Amgen Tour of California to raise money for four non-profits involved in the battle against cancer. In 2014 it is Stage 8 in Thousand Oaks. Date: April 6, 2014.
Climate Ride (NYC-DC, Michigan and California)
Three Climate Rides will be offered in 2014. Cyclists learn about the climate crisis and how to take action from expert speakers and get to meet others with similar concerns. Proceeds support projects and jobs in clean energy and education. Dates: Climate Ride New York City to Washington DC – Sept.  20-24, 2014; Climate Ride California – Wine Country – May 17-20, 2014; Midwest (Grand Rapids, MI, to Chicago) – Sept. 6-9, 2014.
Cycle for Life (Cystic Fibrosis)
The Cycle for Life bike rides raise money for research and treatment for cystic fibrosis, an inherited chronic disease that affects the lungs and digestive systems of some 30,000 adults and children in the US. The fund-raisers typically feature a one-day bike ride with several mileage options. To find a ride, go to Aptalis CF Cycle for Life. There, you will find about 50 rides (updated for 2013). Check early to register. Among those that are coming up…
California – Aptalis Cycle for Life features rides with options of about 25 to 65 miles.
Half Moon Bay — June 21, 2014, Los Angeles — Nov. 2, 2014, Orange County — Oct. 5, 2014, Sacramento – Oct. 18, 2014; San Diego — Oct. 4, 2014
Oregon
Portland — July 19, 2014
Washington state — Aptalis Cycle for Life features rides with options of about 25 to 65 miles.
Woodinville – July 27, 2014, Tri Cities — Aug. 23, 2014
Get Your Guts in Gear (Crohn's and Colitis diseases)
These three-day rides in New York, Georgia and Ohio raise awareness and funds
for Crohn's disease and ulcerative colitis. Atlanta – May 3, 2014; Sandusky, Ohio, Aug. 16, 2014; Hudson River Valley, Jun 7-8, 2014.
Habitat for Humanity
 Habitat 500 Bike Ride  More than 100 cyclists in this charity ride for Habitat for Humanity tour a different area every year. Southern Minnesota is the location in 2010. They visit and help at worksites that provide affordable housing for people, as well as conduct interviews to raise awareness about housing issues. Dates: July 14-20, 2013.
Scenic Tour of the Kootenai River (STOKR)
is a one- or two-day charity bike ride out of Libby, Montana, that benefits the local Habitat chapter. Day 1 offers a 98- and 45-mile option. Day 2 is a 37-mile ride to Lake Koocanusa. Limited to 400 cyclists; registration is Feb. 14-19, 2012.
Dates: May 10-11, 2014.
Juvenile Diabetes Research Foundation
The foundation raises funds for Type 1 diabetes (juvenile diabetes) research through a number of "JDRF Ride to Cure Diabetes" bike rides. Seven are scheduled for 2014:
Burlington, VT — July 24-27, 2014
La Crosse, WI — Aug. 14-17, 2014
Lake Tahoe, CA — Sept. 5-8, 2014
Death Valley, CA — Oct. 16-19, 2014 (sold out)
Greenville, SC – Oct. 23-26, 2014 (Hincapie Gran Fondo Ride)
Nashville, TN — Oct. 30 – Nov. 2, 2014
Tucson, AZ — Nov. 20-23, 2014
LiveStrong Challenge bike rides (Lance Armstrong Foundation)
Fund-raisers for Livestrong Foundation, which offers support to cancer survivors. Some of these are Livestrong events, while others are partnering with Livestrong.
Sharky's Ride the Beaches — Venice, California. Options of 15, 35 or 70 miles. Date: April 27, 2014.
2014 TD 5 Boro Bike Tour, New York City — Date: May 4, 2014.
2014 Iron Horse Bicycle Classic, Durango, Colorado — Date: May 24, 2014.
2014 RAGBRAI, Iowa — Dates: July 20-26, 2014.
2014 Livestrong Cycling Tour Colorado — A 5-day supported bike tour of Colorado Dates: Aug. 7-11, 2014.
2014 Team Challenge Philadelphia — Date: Aug. 17, 2014.
Ride for Roses weekend, Austin, Texas — Dates: Oct. 17-19, 2014.
MS Bike Rides (National Multiple Sclerosis Society)
The MS Bike Rides sponsor more than 100 bike tours in the US in 2014. Last year, cyclists accumulated more than 10 million miles on the rides, that generally are about 150 miles. Overnight activities are planned for the longer rides, with camping, high-school gyms, or local hotels. . See a list of all the MS Bike Rides. Among them are these tours in Pacific Coast area:
Bike MS Hope for a Cure Alaska (Girdwood) Date: May 31, 2014
Bike MS: Harmons Best Dam Bike Ride Dates: June 28-29, 2014
2014 Bike MS Willamette Valley (Monmouth) Dates: Aug. 1-2, 2014.
Bike MS Explore Willamette Valley Date: Aug. 1-3, 2014
Bike MS: Ride the Sky 2014 (Bozeman, MT) Dates: Aug. 16-17, 2014
Bike MS: Deception Pass Classic (Mount Vernon, WA) Dates: Sept. 6-7, 2014
Bike MS: Cycle the Silver Valley 2014 (Kellogg, ID) Date: Sept. 13-14, 2014
California, Bike MS: Waves to Wine Ride 2014 Date: Sept. 20-21, 2014
Bike MS: Coastal Challenge Santa Monica to Santa Barbara — Dates: Oct. 11-12, 2014
Parkinson's Disease
Davis Phinney Foundation The winningest American cyclist sponsors teams on organized bike rides to support those diagnosed with Parkinson's disease.. In addition, cyclists can form their own challenge bike rides to raise funds for Parkinson's disease. Also, learn how to create a fund-raising bike ride.
New England Parkinson's Ride (Maine)
Four ride options of 10, 30, 50 or 100 miles to raise funds for the The Michael J. Fox Foundation for Parkinson's Research. Rides start at Old Orchard Beach, Maine.  Date: Sept. 6, 2014
Bike rides benefit Friedreich's Ataxia Research Alliance, which is researching a cure for the debilitating, life-shortening neuro-muscular disorder. Dates for 2014: Seattle — August 2014; Davis, California — May 31, 2014; Denton, Texas — March 29, 2014; Channahon, Illinois — July 20, 2014; Philadelphia — Oct. 12, 2014; Orlando — Nov. 2, 2014.
Ride to Defeat ALS (Lou Gehrig's Disease)
Go to Ride to Defeat ALS website for rides in California, Florida, Illinois, Massachusetts, Michigan, Oregon, and Washington.
Oregon Ride to Defeat ALS - July 12, 2014 Bicyclists can chose 25-, 50, or 100-mile options for this fund-raiser charity ride that starts in Mt. Angel, south of Portland. Benefits efforts to fight Lou Gehrig's disease
ALS Doubleday Bike Ride and Fundraiser (Washington)– July 26-27, 2014  This two-day bike ride through the Skagit Valley raises money for the ALS Foundation to fight Lou Gehrig's disease. Free overnight camping at Mount Vernon High School. Three mileage and difficulty options the first day and two options the second.
Napa Ride to Defeat ALS (California) – Sept. 27, 2014  Options of rides from 10 to 100 miles; all begin at the Yountville Veterans Home.
 Tri-State Trek (Massachusetts and Connecticut) – July 27-29, 2014 This charity bike ride for treatment of Lou Gehrig's disease — Amyotrophic Lateral Sclerosis (ALS) — rolls out 270 miles from Newton, Mass., to Greenwich, Conn. Cyclists can ride all three days, or just one or two. Dates:. (Registration opens Dec. 15, 2013.)
 Ride Without Limits (United Cerebral Palsy)
North Carolina -- Oct. 3-5, 2014  The ride starts in downtown Washington, NC and visits communities on quiet roads on the Inner Banks. Options range from 31 to 112 miles per day.
Tampa Bay – (date to be announced) Route options of 35, 63 and 100 miles in the Tampa Bay area.
Team Hole in the Wall (Camps for children facing serious illnesses)
Connecticut — Angel Charitable Trust is an awareness and fund-raiser for the Camp Hole in the Wall Gang's Hospital Outreach Program. Two days from Northwestern Connecticut to overnight in Ashford and finish in Mystic. Dates: May 24-25, 2014.
Team in Training (Leukemia and Lymphoma)
Instead of sponsoring century rides, the Leukemia and Lymphoma Society creates teams that train and raise pledges for participation in local and regional events. For instance, the Washington state chapter is preparing to ride in America's Most Beautiful Bike Ride on June 1, 2014, around Lake Tahoe, Nevada. More than $700 million has been raised since 1988. Look for the Team in Training website from the donation page, or check out the Century Ride webpage and insert your zip code.
The group provides bicycles to individuals and groups in developing nations to help in productivity and provide better access to healthcare and education. Also trains bicycle mechanics in those areas.
Red-Bell 100  A 100-mile ride from Redmond to Bellingham presented in conjunction with the Cascade Bicycle Club. Limited to about 600 cyclists. Minimum pledge. Date: June 28, 2014.
Wrigley Field Road Tour  A 100-mile cause ride from Wrigley Field ballpark in Chicago to Miller Park in Milwaukee, Wisc. Minimum pledge. Date: Aug. 25, 2013
Soldier Rides are fund-raisers for WWP that help veterans restore their physical and emotion well-being and enable the public to ride alongside and honor men and women in the military. Check the website to register for upcoming rides.

Also see: Bike rides for veterans, a list of bicycle rides for returning service members provided by Soldier Rides and Ride 2 Recovery.
Annual charity bicycle rides:
AIDS Lifecycle (California)
The fund-raiser is produced by and helps benefit the San Francisco AIDS Foundation and the L.A. Gay and Lesbian Center is in its ninth year in 2010. This year's 545-mile ride is scheduled from June 1-7 2014.  Register soon; participants must raise a minimum $3,000.
AIDS Ride for Life (New York)
Entering its 13th year, this is a fully supported bike ride around Cayuga Lake in central New York state with 50-, 90- and 100-mile options beginning in Ithaca. Raises funds for Southern Tier AIDS program. Registration begins in March.  Date: Sept. 13, 2014.
Alex's Lemonade Stand Foundation (Pennsylvania)
Lemon Ride Bicycle Tour is a charity ride in the Philadelphia area to raise money for finding cures for all childhood cancer. Rides of 12, 26, or 50 miles are offered. The foundation grew out of a front yard lemonade stand started by 4-year-old cancer patient Alexandra Scott to raise money for all kids with cancer. Date: July 20, 2014
Alzheimer's Association
Ride to End Alzheimers, based in Devens, Massachusetts, features a 2 mile Family Ride as well as 30 mile, 62 mile, and 100 mile route options through Central Massachusetts and Southern New Hampshire, followed by post-race food and prizes. Benefits the Alzheimer's Association in Massachusetts and New Hampshire. Date: July 12, 2014.
American Cancer Society (Massachusetts)
Bicycles Battling Cancer is a scenic loop bike tour of the back roads of Massachusetts. Cyclists start at Bolton Fairgrounds in Lancaster Three options of century, metric or "lite". (Check the website here for details) Date: June 8, 2014
American Cancer Society (Ohio)
The Pan Ohio Hope Ride is a four-day, 328-mile bike ride that rolls across-state from Cleveland to Cincinnati. Overnight at college campuses in Wooster, Otterbein, and Wittenburg. Raises money for ACS's Hope Lodges. Dates: July 24-27, 2014.
Autism (CHAFE 150 – Sandpoint, Idaho)
CHaFE 150  –  The sixth annual 150-mile bike ride raises money for families dealing with autism. Starting in Sandpoint, the cycling route rolls through northern Idaho and western Montana. There's also an  80-mile option. Limited to 500 cyclists. Sponsored by the Sandpoint Rotary Club.  Date: July 21, 2014
Bike Tour for Cancer (Illinois)
The Leonard C. Ferguson Cancer Center in Freeport, Illinois, is the beneficiary of the Bike Tour for Cancer. The annual ride offers route options of 20, 30, 75 or 105 miles on lightly traveled roads in northwestern Illinois. Date: June 28, 2014.
Bo Bikes Bama ( Alabama)
Bo Jackson leads this charity bike ride of 22 or 62 miles to raise funds for the Governor's Emergency Relief Fund. The Heisman Trophy winner created the ride in response to the deadly tornado outbreak of April 2011. Starts on campus of Auburn University. Date: April 19, 2014.
Brain Injury Alliance (Connecticut)
Tour of Lights Bike-a-Thon 2014  This charity bike ride provides options of 62 miles or 25 miles to raise funds for the Brain Injury Alliance of Connecticut, which supports brain-injured clients and their families. Starts at Eastern Point Beach, Groton. Date: May 3, 2014.
Cross-country bicycle tours raise funds for the James Miller MS Clinic in Charlottesville, VA. Four choices — Northern Tier, Southern Tier, TransAmerica and Tour Divide. Date: Tours begin late May and early June 2014.
California Bicycle Coalition
California by Bike Surf 'N Turf Tour is a California Bicycle Coalition sponsored ride that rolls down the coast from Santa Barbara to San Diego. Proceeds go to the Better Bikeways campaign, advocating for more funding and improved design for bikeways in California, and the Give Me 3 campaign, created to promote awareness of the Three Feet for Safety Act going into effect in September 2014. Lodging, rest stops, SAG and mechanical support are provided. Dates: Oct. 31 – Nov. 5, 2014.
Camp Korey (Carnation, WA)
Camp Challenge Ride – Cyclists can raise money for the programs at Camp Korey by participating in the Flying Wheels Century rides, presented by the Cascade Bicycle Club. See details at the website.  The camp is a member of the Serious Fun Children's Network, founded by Paul Newman. Date: May 31, 2014. 
C'oeur d'Fondo (C'oeur d'Alene, Idaho)
Cyclists of all ages and abilities can participate in this Lake Coeur d'Alene bike ride. Four options of 108, 84, 37 and 10 miles; the longer rides go around the lake. Benefits the North Idaho Centennial Trail Foundation. Date: Sept. 27, 2014
Camp Make A Dream (Montana)
Ride Around the Pioneers in One Day (RATPOD) is a 130-mile fund-raiser loop bike ride that encircles the Pioneer Mountains, starting in Dillon. Registration for the popular ride opens on March 1; 650 cyclists maximum. Date: June 28, 2014 (register early; this one fills up).
Central Coast Classique –  Supporting Uniformed Officers and Armed Forces (California)
Cyclists can choose from three options — 100, 62 and 30 miles — for the bike ride that begins at Arroyo Grande and passes vineyards in the Edna Valley. Winery discounts offered at rest stops. Presented by Creative Meditation and San Luis Obispo Law Enforcement Assistance Foundation (SLOLEAF). Date: Aug. 23, 2014.
Cycle Bucks County (Pennsylvania)
The fund-raiser for the Heart Institute of Doylestown Hospital is based at  New Hope-Solebury High School, located at 180 West Bridge Street in New Hope, PA. There will be four rides: 10 miles for kids and families, 25 miles for cycling enthusiasts and then 50 and 60 mile rides for serious cyclists through the scenic roads of Bucks County. Rest stops and SAG support are provided on all routes. Date: June 21, 2014
Cycle the High Hills (New Hampshire)
This fund-raiser for Wediko Children's Services (Boston-based with branches in New York and New Hampshire) starts and ends at  Black Pond in Windsor, NH. Ride options of 25, 50 and 100 miles are available. Riders can ride individually or in teams. Discount registration offered through August. Date: Sept. 13, 2014.
Cycle the WAVE (WA)
Women Against Violence Everywhere is sponsoring this all-women's cycling experience benefiting domestic violence programs in Washington State. Four rides to accommodate all levels: Little Sister -12 miles, Girly Girl – 25 miles, Middle Sister – 42 miles and the Burly Girl – 62 miles. Participants will be pampered with girly gift bags, sassy tees, plenty of food, mechanic support and a special spa stop to complete your day. Check out last year's video. Date: Sept. 14, 2014.
Cycling for Sight (San Diego)
Cycling for Sight with the Blind Stokers Club is a 200-mile, 3-day tour along the southern California coast. Participants will ride alongside team members of Blind Stokers, a club that enables cycling enthusiasts to ride tandems even though their eyesight prevents them from piloting the bikes. Dates: July 19-20 2014.
Deep Roots Festival bike rides (Georgia)
Four bike rides — 75, 50, 30 and 15 miles — in the rolling hills of Baldwin County are part of the Deep Roots Festival in Milledgeville. Proceeds from the bike rides support Georgia Cancer Support, Community Gardens, Cafe Central and Live Healthy Baldwin/Bicycle Friendly Community. Registration at active.com. Date: Oct. 18, 2014.
Friends for Life Bike Rally Benefits  (Canada)
A 600km mass participation bike ride from Toronto to Montreal. Benefits Toronto People with AIDS Foundation. About 300 cyclists rode in 2011 and raised $1.237 million. Dates: July 27 – Aug. 1, 2014.
Fuller Center Bike Adventure  Cross-country bicycle ride from Atlantic City, NJ, to Astoria, OR,  to raise  money for Fuller Center for Housing, a nonprofit ecumencial Christian housing ministry to provide adequate housing for people in need. Riders will build homes along the way. Dates: June 5 to Aug. 10, 2014.

Funsport Bike's Ride to Cure Cancer (California)
Three bike ride options to raise money for the Memorial Hospital Triumph Fitness Program. Modesto. Date: Oct. 20, 2013
Gears for Change (Idaho)
The Mica Peak Century is a fund-raiser for the Gears for Change bicycle ministry of St. Luke's Episcopal Church in Coeur d'Alene. Four options for bicyclists: 15, 30 and 70 miles, and a 100-mile route that hits Rockford, Waverly, Fairfield, Valleyford, Spokane Valley and Post Falls. A fund-raiser for Trinity Group Homes and Hospice of North Idaho. Date: Sept.16. 2012.
Giro Bello (California)
Three bike ride options through the countryside of Sonoma County — 102, 68 and 29 miles. Proceeds benefit the charitable projects of the Rotary Club of Santa Rosa. Date: June 28, 2014
Healing Nations (California)
Covered Bridge Bike Classic – Sept. 27, 2014  The century, 40-mile, 20-mile or a 5-mile loops start in Oakdale. The two longer rides wind through the Sierra foothills and pass through the Robert's Ferry Covered Bridge near Waterford. A fund-raiser for Healing Nations, which works with at-risk youth in West Modesto.
Home Away Fund (Massachusetts)
Pain in the Mass Bike Tour is a one-day or two-day fund-raiser bike ride for the Home Away Fund which supports families that care for a child with epilepsy at  Children's Hospital Boston and UMass Memorial Children's Medical Center. Participants can ride individually or as a team. Date: Sept. 20-21, 2014. 
Hot Hundred (Alabama)
Hot Hundred (the hottest ride in the South) celebrates its 10th year in 2012 with five options — 28, 36, 51, 70 and 103 miles. Seven well-stocked rest stops along the route that includes the University of Alabama campus. Supports the Tuscaloosa (AL) Mental Health Task Force and advocacy efforts of the Druid City Bicycle Club. Date: July 26, 2014.
Helps fund technology for Boston public shool students. Three options, 10-50 miles. Date: Sept. 21, 2014.
Journey of Hope (Cross-country)
The Journey of Hope comprises three cross-country bicycle treks that begin in either San Francisco, Los Angeles or Seattle and end together in Washington, D.C. The event raises funds and awareness for people with disabilities. All the bike riders are members of the Pi Kappa Phi fraternity. A project of Push America. (Read more about it)
Law Enforcement Bike Ride to DC (North Carolina)
A 500-mile bike tour from Charlotte, NC, to Washington DC to support law enforcement officers and remember those who have died in the line of duty. Open to law enforcement personnel as well as the general public. Dates: May 9-13, 2014.
Le Tour de Femme (Cary, North Carolina)
Women's-only cycling event to raise money for cancer research. Distance options of  15 miles, 31.2 miles, or 62.4 miles. Benefits UNC Health Care and Livestrong Foundation. Date: Oct. 11, 2014.
Macon County Conservation Foundation (Illinois)
Prairie Pedal is a bike ride to raise funds to enable the Foundation to continue its education and preservation projects and environmental education. Three options are offered — 15, 40 or 62 miles. The $25 registration covers rest stop snacks, T-shirt and an after-party. Leaves from Rock Springs Conservation Area, Decatur, Illinois. Date: Sept. 28, 2014.
Maryland Brain Injury (Westminster, MD)
The Eat a Peach Challenge Bike Ride is an annual event that raises money for the Brain Injury Association of Maryland. Westminster. Date: Aug. 9, 2014.
McCourt Foundation  (Massachusetts)
Tour de South Shore — This bike ride offers two route options — 25 and 50 miles — beginning at Wompatuck State Park and travels through the towns of Hingham, Cohasset, Scituate and Norwell. Raises funds for Alzheimer's and Multiple Sclerosis research. Date — Oct. 4, 2014
Meals to Wheels (Puyallup, WA)
Six bike routes wind through Pierce County, covering distances of 10 to 75 miles. Benefits St. Leo Food Connection. Date: June 21, 2014.
National Life Group (Vermont)
Harpoon Point to Point — The ride raises funds and awareness for the Vermont Foodbank. Three options of 100, 50 or 25 miles. Starts at Harpoon Point Brewery in Windsor. Post ride party with showers, BBQ, entertainment and brews. Date: August. 9, 2014
NorCal AIDS Challenge (Sacramento)
This is the sixth year for the 330-mile bike ride in Central California to benefit HIV/AIDS services in the Sacramento Valley. There's also a shorter weekend option. Online support for training and fund-raising. Dates: May 15-18, 2014
Obliteride (Seattle)
The Fred Hutchinson Cancer Research Center benefits from this charity bike ride launched in 2013. Four mileage options are offered; 25, 50, 100 and 180 (2 days with an overnight say at University of Puget Sound in Tacoma).   Dates: Aug. 8-10, 2014 (pre-ride party on Aug. 8 at Gas Works Park in Seattle.).
AIDS Services Foundation of Orange County
OC Ride for AIDS  — Oct. 25, 2014 This charity ride for the AIDS Services Foundation gives cyclists three options — 30, 62 or 100 miles. All the loops begin and end at William R. Mason Regional Park, Shelter 6, and include the Pacific Coast Highway and the Back Bay Bike Trail.
Oregon Supported Living Program (Eugene, Ore.)
Pedal for People – May 10, 2014  The Oregon Supported Living Program presents the Pedal for People Metric Century Ride. Bike ride options of 100k, 60k and 2k start and at Armitage Park in Eugene. The ride benefits adults with developmental disabilities. Luncheon with entertainment follows; also prizes.
Pablove Across America (Austin, TX, to New Orleans, LA)
Pablove Across America is a charity bike ride to support children with cancer. In 2014, the group is sponsoring a bike tour from Austin to New Orleans. Pablove website.  Dates: Oct. 17-23, 2014.

Pan-Mass Challenge (Massachusetts)
This is the nation's biggest endurance sports fund-raiser; 4,300 cyclists raised $35 million for Boston's Dana-Farber Cancer Institute in 2008. The bike-a-thon participants have a choice of nine different rides, including the original two-day Sturbridge to Provincetown route. Dates: Aug. 2-3, 2014.
PASA's Bike Fresh, Bike Local Ride (Pennsylvania)
A choice of 25-, 50-, or 75-mile bike rides through rolling Chester County farmland. Proceeds benefit the Pennsylvania Association for Sustainable Agriculture. Post ride lunch of locally grown foods and locally crafted beer. Starts and ends at Victory Brewing in Downington. Date: Sept. 21, 2014
Park-2-Park Montana  (Montana)
The ride is a fund-raiser for programs of Court Appointed Special Advocates, who support neglected and abused children in Montana's courts. Bicyclists will ride a new across-state, north-south route from Glacier National Park to Yellowstone National Park in 2012. The 418-mile ride in western Montana is fully supported and open to just 50 cyclists. Dates: Sept. 7-13, 2014.
Pedal the Cause (St. Louis, MO)
The event raises money to fund cancer research at Siteman Cancer Center, Barnes-Jewish Hospital, Washington University School of Medicine and St. Louis Children's Hospital. Options of 53 and 23 miles.  Date: Sept. 27-28, 2014.
Pedal the Cause (San Diego, CA)
The event supports UC-San Diego Moores Cancer Center, Salk Institute, and Sanford Burnham Medical Research Institute. Dates: Sept. 20-21, 2014.
Pedaling Paths to Independence (California)
Pedaling Paths to Independence – Feb. 28, 2015 Two options of 65 and 25 miles are offered for this ride that starts and ends in Linden. Includes post-ride meal. Proceeds go to Community Center for the Blind and the Visually Impaired.
Pelotonia (Ohio)
A major cancer fund-raiser ride for the Ohio State University Comprehensive Cancer Center-James Cancer Hospital and Solove Research Institute. Six different ride options are offered for one or two days. All rides start in Columbus.  Dates: August 8-10, 2014 
Refuge International (Texas)
Chainge the World Bike Ride in Gilmer, Texas, raises money for Refuge International, which develops programs providing adequate health care, nutrition, clean water and education in Central America. Bike ride options of 10, 20, 40 and 60 miles (100km). Date: May 3, 2014.
Ride for Autism (New Jersey)
Raises funds and awareness for Autism New Jersey. Routes of 10 miles to 120 miles designed by the Jersey Shore Touring Society bicycle club. Starts at Brookdale Community College, Lindale, NJ. Date: June 7, 2014.
The Ride to a Wish (North Carolina)
Cyclists can choose a between a 33-, 50- or 100-mile bike ride starting at Tyrell Hall in Columbia, North Carolina. After ride showers, food and party. Donations benefit the Make-a-wish Foundation of Eastern North Carolina, which is planning to grant four wishes this year. Maximum 150 riders. Date: 
Rodman Ride for Kids (Massachusetts)
Cyclist choose a bike ride option in southeastern Massachusetts (Foxboro) to raise funds for various children's charities, including those that treat autism, brain injuries and other special needs. Date: September 20, 2014.
Save-a-Limb Ride (Baltimore)
Choose between a metric century, 30-, 15-, or 6-mile ride for this charity bike ride to raise money for the Save-A-Limb Fund, established in 2001 and supports the fight to save limbs from amputation and provide hip and knee replacements to patients in the US and abroad.  Presented for the Ruben Institute for Advanced Orthopedics at Sinai Hospital in Baltimore. Ride rolls out from Oregon Ride State Park.  Date: Oct. 18, 2014
Seacoast Bike Tour (New Hampshire)
A one- or two-day bicycle ride between Portsmouth and Ogunquit, New Hampshire, to raise funds for Breathe New Hampshire's programs to improve air quality and lung health. Cyclists in the 26th annual tour can choose three options on Saturday (25, 42 or 56 miles) and two on Sunday (35 or 53 miles). Dates: May 17-18, 2014.
A fund-raiser for Senior Housing Assistant Group (SHAG) features ride options of 40-, and 8-mile round trips or a 1/2-mile loop on local trails. Ride starts at Tukwila Community Center, 12424 42nd Ave. South. Stocked rest stops along the way, as well as BBQ and entertainment at the finish. Date: Sept. 13, 2014
Tour de Blue (Alabama)
Sixth annual bicycle ride starts at 65-acre Red Diamond Corporate Campus in Moody. Several exciting new cycling routes are offered (50, 75, 100 miles) with periodic rest stops and full SAG support. Post-ride lunch provided by Jim 'N Nick's Bar-B-Q. Supports Urology Health Foundation and its prostate cancer and awareness efforts across Alabama. Date: April 27, 2013.
Tour de Palm Springs (California)
One of the earliest charity rides of the year is also one of the biggest. Distances of 5 to 100 miles. Raises money for some 75 nonprofits in the Coachella Valley. Pasta feed and bike expo night before. Date: Feb. 14, 2015.
Tour de Pink (California)
Young Survival Coalition is sponsoring a charity bike ride for young women diagnosed with breast cancer. The 3-day ride rolls out from Paso Robles to Point Mugu.  Dates: Oct. 17-19, 2014
Tour des Trees — The bike tour comes to Wisconsin for 583 miles of bicycling. The loop ride starts and ends in Milwaukee. Plant trees and visit tree research locations. Fund-raiser for Tree Fund. . Dates: July 27 – Aug. 2, 2014.
Tour de Whatcom (Washington) Three mileage options — 25, 50 and 105 miles — for this bike ride that benefits the Boys and Girls Clubs of Whatcom County. Starts in Bellingham and tours lakes and rivers while in sight of snow-capped Mount Baker. Date: July 26, 2014.
Tour de Whidbey The bike ride features mileage options of 30, 40, 50 or 100 miles, as well as a flat 10-mile route for beginners. Rides start at either Greenbank Farm or Coupeville Middle/High School. Well-stocked rest stops are located about every 15 miles. Proceeds will go toward purchase of state-of-the-art imaging technology essential for minimally invasive surgical procedures on the knee, shoulder and hips at Whidbey General Hospital. Date: Sept. 20, 2014.
Tour du Rouge (Texas-Louisiana)
This is a fund-raiser for the American Red Cross that was routed to roll through areas damaged by Hurricane Katrina. Since that time, Hurricane Gustav and Hurricane Ike have wreaked havoc in that region. This is a new bike tour that covers 526 miles in six days. That route goes from Humble to Beaumont to Cameron, La., Abbeville, La., to Morgan City, to Gonzalez, La., to NewOrleans. Entry fee is $100; must raise an addition $2,500. Dates: May 9-14, 2014.
This charity bike ride for treatment of Lou Gehrig's disease — Amyotrophic Lateral Sclerosis (ALS) — rolls out 270 miles from Newton, Mass., to Greenwich, Conn. Cyclists can ride all three days, or just one or two. Dates: July 27-29, 2014. (Registration opens Dec. 15, 2013.)
West Yellowstone-Old Faithful Bicycle Tour is a fundraiser for several local charities in West Yellowstone, Montana. The National Park Service caps the ride at 350 participants for the 60-mile up and back ride to Old Faithful. The ride coincides National Public Lands Day, when no admission is required. Date: Sept. 20, 2014.
There are hundreds of local fund-raisers rides as well. In the Northwest and Pacific Coast, find the list of fund-raising rides among the calendars of bicycling events in California, Washington, Oregon and Idaho.
Let me know if I've missed anything, and I'll include it on the list. See my email in upper right.