2014
Stinky Spoke — Jan. 18, 2014   The Stinky Weather Poker Run is a 16-mile ride over a mountain bike course to collect playing cards. Best hand wins. Traditionally the wettest and coldest day of the year. Benefits the Little Bit Therapeutic Riding Center. Starts 9 a.m. at Red Hook Brewery, Woodinville. (See pictures from 2010 Stinky Spoke.)
Basics of Bicycle Touring — Jan. 28 and Feb 5, 2014 A course at University of Washington Experimental College covers how to plan for all types of bicycle tours, including what to take. At the UW Campus.
Seattle Bike Swap — Feb. 9 2014 100 vendors offer new and used bicycle related goods for sale. 9 a.m. til 2 p.m. at Seattle Center Exhibition Hall, 225 Mercer St.  Sponsored by Cascade Bicycle Club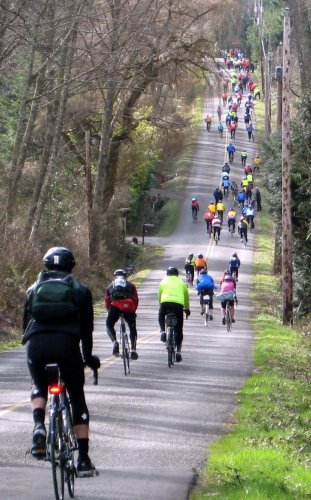 Chilly Hilly — Feb. 23, 2014  The year's first big ride by Cascade Bicycle Club. Loops around Bainbridge Island for 33 miles. Record-breaking ride in 2011 — see pics and story.
Transportation Advocacy Day – February 27, 2014  Lobby your legislators to support bicycle-related bills and other transportation issues near and dear.
Streets and Beets – See May calendar
Seattle Bike Expo – March 1-2, 2014 Technically not a ride, but it's a huge event and it's all about cycling.  Smith Cove Cruise Terminal 91, Seattle [consider Elliott Bay Trail (Terminal 91 bike path)]. Organized by Cascade Bicycle Club.
Mussels in the Kettle — March 8, 2014 A non-competitive mountain bike poker ride that starts in Coupeville and rolls out to Kettles Trails and Fort Ebey. Three routes of about 7, 9 and 11 miles — easy to expert. Meets at  6 south Main St Coupeville WA 98239. Presented by the Whidbey Island Bicycle Club.
McClinchy Mile — March 15, 2014 Three bicycle loops — 34-mile flat and scenic or 48 miles to  Granite Falls or 52 miles to Stanwood — through Snohomish County that begin in Arlington; sponsored by BIKES of Everett.
Bike Works Auction and Dinner — March 24, 2013  Fund-raiser for non-profit that encourages youth to learn about repairing and using bicycles. Herban Feast, 3200 1st Ave S, Seattle WA 98134.
Pedal Against Trafficking Humans (PATH) – March 30, 2014  Ride a standard loop of Mercer Island for 13 miles or tack on a visit to Seward Park for 28 miles. Raises funds to address the problems of human trafficking.  Presented by Veloce Velo Bicycles and Seattle Against Slavery.
Jump to April Bicycle Ride Calendar for Washington
Back to Washington Bicycle Ride Calendar index
Selected bike ride route books for Washington state