2018
Tour de Cure – Seattle (Woodinville)
—
May 5, 2018
Five bike rides, including a 15-mile family friendly ride, a 25-miler and more challenging 45-, 70-, and 100-mile routes. New venue — starts at Chateau Ste. Michelle winery. The 100-mile bike course goes all the way to Granite Falls. 
.
Seattle Bike-n-Brews — May 6, 2018
Urban bike ride, from Georgetown to Tukwila along the Duwamish and Green River trails. Presented by Cascade Bicycle Club.
Camano Climb — May 6, 2017 (2018 TBA) Ride around Camano Island with views of the Cascades, Olympics, Saratoga Passage, and Port Susan. About 40 miles. Starts at Camano Country Club (map).
Lewis County Historical Ride — May 13, 2017 (2018 TBA) Four bicycling options through rural Lewis County. Views of Mount St. Helens, Mount Adams and Mount Rainier and stops at historic schools and churches. Starts in Chehalis. Presented by Chehalis-Centralia Optimist Club.

Spring Classic Bike Ride — May 13, 2017  (2018 TBA) Based in Skagit County, look for new routes. Check back with website for details. Starts at Bayview Elementary School, Burlington. Go for the famous cookies and spaghetti feed.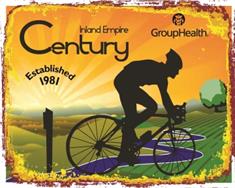 Group Health Inland Empire Century — May 13, 2017  (2018 TBA) Starts in Richland and skirts Columbia and Yakima rivers through parks and over bridges. Four choices — 25, 50, 75 or 100 miles.
CycloFemme — May 14, 2017 (2018 TBA) A list of women-oriented bike rides scheduled for Mother's Day as part of the CycloFemme celebration.
Ride of Silence — May 16, 2018 A series of memorial bike rides across the US that commemorate bicycle riders who have died in traffic. All the rides start at 7 p.m.  local time. Check the Ride of Silence schedule for rides in your area.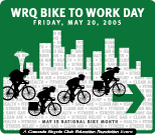 Bike to Work Day — May 18, 2018  Ride your bicycle to work or school; earn free stuff; sponsored in Seattle and Puget Sound region by Cascade Bicycle Club
Lilac Century & Family Fun ride –– May 20, 2018 Bike ride options of 15 miles to 100 miles. New is the 66-mile route that follows the Centennial Trail to Nine Mile, Long Lake, then back to the start at Spokane Falls Community College. Presented by Spokane Aurora Northwest Rotary Club. See Registration
Haul Ash 2016 — May (tba) Redhook Brewery in Woodinville sponsors this ride from its facility in Woodinville to Fremont (and back) to commemorate the eruption of Mount St. Helens in 1980. About 42 miles. After-party at the brewery. Proceeds benefit Hope Heart Institute. Online pre-registration; registration at 8 a.m. at the event. Go to Redhook website and search events..
Lilac Century Bike Ride — May 20, 2018 Celebrating its 25th anniversary in 2018, the event gives cyclists 5 distance options: 15, 22, 50, 66, or 100 miles. Raises funds for charities of the Spokane Aurora Northwest Rotary Club.
Bicycle Sundays: Seattle — May 20 and 27, 2018 Lake Washington Boulevard closed to vehicular traffic from 10 a.m. to 6 p.m. between Mount Baker Beach and Seward Park..
Your Canyon for a Day Bike Tour — May 20, 2018  The 35-mile bike ride follows scenic Yakima River canyon on a highway closed to cars for the event, so no worries for families. Same-day registration at the Roza Recreation Site at milepost 7 on SR 821.
Two-County Double Century — See June.
Gran Fondo Leavenworth — May 20, 2018  On the western slope of the Cascades, the 87-mile ride has 45 miles on gravel roads. Starts at Peshastin/Dryden Elementary School in Peshastin.
Viking Tour — May 20, 2018 Three options of 16, 30, and 59 miles on the Kitsap Peninsula, starting in Poulsbo. Benefits Rotary Club.
Columbia Gorge Explorer 2018 — May 25-28, 2018  The Jim O'Horo Memorial Columbia Gorge Explorer is a Memorial Day weekend ride averaging about 60 miles a day through Washington and Oregon. Starts and end in Vancouver. No sag support. Presented by Portland Wheelmen.
7 Hills of Kirkland — May 28, 2018 The  annual bike ride features three routes up and over the hills of Kirkland alongside Lake Washington. The options comprise 38 miles, 59 miles and 99 miles. The ride is a benefit for Kirkland Interfaith Transitions in Housing.
Flying Wheels — See June calendar  Several cycling options in the largest bike century event in Washington. Includes century (considered tune-up for 1-day STP in July) and metric century (tune up for 2-day STP); leave from Redmond; sponsored by Cascade Bicycle Club. Also fund-raiser for Camp Korey at Carnation Farms.
Jump to June Bicycle Ride Calendar
Back to Washington Bicycle Ride Calendar main page
Selected bike ride route books for Washington state