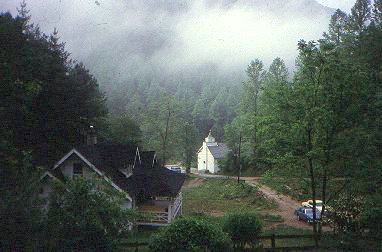 Morning clouds settle in over a church downhill from the hostel in Pippa Passes. Interesting name, Pippa Passes. I did some googling and came across this poem by Robert Browning (1812 – 1889). It's very appropriate, given the time of year, time of day, and my mood at the time:
"Song from Pippa Passes"
The year's at the spring,
The day's at the morn,
Morning's at seven,
The hill-side's dew-pearl'd,
The lark's on the wing;
The snail's on the thorn;
God's in his heaven —
All's right with the world.