This is turning into quite the banner year for the 250-plus mile-long Palouse to Cascades State Park Trail. First the state parks department announced the Beverly Bridge across the Columbia River will open officially on April 8. Now we learn that renovation of the long-closed Tekoa Trestle near the Idaho border has been completed and that structure reopened this past weekend.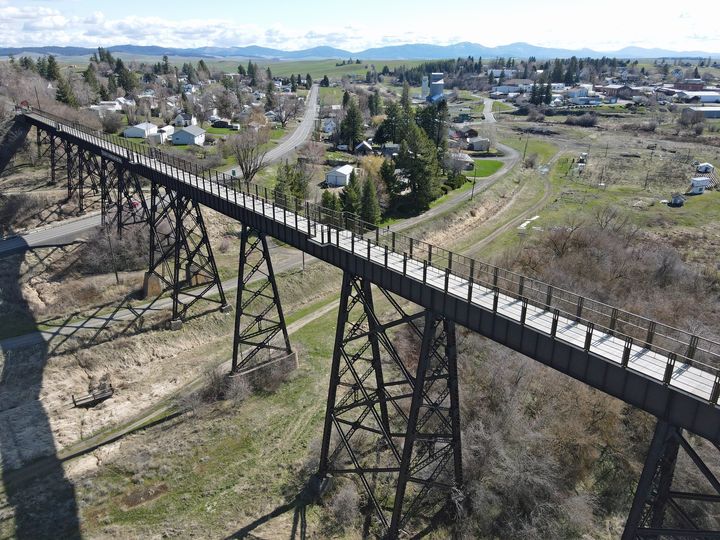 Both projects got their start a few years ago after the state legislature funded improvements to the neglected trail. In addition, an old railroad cut that collected water and piles of prickly Russian thistle has been repaired in eastern Washington, and the Renslow trestle that crosses I-90 east of Kittias has been repaired and reopened.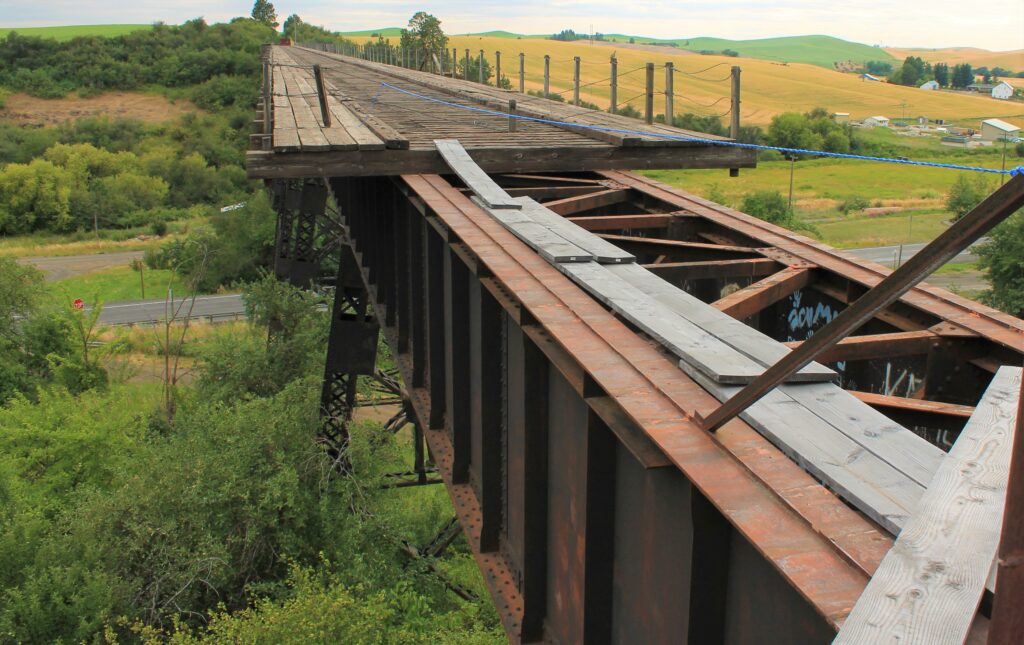 Reopening the Tekoa (pronounced Tee-ko) Trestle has been a long-term project of the Friends of the Tekoa Trestle as well as the Palouse to Cascades Trail Coalition. The 975-foot-long structure soars 125 feet above Hangmans Creek and WA 27 on the outskirts of Tekoa, a small town near the Idaho border.
The trestle holds a commanding view of Tekoa and the surrounding countryside. It lies 5 miles by trail from the Idaho border and 250-some miles from the Cedar Falls Trailhead in North Bend via mostly rail-trail with some on-road detours around missing trestles and collapsed tunnels.
The Palouse to Cascades State Park Trail was formerly known as the John Wayne Pioneer Trail. It was created in the 1980s when the state took over the corridor of the Chicago, Milwaukee, St. Paul and Pacific Railroad, whose presence in Washington dates to 1909.
The trail provides a long western segment of the Great American Rail Trail created by the Rails-to-Trails Conservancy.
All these improvements, especially the pending reopening on the Beverly Bridge across the Columbia, should boost bicycle tourism along the route in Eastern Washington and bring nationwide recognition to the trail for bicycle travel.