Updating to 2016
Maine
Trek Across Maine is a three-day fund-raiser for the Maine Lung Association that routes bicyclists 180 miles across the state. The 2014 bike tour rolls from Sunday River to Belfast with overnight lodging at University of Maine in Farmington and Colby College in Waterville. Dates: June 19-21, 2015.
Bar Harbor Maine, Inn-to-Inn features a "figure 8" bike route along Maine's coastal areas and wooded inland valleys. The ride is self-contained (no sag) but nights are spent at motels to keep luggage at minimum. Presented by Adventure Cycling Association. Dates: June 13-20, 2015 and June 20 – 27, 2015.
BikeMaine is an annual tour that covers 50 to 60 miles per day. It's presented by the Bicycle Coalition of Maine. Fully supported with camping at host communities. Limited to 350 riders. In 2015, the ride starts in Kittery and travels to Old Orchard Beach, Bridgton, Bethel, Sweden and Kennebunk. Locally sourced seasonal foods served, including a lobster dinner. Dates: Sept. 12-19, 2015.
.
Maryland
Greenway Sojourn 2015 – The annual Rails to Trails Conservancybike tour starts in West Virginia on the Panhandle Trail, crossing into Pennsylvania onto the Montour Trail and finished on the Great Allegheny Passage trail to Cumberland, Maryland. Limited to 300 riders. Dates: June 21-26, 2015. 
Greatest Bicycle Tour of the Historic Canal – A family friendly bicycle tour of the C&O Canal Towpath. Transportation to the start in Cumberland; ends in Georgetown. Dates: July 11-14, 2015.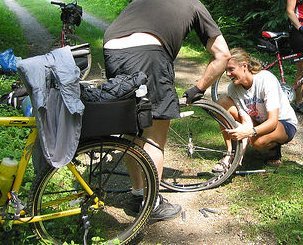 C&O Canal/GAP — This is a fully supported bike ride along the canal to Cumberland and then along the GAP rail-to-trail bike path to Pittsburgh. Camping and indoor accommodations. Offered by Adventure Cycling Association. Dates: Sept. 19- 26, 2015.
Massachusetts
Cape Cod Pilgrimage — A self-contained loop tour of the Cape Cod, starting in Plymouth. 280 miles. Presented by Adventure Cycling Association. Dates: June 13-20, 2015 and Sept. 12 – 19, 2015.

Pan-Mass Challenge (PMC) — is a collection of one- and two-day charity bicycle tours across Massachusetts to benefit the Dana-Farber Cancer Institute. The longest cycling tour takes riders from Sturbridge in the west to Provincetown at the tip of Cape Cod. Raised $37 million in 2012. Dates: August 1-2, 2015 (Registration open in January.)
Cycle Massachusetts (formerly Mass BikePike Tour) — Cyclists can choose the full week of touring (Saturday through Friday) or shorter options of 5 days (Monday through Friday), 4 days (Saturday through Tuesday), or 2 days (Saturday and Sunday). Full week features rides based in Northampton, Hardwick and Greenfield. Two ride selections daily of 30 to 45 miles and 55 to 70 miles. Dates: Aug. 1-7, 2015.
 Berkshires to Boston Bicycle Tour — The four-day, 240-mile bike tour crosses the state from the New York border to Boston. The tour begins in the Berkshire hills, meanders through the Connecticut River Valley, rolls over the state's central plateau and spins through Lexington and other historic communities before arriving in Boston. It arrives in Boston in time for the local bicycling festival — Hub on Wheels. Dates: Sept. 14-18, 2016.