2013
Maine
Bar Harbor Maine, Inn-to-Inn features a "figure 8″ bike route along Maine's coastal areas and wooded inland valleys. The ride is self-contained (no sag) but nights are spent at motels to keep luggage at minimum. Presented by Adventure Cycling Association. Dates: June 8- 15, 2013.
Trek Across Maine is a three-day fund-raiser for the Maine Lung Association that routes bicyclists 180 miles across the state. The 2013 bike tour rolls from Sunday River to Belfast with overnight lodging at University of Maine in Farmington and Colby College in Waterville. Dates: June 14-16, 2013.
BikeMaine is a new around-the-state mass bicycle tour presented by the Bicycle Coalition of Maine. Fully supported with camping at six host communities that also provide meals and entertainment. The ride is about 400 miles and, considering the state's rolling terrain, is recommended for fit, experienced bicyclists. The inaugural route, which begins and ends in Orono, will see cyclists camping in the following host communities: Orono, Dover-Foxcroft, Belfast, Castine, Bar Harbor (two nights) and Camp Jordan (Ellsworth). Check website for registration; limited to 350 riders on this first event. Dates: Sept. 7-14, 2013.
.
Maryland
Sojourn 2013 – Rails to Trails Conservancy returns to the C&O Canal Towpath and Great Allegheny Passage for its annual Greenway Sojourn bike ride. Leaves Washington DC and ends in Pittsburgh by traveling the route of the historic canal and abandoned railway. Dates: June 23-27 2013. (Registration opens Dec. 1.)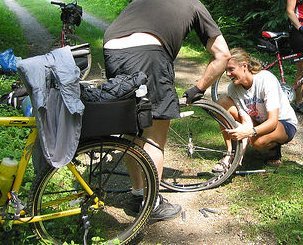 C&O Canal/GAP — This is a fully supported bike ride along the canal to Cumberland and then along the GAP rail-to-trail bike path to Pittsburgh. Camping and indoor accommodations. Offered by Adventure Cycling Association. Dates: Sept. 28 – Oct. 5, 2013..
Other Maryland bike rides
Tour Du Port — A day of bicycling in and around Baltimore. Date: Sept. 30, 2012..
Massachusetts
Cape Cod Pilgrimage I and Cape Code Pilgrimage II – A self-contained loop tour of the Cape Cod, starting in Plymouth. 280 miles. Presented by Adventure Cycling Association. Dates: June 15-22, 2013 and Sept. 7-14, 2013.

Mass BikePike Tour 2013 — This loop bike tour starts and ends in Fitchburg, in north central Massachusetts. Other highlights include Jaffery and Keene, NH, Brattleboro, VT and Greenfield, MA.  On the final day, those looking for a real challenge will have the option of climbing Mt. Wachusetts. Limited to 150 cyclists; registration starts Dec. 15. Dates: Aug. 1-4, 2013.
The Pan-Mass Challenge (PMC) is a collection of one- and two-day charity bicycle tours across Massachusetts to benefit the Dana-Farber Cancer Institute. The longest cycling tour takes riders from Sturbridge in the west to Provincetown at the tip of Cape Cod. Raised $37 million in 2012. Dates: August 3-4 2013. (Registration open in January.)