2015
Missouri
Ride the Fault — The 7-day bicycle tour loop visits areas of four states hit by the 1812 New Madrid earthquake. Starts and ends at the epicenter in New Madrid, Mo., with overnights in Kennett, Missouri; Paragould, Arkansas; Caruthersville, Missouri; Reelfoot Lake State Park, Tennessee; Hickman, Kentucky; and Sikeston, Missouri, Mostly flat route with occasional hills on a couple of days to provide scenic variety.  Dates: June 14-20, 2015.
The Katy Trail Ride (also known as "Catch the Katy") is a 225-mile ride from Clinton to St. Charles on the nation's longest rail-to-trail route. Mountain bicycles and hybrids are recommended as the surface is crushed limestone. The ride is limited to 300 cyclists. Dates: June 22-26, 2015. (Registration opens March 1, 2015.)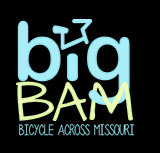 BigBAM (Bicycle Across Missouri) — 2015 is the inaugural year for the five-day bike ride across the northern part of the state. Starts in Rock Port and finishes on Friday in Canton, with overnights in Maryville, Albany, Unionville, and Kirksville. Presented by Missouri Life Magazine and Pedaler's Jamboree (see below). Dates: June 22 – June 26, 2015.
Katy Trail Epicurean Tour — A six-day bicycle tour on the 225-mile cross-state rail-trail. Starts in St. Charles with a shuttle ride to Clinton, then returns to St. Charles with daily mileages of 27 to 51 miles. Lodging in motels, inns and bed & breakfast inns. Dates: August 28-September 5; September 25-October 2; October 9-16, 2015.
Other Missouri bike rides:
Pedaler's Jamboree — A live music meet-up on the Katy Trail. Gathering is at Kemper Park in Boonville, MO. Dates: May 23 and 24, 2015.
Route 66 Mother Road Bicycle Tour — Four mileage options of 30, 45, 66 and 100 miles that include bike-friendly sections of old Route 66  Date: June 6, 2015.
Moonlight Ramble — A nighttime ride through St. Louis, starting at the Soldiers Memorial Plaza. About 18 miles. States at 8 p.m. Date: Aug. 9, 2014.
Montana
Montana Big Sky Country is a fully supported bicycle tour that starts in Bozeman. Presented by Adventure Cycling Association. Dates: June 20 – 27, 2015.
Glacier-Watertown Loop is a 350-mile self-contained bicycle tour that starts in Whitefish, Montana, and visits British Columbia as well as Glacier National Park and the Ride to the Sun Highway. Presented by nonprofit Adventure Cycling Association. Dates: July 11-20, 2015.
Cycle Divide – Montana –– This fully supported bicycle tour visits the mountain passes of southern and southeastern Montana on old logging roads and singletrack. Leaves from Whitefish. starts with a van ride to Banff, Alberta, and ends in Whitefish, Montana. Bicyclists will ride paved and dirt roads of the Great Divide for 343 miles. Presented by Adventure Cycling Association. Dates: July 11-17, 2015.
Great Divide – Canada — A self-contained mountain bicycle tour tour covers 343 miles, including 112 miles along the Great Divide Bicycle Route. Presented by Adventure Cycling Association. Dates: July 11-20, 2015.
Intro to Dirt Touring – Montana — Off-pavement how-to around Whitefish. Presented by Adventure Cycling Association. Dates: July 21-26, 2015.
Park-2-Park Montana — This fully supported ride takes bicyclists on a route that covers 418 miles from the edge of Glacier National Park's towering peaks to historic Yellowstone National Park. It's a fund-raiser for programs of Court Appointed Special Advocates, who support neglected and abused children in Montana's courts. Dates: September 2015 (no date set).
Other Montana bike rides
Scenic Tour of the Kootenai River (STOKR) is a one- or two-day charity bike ride out of Libby, Montana. Day 1 offers a 98- and 45-mile option. Day 2 is a 37-mile ride to Lake Koocanusa. Limited to 400 cyclists; registration is Feb. 14-28, 2014. Dates: May 10-11, 2014.
One Helena Hundred is presented by the Helena Bicycle Club. Bicyclists have a choice of 100 miles or 100 kilometers along the Helena River. Date: July 12, 2014
Tour of the Swan River Valley West (TOSRV-West) is a 2-day, 226-mile loop bike tour through western Montana. The ride starts in Missoula, overnights in Bigfork, then returns to Missoula. Presented by Missoulians on Bicycles. Patterned after the Tour of the Scioto River Valley (TOSRV) in Ohio. Dates: May 30-31, 2015.
Ride Around the Pioneers in One Day (RATPOD) is a 130-mile fund-raiser (Camp Make a Dream) loop bike ride that encircles the Pioneer Mountains, starting in Dillon. Registration for the popular ride opens on March 1; 650 cyclists maximum. Date: June 29, 2015.
West Yellowstone-Old Faithful Bicycle Tour is a fundraiser for several local charities in West Yellowstone, Montana. The National Park Service caps the ride at 350 participants for the 60-mile up and back ride to Old Faithful. The ride coincides National Public Lands Day, when no admission is required. Date: Sept. 21, 2013.
Back to Across State Bicycle Tours index page