2016
Ride the Fault — The 7-day bicycle tour loop visits areas of four states hit by the 1812 New Madrid earthquake. Starts and ends at the epicenter in New Madrid, Mo., with overnights in Kennett, Missouri; Paragould, Arkansas; Caruthersville, Missouri; Reelfoot Lake State Park, Tennessee; Hickman, Kentucky; and Sikeston, Missouri, Mostly flat route with occasional hills on a couple of days to provide scenic variety.  Dates: June 10-17, 2017.
The Katy Trail Ride (also known as "Catch the Katy") is a 241-mile ride from St. Charles to Clinton on one of the nation's longest rail-to-trail routes. Overnights in Hermann, Jefferson City, Boonville, and Sedalia. Mountain bicycles and hybrids are recommended as the surface is crushed limestone. The ride is limited to 300 cyclists. Dates: June 20-24, 2016. (Registration opens March 1, 2016.)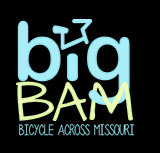 BigBAM (Bicycle Across Missouri) — The week-long bicycle tour returns for its scond year in 2016. Go to the website for details.. Presented by Missouri Life Magazine and Pedaler's Jamboree (see below). Dates: June 12-18, 2016.
Katy Trail Epicurean Tour — A six-day bicycle tour on the 225-mile cross-state rail-trail. Starts in St. Charles with a shuttle ride to Clinton, then returns to St. Charles with daily mileages of 27 to 51 miles. Lodging in motels, inns and bed & breakfast inns. Dates: Email rmc5487@gmail.com for 2016 dates.




Other Missouri bike rides:
Pedaler's Jamboree — A live music meet-up on the Katy Trail. Gathering is at Kemper Park in Boonville, MO. Dates: May 28 and 29, 2016.
Route 66 Mother Road Bicycle Tour — Four mileage options of 30, 45, 66 and 100 miles that include bike-friendly sections of old Route 66  Date: June 4, 2016.

Back to Across State Bicycle Tours