2021
Check the event websites often as scheduling may change due to Covid-19 precautions.
BigBAM (Bicycle Across Missouri) — This 297 bike tour covers about 60 miles a day. Starts in Poplar Bluff with overnights in Sikeston, Cape Girardeau, Perryville, Farmington, before ending in Ste. Genevieve. Presented by Missouri Life Magazine and Pedaler's Jamboree . Dates: June 13-18, 2021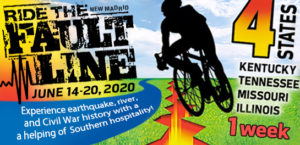 Ride the Fault — Cycle along parts of the New Madrid earthquake fault line through 4 states in 7 days. Experience the varying scenery and terrain of the states of Missouri, Illinois, Kentucky and Tennessee while enjoying unique history and southern hospitality. Dates: Returns June 2022
The Katy Trail Ride (also known as "Catch the Katy") is a 231-mile ride from Clinton to St. Charles (west to east). Overnights in Sedalia, Boonville, Jefferson City, and Marthasville. Mountain bicycles and hybrids are recommended as the surface is crushed limestone. The ride is limited to 350 cyclists; registration opens March 1. Dates: Cancelled for 2021; returns in 2022
Katy Trail Epicurean Tour –Take an Epicurean's ride along the nation's longest continuous fully developed rail-trail. Cycle 225 miles between Clinton and St. Charles while experiencing the best in lodging, food, wine, and unique attractions. Tours of Warm Springs Ranch, birthplace of the Budweiser Clydesdales; 1850's era cellars of Stone Hill Winery; Daniel Boone's home; and more. Six days of cycling. Dates: June 12-18, 2021; June 19-25, 2021; Aug. 28-Sept. 3, 2021; Sept. 11-17, 2021; and Sept. 25 – Oct. 1, 2021.
BigBAM on the Katy Trail (Bicycle Across Missouri, https://www.bigbamride.com/bam-on-the-katy) — The new bike tour keeps to the off-road Katy Trail for 236 miles. Overnights in St. Charles, Hermann, Jefferson City, Boonville, Sedalia, and Pleasant Hill. Dates: 2021 TBA
Shorter rides
Pedaler's Jamboree — A live music meet-up on the Katy Trail. Gathering is at Kemper Park in Boonville, MO. Dates : May 28-29, 2021
Route 66 Mother Road Bicycle Tour — Four mileage options of 30, 45, 66 and 100 miles that include bike-friendly sections of old Route 66 . Date: 2021 TBA
Missouri bicycling guidebooks
Back to Across State Bicycle Tours