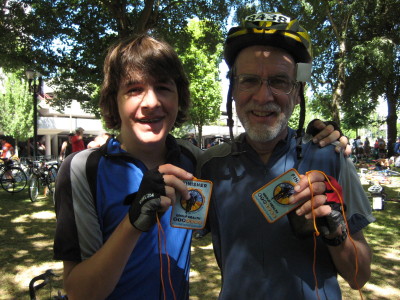 A notation on a desk calendar I saw this morning reminded me that one year ago I took a short ride on a gurney into an operating room to have my cancerous prostate removed.
Looking back, it also was a relatively short road back to bicycling, although at the time I worried whether I would ever be able to sit on a bike saddle again. As it turned out, I was able to ride the 2-day, 200-mile Seattle to Portland bike ride with my son less than 10 months later (here we are with our patches).
In the past year, I occasionally receive e-mails from men who are about to undergo prostate surgery or who have recently undergone the operation. Because they read this blog, they're interested in how the surgery will affect their bicycling. Here's how it affected my riding.
Diagnosis
I went in for surgery about six weeks after I received the definitive word that I had cancerous tumors on both sides of my prostate. The tumor had not yet escaped the confines of the prostate, however, and my doctor said removal of the prostate would probably stop the cancer.
He recommended minimally invasive prostatectomy using the da vinci robotic device. Instead of opening my abdomen like a zipper, the procedure required making five small incisions to get at my prostate. Only one incision required stitches (the one in my navel); the others were closed with tape.
Early recovery
Even with the small incisions, my abdomen was plenty sore after the operation. That soon passed, although my navel was tender to the touch for months afterward. There was no scar to heal though, no blood loss. I was walking around the block with my catheter the day I got home and was walking four-mile roundtrips to the shopping center a couple of days later.
A nurse removed the catheter a week after the operation, which made walking much easier and more comfortable. Incontinence wasn't much of a problem; I wore a pad for a couple of weeks but it stayed dry most of the time.
Any long-time sitting was uncomfortable though. I kept walking, wondering if I would ever get back on my bike.
Back in the saddle
Near the end of October, however, I started riding again. The first ride was about as short as my first walk after returning home — about a half-mile. I stopped 2 or 3 times to readjust my seat — a newly purchased Terry Liberator Y — to find a comfortable spot. I never did find it, but settled on a position slightly forward. About a month later I moved it back to its normal position.
On Oct. 31, I recorded a 5-mile ride. That's 35 days after my operation. I never stopped riding after that.
In November, I went on 15 bike rides. The average distance was about 11 miles. I see notations like: "A little tender." "Feel OK." "Took it easy." "Picked up pace." I was avoiding hills when I could and taking it slow.
I rode 21 miles on Nov. 24 (about two months after the operation) at a 13 mph pace, and did a couple of more 20-mile rides in December. All in all, though, most of my rides were slow (12 mph) and short (8 to 10 miles) through the end of the year.
2008
My first 50-mile ride came on a visit to Sacramento in January, four months after my surgery. I bicycled 312 miles that month and have been bicycling that much, or more, every month since.
The pleasure rides turned into training rides when my son and I decided to do the STP on July 12 and 13. By the time that ride rolled around, I had no problems riding the back-to-back centuries, finishing the second century in 6 hours and 15 minutes.
Success
I'm not a bike racer and never was. I rarely even get into the hammerhead mentality of racing anonymous cyclists out on the road. I'd rather match their pace — if I can — and chat with them.
So for me, success isn't measured in winning races or even hanging onto the peloton. It's measured in getting the opportunity to ride my bike out in the fresh air.
This is what worked for me:
1. Minimally invasive surgery. I had very little blood loss and could get on my feet the next day. Not for long periods, but I was on my feet. I've read and have been told that surgeons using the da vinci procedure can reconnect the bladder to the uretha better so the healing is quicker, causing less incontinence.
2. Post-operative walking. I walked several times a day; not fast to get out of breath but far enough to feel tired. No straining, just easy walking. (Also not much coffee or alcohol, which also helped me retain continence.)
3. Short, easy rides. When I returned to the bicycle, I did short rides. I didn't go fast or hard. Think of the old lady with the wicker basket on the handlebars. That was me (although not in an upright position).
I did feel discomfort in my urethra after riding at first. But it was still sore anyway, with the stitches and scar tissue.
4. Picking up distance after a month. My early rides, every other day, were pretty short. When I could  ride without feeling much soreness down below, I picked up the distance occasionally.
5. Back to normal bicycling. By the end of January I was feeling fine all the way around. I had no deadlines for bicycling or racing or touring. My only goal was just to be able to get back on the bicycle and ride like the old days.
State of mind
Probably more important than all those recovery techniques was my state of mind during this.
Lance Armstrong's efforts to increase the visibility of his anti-cancer crusade by returning to professional cycling recently made me think about how I was feeling at the time.
I never felt like a victim. I didn't wonder why this happened to me; it happens to one-in-six men. Fortunately there was a cure — surgery — and I had insurance coverage to afford it.  (There are other types of surgery and radiation. You decide which is best for you. I just chose what was best for me.) Also, I have a loving and supportive family.
Now, I almost never think about my run-in with prostate cancer when I ride. But if I ever do, it's only that I feel very happy to be back on the bike again.
---
See also: Norwegian cyclist, 72, seeks advice about prostate surgery recovery