2018
Washington
Snoqualmie Valley Sojourn — June 2-3, 2018 A fully supported bike ride presented by the Adventure Cycling Association for this year's Bike Travel Weekend. The ride is geared toward beginners as the route takes trails and low-traffic roads in the rural Snoqualmie Valley east of Seattle.  Adventure Cycling Tour Leader Tom "Ranger Tommy" Radley will lead the ride and will be joined by author/speaker Willie Weir.
 Northwest Tandem Rally: — The 2018 tandem rally visits Oregon.   Dates: June 29 – July 4, 2018.
Selkirk Splendor — A 378-mile loop around the base of the Selkirk Mountains takes cyclists into Idaho, Washington and British Columbia. Lakes, waterfalls, mountain vistas and many active small towns are on the agenda for this self-contained bicycle tour offered by the nonprofit Adventure Cycling Association. Dates: July 7-17, 2018
RedSpoke sends cyclists 300 miles from Redmond to Spokane. The fully supported bicycle tour, limited to 100 riders, climbs the Cascades and catches prevailing tailwinds across the state.  Sponsored by the Rotary Club of Redmond. Registration is open. Dates: July 18-22, 2018.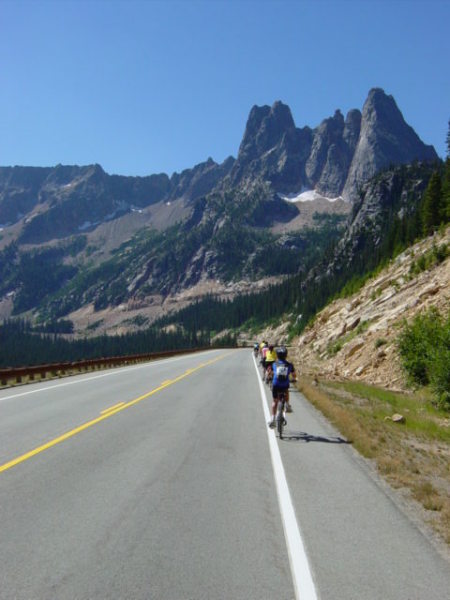 The 2018 Ride Around Washington (RAW) — Covering about 65 to 70 miles per day, this bike tour explores the Puget Sound region on the Inland Coast Tour. Presented by the Cascade Bicycle Club. Dates: July 28 – Aug. 3, 2018. (Check Cascade website for details as they become available. Limited to 230 cyclists.)
Climate Ride – Pacific Northwest — This wide-ranging ride visits the San Juan Islands, Victoria BC, and the Olympic Peninsula to support climate and environmental issues. 185 to 240 miles, with travel between locales by ferry boats. Dates: Aug. 2-6, 2018.

Washington San Juan Islands — An inn to inn bicycle tour of the islands in Puget Sound presented by Adventure Cycling Association. Dates: Sept. 8-15, 2018.
Pacific Coast – North ensures a water view on the right side for 1,900 miles from Bellingham, WA, to Eugene, OR. This is a van-supported Adventure Cycling Association bike tour. Dates: Sept. 8-25, 2018.
 WaCanId Ride — A 370-mile, fully supported bike tour on the International Selkirk Loop encompasses parts of Washington, Idaho and British Columbia. 23,000 feet of elevation gain; route encompasses mountains, lakes, rivers and a long ferry ride. Presented by Rotary Clubs of the Selkirk Loop. Dates: September 10-15, 2018 
Also check out —
The Group Health Seattle to Portland Bicycle Classic (STP) is the largest multi-day cycling event in the Northwest. More than 10,000 bicyclists take one or two days to ride the 200 mile course from Seattle to Portland. Dates: July 14-15, 2018.
Back to Across State Bicycle Tours index