Updating to 2015
Washington
Northwest Tandem Rally – Rally features a number of daily ride options of varying difficulty and length. Based in Bellingham, WA, in 2015.  Dates: July 2-6, 2015.

Cycling Washington – Bike tour visits the lush western slopes of the Cascades as well as drier Eastern Washington. Fully supported bike ride presented by Adventure Cycling Association. Dates: July 6-13, 2014.
Washington Cascades – Van — A two-week bicycle tour that visits Mount Rainer National Park, Mount St. Helens, Lake Chelan, and North Cascades National Park. Presented by Adventure Cycling Association. Personal and group gear is transported by van, while members share camp duties. Dates: July 12-26, 2014.
RedSpoke sends cyclists 300 miles from Redmond to Spokane. The fully supported bicycle tour, limited to 100 riders, climbs the Cascades and catches prevailing tailwinds across the state.  Sponsored by the Rotary Club of Redmond. Registration for 2014 is open. Dates: July 15-19, 2015.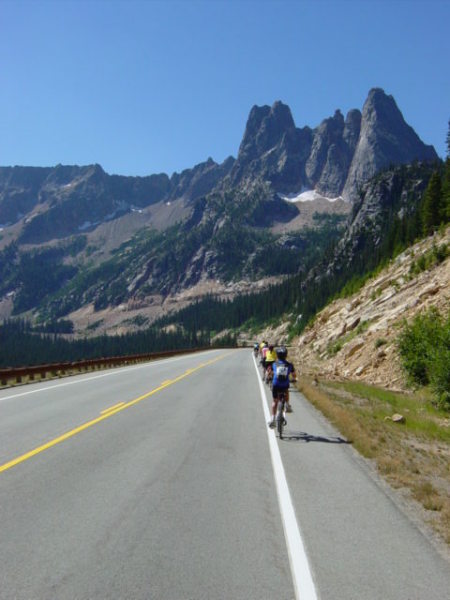 The 2015 Ride Around Washington (RAW) – Covering about 65 to 70 miles per day, this tour rolls out along the Columbia River valley from Ilwaco to Walla Walla. Presented by the Cascade Bicycle Club. Dates: Aug. 2-8, 2015. (Check Cascade website for details as they become available. Limited to 230 cyclists; registration begins early January and usually fills up within hours.)
Selkirk Splendor – A 378-mile loop around the base of the Selkirk Mountains takes cyclists into Idaho, Washington and British Columbia. Lakes, waterfalls, mountain vistas and many active small towns are on the agenda for this self-contained bicycle tour offered by the nonprofit Adventure Cycling Association. Dates: July 27 – Aug. 6, 2014.
San Juan Ramble Inn-to-Inn – A 203-mile self-contained bicycle tour through the San Juan islands in the Puget Sound. Nightly stays at inns. Presented by Adventure Cycling Association. Dates: Sept. 6-13,  2014.
Pacific Coast – Van ensures a water view on the right side for 1,900 miles from Bellingham, Wash., to San Diego. This is a van-supported Adventure Cycling Association bike tour. Dates: Sept. 24-Nov. 3, 2014.
Pacific Coast – North is a van-supported bike tour that follows the Pacific Coast from Bellingham, Washington, to Eugene, Oregon. Presented by the Adventure Cycling Association. Dates: Sept. 1 – 18, 2015.
WaCanId Ride – A 340-mile, fully supported bike tour on the International Selkirk Loop encompasses parts of Washington, Idaho and British Columbia. Riders can begin in three locations — Sandpoint, ID, Creston or Nelson, BC. Presented by Rotary Clubs of the Selkirk Loop. Dates: September 2014 (tba).
Also check out —
The Group Health Seattle to Portland Bicycle Classic (STP) is the largest multi-day cycling event in the Northwest. More than 8,000 bicyclists take one or two days to ride the 200 mile course from Seattle to Portland. Dates: July 11-12, 2015.
West Virginia
Greenway Sojourn 2014 – The annual Rails to Trails Conservancy bike tour starts in West Virginia on the Panhandle Trail, crossing into Pennsylvania onto the Montour Trail and finished on the Great Allegheny Passage trail to Cumberland, Maryland. Limited to 300 riders. Dates: June 22-27, 2014. 
Other rides…

Fun Places to Bike in West Virginia — Website author has descriptions of 9 loop bike rides in West Virginia.
Country Roads Cyclists — West Virginia-based bicycle club sponsors bike rides every weekend from March 1 through October 31. Overnight rides also are scheduled.
See also Wisconsin and Wyoming
Back to Across State Bicycle Tours index