2019
Washington
 Northwest Tandem Rally: — The 2019 tandem rally visits Boise, Idaho.   Dates: July 4-7, 2019
Cycle Washington — Presented by Adventure Cycling Association, the fully supported bicycle tour encompasses the forested western part of the state as well as the more arid eastern half. Dates: Jun 22, 2019 – Jun 29, 2019
Washington Cascades — This van-supported Adventure Cycling Association bike tour visits the Mount Rainier National Park, Mount St. Helens, Lake Chelan, and North Cascades National Park. Dates: Jul 06, 2019 – Jul 20, 2019
RedSpoke sends cyclists 300 miles from Redmond to Spokane. The fully supported bicycle tour, limited to 100 riders, climbs the Cascades and catches prevailing tailwinds across the state.  Sponsored by the Rotary Club of Redmond. Registration is open. Dates: July 18-22, 2018.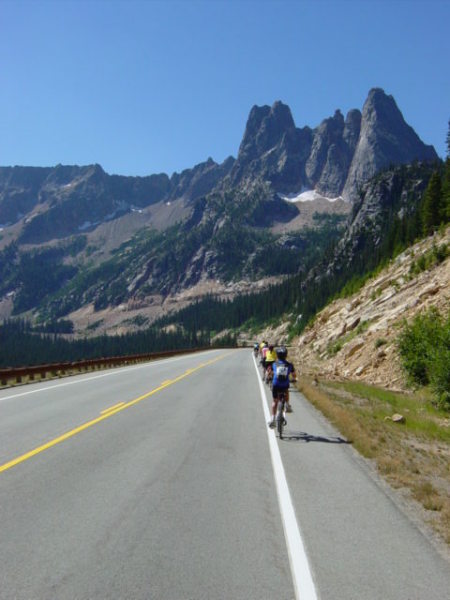 The 2018 Ride Around Washington (RAW) — Covering about 65 to 70 miles per day, this bike tour explores the Puget Sound region on the Inland Coast Tour. Presented by the Cascade Bicycle Club. Dates: July 28 – Aug. 3, 2018. (Check Cascade website for details as they become available. Limited to 230 cyclists.)
Climate Ride – Pacific Northwest — This wide-ranging ride visits the San Juan Islands, Victoria BC, and the Olympic Peninsula to support climate and environmental issues. 185 to 240 miles, with travel between locales by ferry boats. Dates: Aug. 2-6, 2018.
Pacific Northwest and Gulf Islands — Adventure Cycling Association presents this self-contained bike tour explores the cross-border regions of the Puget Sound, including the Discovery Trail on the Olympic Peninsula and the Galloping Goose Trail in Canada. Dates: Aug 11, 2019 – Aug 23, 2019

Washington San Juan Islands — An inn to inn bicycle tour of the islands in Puget Sound presented by Adventure Cycling Association. Dates: Sept. 07, 2019 – Sept. 14, 2019 and Sep 15, 2019 – Sep 22, 2019
Pacific Coast – North ensures a water view on the right side for 1,900 miles from Bellingham, WA, to Eugene, OR. This is a van-supported Adventure Cycling Association bike tour. Dates: Sept. 8-25, 2018.
 WaCanId Ride — A 370-mile, fully supported bike tour on the International Selkirk Loop encompasses parts of Washington, Idaho and British Columbia. 23,000 feet of elevation gain; route encompasses mountains, lakes, rivers and a long ferry ride. Presented by Rotary Clubs of the Selkirk Loop. Dates: September 10-15, 2018 
Also check out —
The Group Health Seattle to Portland Bicycle Classic (STP) is the largest multi-day cycling event in the Northwest. More than 10,000 bicyclists take one or two days to ride the 200 mile course from Seattle to Portland. Dates: July 14-15, 2018.
Back to Across State Bicycle Tours index