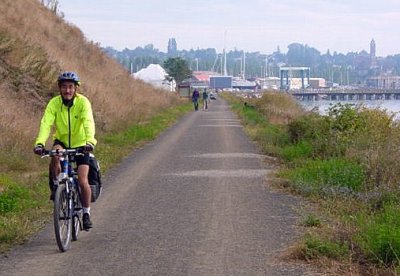 Port Townsend bike trail
With time running out for a summertime bicycle tour, a neighbor and I took an overnight bicycle trip up to Port Townsend on the Olympic Peninsula this Labor Day weekend.
The Olympic Peninsula is a great bicycling destination. Cyclists take a ferry across the Puget Sound to Bainbridge Island. After a few miles on busy roads, they have a choice of busy well-graded roads with shoulders or narrower country roads with a lot of steep ups and downs.
Either way, they enjoy spectacular views of the Olympic Mountains and sweeping vistas of the Puget Sound and its tributaries.
Heavy load
I like camping on such trips, so that meant carrying a tent, sleeping bag, stove, a small pot and other gear. Also, I tow a Yakima trailer so I don't have to be too selective about how much I take.
We biked from our homes in Bellevue across Lake Washington to the ferry terminals on the Seattle waterfront. It's a 35-minute crossing to Bainbridge Island, where we took the most direct, and busiest, route to traverse the island.
Once we crossed the Agate Bridge, we used a combination of routes from previous Tri-Island Treks and Kitsap Color bike rides to find our way to Port Townsend.
Kitsap
The instant we turned off the busy highway (Route 305), we entered the rural farmland of the Kitsap Peninsula. Passing one farm road, we were startled by a woman riding a horse:
"Have you seen any cows? My cows escaped. I've lost my girls."
Port Gamble at the north end of the peninsula is a good place for a stop. Founded in 1853, many houses in this old lumber mill town have been restored to their original condition.
Hood Canal
The harriest part of the trip is the 1-mile-plus crossing of the Hood Canal Bridge. The narrow span carries lots of car and truck traffic. While the western end has been widened for bikes and pedestrians, the eastern end is still trecherous. (This should be somewhat alleviated in 2010. See Hood Canal construction update.)
An immediate right turn puts bicyclists onto a tough climb, but it's a welcome relief after riding the busy highway. Paradise Bay Road hugs the Hood Canal coast, with views across harbors to snow-capped Mt. Baker and the Cascades.
We stopped for food at Port Hadlock and eventually reached our campground at Old Fort Townsend State Park, about a 45-mile bike ride after leaving the ferry.
There's other camping in the vicinity, such as Fort Flagler State Park, Fort Worden State Park, and Chimacum county park.
Bike trail
One of the most scenic and relaxing rides in the area is the Larry Scott Memorial Bike Trail that connects Route 20 and the Port Townsend waterfront. Heading north, cyclists follow this 3-mile hard-packed rail-trail through a small wooded area to views of the Port Townsend Paper Co. and Port Townsend's harbor.
We grabbed a late breakfast in the old part of town, settled in the 1850s. Many of the 1880s buildings along the waterfront give this town the appearance that it was ready for big things that never materialized.
Instead of revisiting those same steep hills along Hood Canal shoreline, we opted for the more level Beaver Valley Road (Highway 19) back to Highway 101 and our Hood Canal Bridge crossing (unfortunately there's no avoiding it).
After stopping at the Sunday farmer's market in Port Gamble for snacks, we opted for the hilly inner Kitsap route instead of the more level route via Poulsbo to reach Bainbridge Island and the ferry home.
If you go
This isn't the only way to make a round-trip to Port Townsend. We ran into a half dozen cyclists who took the Mulkiteo ferry to Clinton on Whidbey Island, then ferried over to Port Townsend, then returned to Seattle on our route.
You'll want a good set of maps if you go.
Check in with the Port Townsend Bicycle Association's Olympic Peninsula maps; they're available in .pdf and at bike stores and visitors centers.
For routes through Kitsap, here's the Cascade Bicycle Club's map for the Kitsap Color Classic (.pdf).