Making getaways on bicycles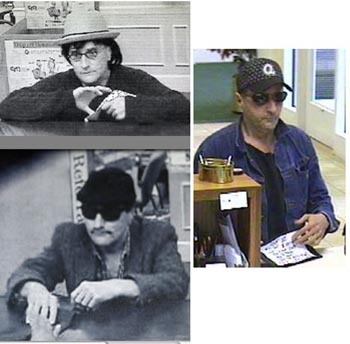 Georgia suspect wears disguises
Authorities cleared a string of some 28 bank robberies in 16 states in September when Bruce David Voss, the so-called Bicycle Bandit, was arrested after a bank robbery in Tallahassee, Florida.
Caught red-handed with the cash and his getaway bicycle stuffed in the trunk of his car, the 57-year-old Voss confessed to a string of bank robberies. The next day, he hung himself in his jail cell before authorities could learn the details and locations of all the robberies.
But that hasn't been the end of bicycle bank robberies. There have been two other separate serial bank robbery sprees — in Georgia and New Hampshire — that have a similar modus operandi. The robber makes his getaway on a bicycle.
Georgia cases
The FBI last week released several bank security camera photos of a new Bicycle Bandit who has hit 9 banks in the metro Atlanta area this year, 7 since October 9.
The latest robbery occurred Thursday at the Bank of America at 3210 Holcomb Bridge Road in Norcross, Georgia. The suspect passed a note to a teller saying he was robbing the bank, received the money, and, according to the FBI press release, "was seen leaving on a mountain bike."
Original Bicycle Bandit
I did a story on the original Bicycle Bandit back in February. At that time he was wanted for at least 7 bank robberies across the southern and central US.
Authorities believed the bank robbing spree started Nov. 21, 2006, in Columbus, Ohio, then continued to Cincinnati, Charlotte (NC), Knoxville, Louisville, Huntersville (NC) then Cookesville (TN). Now they date the robberies back to September 2006 in Virgina.
It all unraveled for him in September, after witnesses gave the FBI the description of a man seen loading a bicycle into a car after an earlier bank robbery. When the Tallahassee bank was hit on Sept. 7, police pulled over a car fitting the earlier descriptions. The driver had cash and a bicycle. He confessed.
Mystery figure
But, according to reports in the Knoxville News Sentinel, Voss couldn't remember all the locations of the bank robberies. Before authorities could learn more, he tied his bedsheets into a noose and hanged himself in his jail cell.
He didn't tell much about his background, and police only found a couple of minor charges on his criminal record. The FBI said he probably got away with it for so long because he didn't have any accomplices.
When the search for the original Bicycle Bandit was at its height, an FBI agent told a Knoxville TV station: "I'm not sure I've dealt before with one that's actually made a getaway on a bicycle."
Well, here are two more.
New Hampshire
Banker's Online reported in October that police arrested a suspect in 3 bank robberies in Milford, Troy and Keene, New Hampshire.
The man was arrested after he fled a traffic stop; his description matched that given by tellers in the three robberies.
The suspect made his bank getaways on a bicycle, then transferred to another mode of transportation.
Georgia
The man wanted in the Georgia bank robberies is suspected holdups on March 8, July 25, Oct. 9 and 23, Nov. 4 and 5, two on Nov. 8 and one on Dec. 6.
As you can see from the bank photos released by the FBI, this guy likes disguises.
Here's the Bicycle Bandit's description from the FBI press release:
Race: White
Sex: Male
Age: 45-55 years old
Hgt: 5'8"-5'10"
Wgt: Slender
Misc: Arrives by bicycle, wears a hat, hair piece, glasses,
Heavy breather, pock marked or ruddy complexion.
Anyone with information regarding this matter should contact the Atlanta office FBI at (404) 679-9000.
---
Bicycle bandit strikes again Atlanta suburb of Buford, AccessNorthGa.com; 12/20/07