Looking through some pictures for an end-of-year family photo album this week, I stumbled across some bike ride pictures and realized I had enjoyed many excellent bicycle rides this year.
All but one of these were in western Washington; most in the vicinity of my home.
Here are my 10 favorites (with links if I blogged about it) in no particular order:
Seattle to Portland — Although my son and I had done Ride Around Washington several times, we had never ridden the 200-mile STP together. He nailed it effortlessly (above) with just a handful of training rides; I chalked it up to his being 17 years old.
John Wayne Pioneer Trail — With the family out of town for a few days this summer, I took the opportunity to finally ride the rail-to-trail over Snoqualmie Pass. Amazing scenery. I returned in October and met a guy from Oklahoma who was riding his horse 2,000 miles to visit a friend in western Washington.
Overnight to Kanaskat — My son and I had never independently taken an overnight bicycle camping trip together. We rectified that this spring with a ride to Kanaskat State Park near Black Diamond.
Chilly Hilly — Cascade Bicycle Club's first organized ride of the year in February is usually a cold, blustery affair on Bainbridge Island. That wasn't the case in 2008, as sunny skies with light winds greeted the hundreds who made the pilgrimage.
Big ol' loop to Duvall — After missing a turn on an earlier trip, I rode up to Sammamish River Trail, to Tolt Pipeline, to Snoqualmie Valley Trail, to junction with John Wayne, then back via Snoqualmie-Preston and some sideroads. 75 miles. This kicked my butt.
San Juan Islands — This is the only charity ride I do, a two-day ride in the San Juans to raise money for the Stanley Stamm Children's Hospital summer camp. The fund enables children with disabilities — such as my daughter — to attend a week-long overnight camp. Dry weather this year as it was raining in Seattle. Plan on returning in 2009 to complete ride to Mount Constitution on Orcas Island.
Foothills Trail/Interurban — I caught a ride to Wilkeson, but pedaled back home to Bellevue in August. Most of the way I took the Foothills Trail, a rail-trail that runs 15 miles from South Prairie to just outside of Puyallup. Great views of Mount Rainier, on a clear day. Picked up the Interurban to Renton.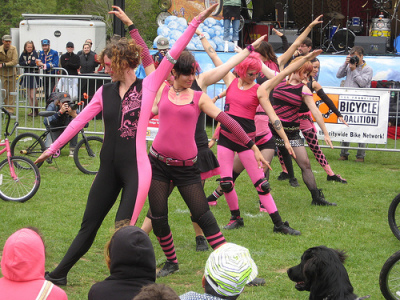 Tour de Fat — Actually the bike ride to and from Seattle was nothing special, but I headed over to Gas Works Park to check out New Belgium Brewery's Tour de Fat bicycle party and that was definitely worthwhile. That's the Sprockettes at left.
American River trail — I had the opportunity to visit Sacramento for a few days last January and rented a bicycle to do some riding on the trail along the American River. The trail runs all the way from Sacramento to Folsom, and I rode every mile of it on a rented Giant Cypress.
Hitting 4,000-mile goal — Unfortunately, I haven't done this bike ride yet. I'm hoping I can knock out about 90 miles somewhere, somehow, before New Year's Eve.