Specialized Bicycle Components of Morgan Hill, California, is recalling 14,000 2009 model bicycles because of faulty handlebars and 3,000 2004 Roubaix Comp and Roubaix Pro bicycles because of faulty cable stops.
In each case, Specialized recommends that cyclists stop using the bicycles and take them in to their local bike shop for free repair and replacement.
The HL handlebars, made in China, can break. Specialized reported to the US Consumer Product Safety Commission that two accidents were caused by the breaking handlebars, one in which the cyclist suffered head trauma and unconciousness.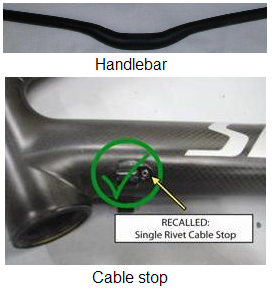 The handlebars were installed on Cross Trail Comp, Myka HT Comp, Myka HT Elite, Rockhopper, Rockhopper Comp and Rockhopper Comp 29 model bikes. The bikes were sold June 2008 through February 2009 for between $640 and $1,050.
The model number ALR-13 NTFOV is located underneath the right hand grip.
Specialized is recalling some 2004 Roubaix Comp and Roubaix Pro bicycles after receiving reports that two riders broke bones after falling from the bikes when the cable stops loosened.
Only bicycles with a single rivet fastening the cable stop to the frame are subject to the recall. Cable stops with two rivets are not part of the recall.
"The cable stop is attached through bonding materials and a single rivet mounted at the front of the bicycle. The cables pass through eyelets in the cable stop on the down tube. Bicycles with a double rivet fastening the cable stop to the frame are not subject to recall."
The bicycles in question were sold through Specialized dealers from September 2003 through August 2004 for between $1,600 and $4,000.
For more information, check the CPSC website or call Specialized toll-free at (877) 808-8154 between 9 a.m. and 5 p.m. (MT) Monday through Friday or visit the Specialized website.