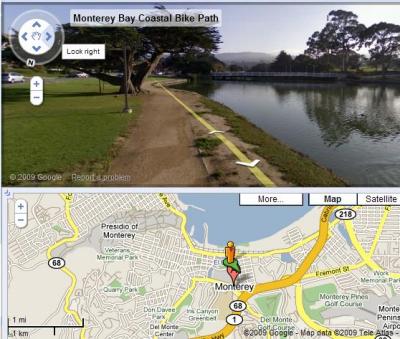 Google Maps is bringing its Street View technology to bicycle and pedestrian trials.
Using a trike outfitted with an antenna, GPS and camera, Google has put cyclists out on bike paths in California, Italy and the UK (see video below).
The Monterey Bay Coastal Bike Path, right, is one of the first bike paths to make it online.
You'd have to agree that it will be fascinating to see the 360-degree views of all the bicycle paths that Google can shoot; that means that the bike paths will be making their way onto Google Maps.
Bike There
Maybe this is the first step toward achieving what many bicyclists have been seeking — "bike there" capabilities for Google Maps. It would enable users to choose the best directions from Point A to Point B via bicycle.
See Peter Smith's blog, "Google Map's Bike There," to learn more about the "Bike There" issue. He suggests heading over the Google virtual suggestion box and clicking on "adding bike trail information and biking directions."
In reporting the development, USA Today quoted Google senior engineer Daniel Ratner:
"Much of the world is inaccessible to the car. We want to get access to places people find important."
Ratner says people ask him if the trike is a Google robot. I suppose it's a good thing that most bicycle paths are on level ground or old railroad rights-of-way that have easy grades. That trike looks heavy.
Google expects to put more Street View images online from over the summer.