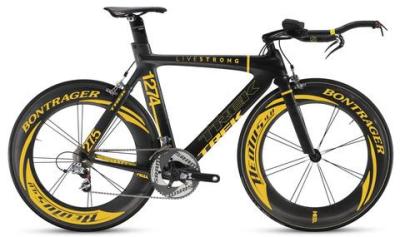 The wheels of justice are catching up to those two hapless co-defendants involved in the theft of Lance Armstrong's bike in Sacramento during the Tour of California in February, as some ironic aspects emerge.
The man charged with taking the three bicycles — including Armstrong's one-of-a-kind time trial bike — from the Astana truck has pleaded no contest and will be sentenced to a 3-year prison term on Monday.
The man who pleaded no contest to receiving the stolen property already has been sentenced to a 3 years, suspended, and 90 days in jail.
Three years in prison might seem a little harsh for taking a bicycle, but the Sacramento Bee reports the theft suspect, 40-year-old Lee Monroe Crider, has a police rap sheet that goes back 21 years in Sacramento. He was on probation for a bike theft at Sacramento State.
Odd case
Although I consider bicycle theft a serious crime, there are some ironic details to this case.
For starters, Crider pried the lock off the rental van containing the bicycles with the metal kickstand from his own bike.
The first bike he removed from the van was Armstrong's $10,000 time trial bike. While he went back for the other two bikes, he locked the time trial bike to a tree. I guess he knew you can't be too careful with so many bike thieves around.
No hero
Crider eventually sold that time trial bike — for $200 — to Dung Hoang Le, who kept it in his car. When he picked up his wife from work about three days after the theft, she told him it was Armstrong's bike and he better return it.
He did return it to police, but instead of being a hero, they searched his computer and phone records to discover that he'd been talking to Crider after the theft.