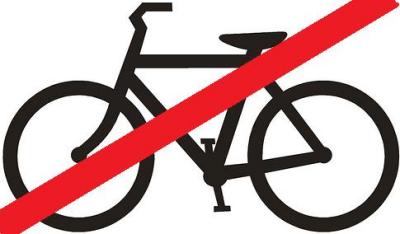 Bicycling advocates reacted with outrage this past week to news of Black Hawk, Colorado's ban on bicycling on most streets in town.
Bicycle Colorado, Adventure Cycling Association and the League of American Bicyclists are all asking their thousands of members to contact city officials to rescind the ban.
Perhaps the tiny gambling town west of Denver should have folded instead of playing its hand to prohibit bicycles from most city streets last January. Now the city is the target of some unwanted publicity, at least from bicyclists.
Word about the ban got out last week when some bicyclists complained about $68 tickets they were issued for riding in the street ("Banned in Black Hawk: bicycles off-limits on most roads in Colorado town.")
Bicycle Colorado
The statewide bicycling advocacy group Bicycle Colorado is raising money to launch a legal challenge to the ban and to seek legislation to ensure other cities in the state can't do the same. The group reports in an action alert at its website:
"Bicycle Colorado formally asked Black Hawk City Council to lift the ban during the June 9th City Council Meeting. Council made it clear that they had no intention of changing their ordinance. Now we need the help of the Colorado bicycling community to get their attention."
They have an extensive Q & A on the website, where they say that there have been no crashes involving bicycles in the town.
Bill Copp, Black Hawk's city manager, explained on TV reports that the city's streets are too narrow to accommodate bicycles, along the cars and bus traffic attending the city's casinos. "We're trying to be pro-active here," he explained to a reporter for Channel 9 News.
Bicycle Colorado president Dan Grunig told the reporter there's a danger that this public access issue could become a precedent for other municipalities in the state.
"When they hear there's an entire town that's banned cycling, that doesn't look good for Colorado."
Adventure Cycling
Adventure Cycling Association issued a "route alert" to its 44,500 members through its blog, warning anyone using the Great Parks South Bicycle Route to avoid Black Hawk or walk their bicycle through town:
Walk your loaded touring bike the 1.5 miles through town (on State Hwy 279/Gregory Street) before remounting your bike for refreshment in either Central City or Rollinsville.
Detour around the area entirely by using the Berthoud Pass Alternate bypassing not only Black Hawk but Rocky Mountain National Park.
Trying to take a positive tack, cartographer Jennifer Milyko suggested Black Hawk city officials read several studies on how bicycle tourism helps economic development in small towns.
League of American Bicyclists
The League of American Bicyclists points out that, in spite of Black Hawk's bike ban, Colorado is the home to 11 Bicycle-Friendly Communities, including platinum-level Boulder. The League urges its members to contact City Hall:
Colorado residents, cross-state tourists and concerned cyclists can contact Black Hawk leaders at CityClerk@CityofBlackHawk.org or the town council at 303-582-2212. Ask Mayor David D. Spellman and Aldermen Linda Armbright, Paul G. Bennett, Diane Cales, Kathleen Doles, Tom Kerr and Greg Moates to please restore bicycle access to Gregory Street and all Black Hawk streets.
Blogs, Facebook
Meanwhile a blogger launched Boycott Blackhawk, a website that is encouraging cyclists to contact city officials and to avoid the town. The blog also tracks bicycle clubs in the US and Canada that are writing against the bike ban.
There's also a Facebook page, Bicyclists and Tourist Boycott Blackhawk, Colorado, that has gained nearly 400 members in just a few days.
Meanwhile, many other bicycling blogs — such as Cyclelicious, Bike Rumor and Bike Jerks — have all written about the ban.