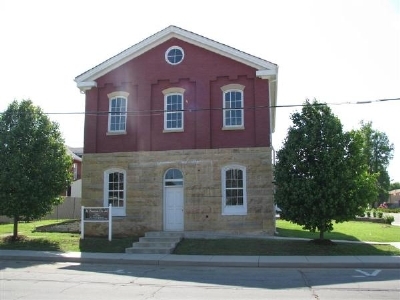 When my pal and I traveled across Missouri on our bicycles, we were struck by the friendliness of the townfolk in Farmington.
Heading west, it was our last pause before heading into the Ozarks. Folks asked if we needed directions, one guy stopped to chat, and the friendly proprietor of a cafe on town square kept our iced tea glasses topped off.
That was 26 years ago, but the folks in Farmington still support the bicyclists passing through town.
Trail angels
The Adventure Cycling Association chose the town of Farmington for the 2010 June Curry Trail Angel Award, named for the always helpful Cookie Lady of Afton, Virginia. It's one of four awards that the Missoula, Montana-based nonprofit hands out annually to people or places that make travel by bicycle a little bit easier.
Farmington is right on the path of the TransAmerica Bicycle Route and gets it's share of bike travelers passing through from all over the world. To help accommodate them, the city staff took the old town jail and renovated it into a bicyclists' hostel called "Al's Place."
Named for Al Dziewa, a local bicycling enthusiast who died of cancer in 2005, the hostel opened in September 2009 with 14 beds in three bedrooms, two bathrooms, a kitchen, laundry, cable TV, common area and internet access. Directions to the hostel are painted on the road for cyclists entering from east or west on the TransAmerica trail.
It's a great idea for a town to offer a low-cost option for bicyclists passing through. It not only helps bike travelers who are always planning the next night's lodging or campground, but they're bound to spend some money in town.
For a closer look, check out this video from one of its grateful guests last year.
Pacesetter Award
Jim Klobuchar, a former columnist for the Minneapolis Star Tribune, received the Pacesetter Award for helping to inspire others to travel by bicycle. He has led bicycling expeditions around Minnesota for the past 35 years. The trips, entitled "Jaunts with Jim," have motivated thousands to explore and enjoy the rural regions of the state.
Here's a description of the 2010 "Jaunt with Jim."
Bike shop
Bike Newport in Newport, Oregon, earned the Sam Braxton Bicycle Shop award for 2010. The shop is located on the Pacific Coast Bicycle Route. In addition to stocking a wide variety of accessories for bike touring, it has set aside an area where cyclists can relax, take a shower, and do the laundry.
The bike shop owners, Elliott and Daniella Crowder, also sponsor local rides and attend conferences to promote bicycling.
Volunteer
Chuck Pengilly of Missoula earned the Volunteer of the Year award. He has helped around the Adventure Cycling office for years and lately has been cataloguing the books, newsletters, biking guides and magazines that the group has collected since it started as Bikecentennial 35 years ago.