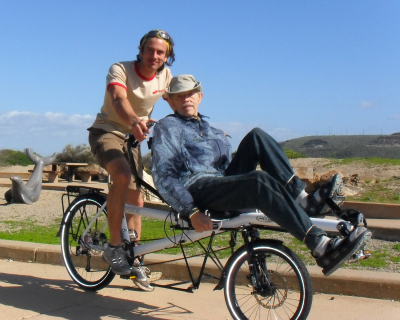 Finally. A documentary about a cross-country bicycle tour has made it to prime time TV.
"Take a Seat: Sharing a Ride Across America" is a 10-part series about cyclist Dominic Gill's TransAmerica travels on a tandem bicycle with 10 different companions, all of whom face challenges of physical disabilities.
The show premiers at 8 and 8:30 p.m. (ET/PT) Monday with back-to-back episodes on the Universal Sports cable network (schedule below).
The adventure series is a first for the sports network, which also broadcasts cycling events, such as the Tour of the Basque Country on Monday through Friday this week. [Check the Universal Sports channel finder for a station in your area.]
1 man on 2-seat bicycle
The story of the Brit's meandering bicycle travels from Santa Monica to New York City via Yellowstone Park and the Dakota Badlands is a compelling one.
Gill first passed through the US and 2007 on a Pan-American tour from Alaska to the tip of South America. He rode solo on a tandem and picked up folks along the way. Some 270 people joined Gill on that ride.
One of the people who most inspired him on that trip was Ernie Greenwald. The 70-year-old from Lompoc, California, told Gill that his dream was to ride a bicycle cross-country, in spite of his battles with lymphocytic leukemia.
Disabled cyclists
So Gill returned to the US in 2010 with a unique tandem bicycle donated by Germany's Hase. The tandem was designed with a recumbent front seat that enabled people with disabilities to ride for long distances. Imagine the "stoker" sitting in front and the "captain" behind him.
Unfortunately, Greenwald had to cancel due to his worsening condition, but Gill pressed on. He found 10 other volunteers with physical disabilities who took a seat on his tandem from one to 25 days on his 4,000 miles journey that took 104 days to complete.
Last year, Gill was interviewed by the Las Vegas Review Journal with a 22-year-old passenger who had been blind since birth. Carlos Terrazas, in video at right, rode with him to Salt Lake City.
Gill said the cross-country bike trip had three goals: "To travel, to share, and to inspire."
Inspiration
Later, he told Universal Sports:
"As an adventurer, I was excited for the challenge of cycling across the United States, but to be able to do it while helping others overcome adversities and break boundaries is an honor. I just provided the seat; Ernie and each of my companions provided the inspiration."
Gill's companions include those who are overcoming the challenges of muscular dystrophy, multiple sclerosis and Parkinson's disease.

I hope this series captures enough audience interest to spark more shows about bicycle touring in the future.
More
Read more about Gill's project at his Take a Seat: Sharing a Ride across America website. Also, previous stories on Biking Bis are "Helping others to enjoy bicycle touring" and "One man tour of two-person bike."