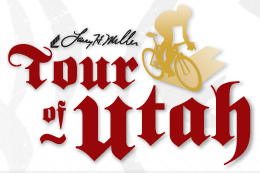 With the Tour de France still fresh in their minds, if not their legs, some well-known American cyclists will be competing at the six-day Tour of Utah bike race this week.
Defending champion Levi Leipheimer (RadioShack) will be at the start for the Prologue in Park City on Tuesday, as will Tom Danielson (Garmin Cervelo), at 9th the highest placed finisher from the US at this year's Tour de France.
Others include Danielson's teammates Dave Zabriskie (a Salt Lake City native) and Christian Vande Velde, as well as George Hincapie (BMC Racing).
One of the biggest absences will be Chris Horner (RadioShack), who crashed out in the Tour and is recovering from a concussion and other injuries.
The course
The Larry H. Miller Tour of Utah returns for its 6th year with its highest ranking on the Union Cycliste Internationale sanction system — 2.1.
It runs Tuesday through Sunday, covering 409 miles. Stage 5 on Sunday probably offers the biggest challenge for the peloton — a
mountain-top finish at Snowbird Ski and Summer Resort and 10,900 feet of climbing over the 100-mile course.
Most of the stages are in the Salt Lake City vicinity of northern Utah. [Stage map and host venues.]
Teams
Sixteen professional cycling teams will be represented, including five ProTour cycling teams: HTC-Highroad (USA), No. 1 on World Tour; Team RadioShack (USA), No. 3 on World Tour; BMC Racing Team (USA), No. 6 on World Tour; Team Garmin-Cervelo (USA), No. 12 on World Tour and Liquigas-Cannondale (ITA), No. 13 on World Tour.
All told, there are 11 US-registered teams; other teams represent Canada, Colombia, Italy, Great Britain, New Zealand, and Spain. [See the full list of teams and team rosters at Tour of Utah.]
Follow on TV, internet and mobile
There are ways to follow the Tour of Utah from home, at the office or on the go.
The Fox Sports Network (aka Root Sports in some regions) is offering same-day one-hour shows for the first five days of the Tour of Utah and a two-hour show on Sunday. Check the listings for showtimes in your area. Generally, they're late at night.
You probably remember Tour Tracker from the Amgen Tour of California. It will be offered during the Tour of Utah for streaming video, real-time GPS location, speed, slope and elevation data, as well as commentary and social media feeds. Here's the link to Tour Tracker for Tour of Utah.
In addition to the online Tour Tracker, it can be viewed on apps for iPhone, iPad and Android devices.
You can also find updates on Twitter at Tour of Utah and by searching #ToU11.
Here are the approximate start and finish times for the six days of racing:
Tuesday: Prologue — Start 2 p.m. ; Finish 4:30 p.m.
Wednesday: Stage 1 — Start 11 a.m.; Finish 3:45 to 4:30 p.m.
Thursday, Stage 2 — Start 11 a.m.; Finish 3:45 to 4:30 p.m.
Friday, Stage 3 (ITT) — Start 5 p.m.; Finish 8 p.m.
Saturday, Stage 4 — Start 1 p.m.; Finish 3:45 to 4:30 p.m.
Sunday, Stge 5 — Start 11 a.m.; Finish 3 to 4 p.m.