Updating to 2019
Ojai Valley Century — June 2, 2018 2019 TBA Four route options include the Double Metric Century and the Hammerhead Century (featuring a morning hillclimb). All rides leave from Libby Park in Ojai.
rideATAXIA NorCal — June 1, 2019 Bicyclists can choose options of 1.5, 10, 23, or 52 miles. Fully stocked rest stops, SAG support, and post ride food prepared by Outback Steakhouse and Lazy Dog Restaurant. Fundraising benefits the Friedreich's Ataxia Research Alliance (FARA).
The Sequoia (formerly Sequoia Century) — June 2, 2019 Western Wheelers Bicycle Club of Palo Alto presents four fully supported challenging routes through the Santa Cruz Mountains. Options of 100 and 72 miles are offered, as well as new routes of 67 and 44 miles. All routes have rider caps, so register early. #
 Los Angeles River Ride — June 9, 2019 Five bike ride options — 2 miles to 100 miles — as well as family and kid ride options start at Shoreline Aquatic Park in Long Beach. Offered by Los Angeles Bicycle Coalition. #
AIDS Lifecycle June 2-8, 2019 A 545-mile fund-raiser bike ride from San Francisco Los Angeles. Sponsored by San Francisco AIDS Foundation and L.A. Gay and Lesbian Center.#
L'Etape California — June 9 2019 This is the "citizens" ride for the 2019 Tour of California. 90 miles of riding and 12,000 feet elevation change, or 55 miles with 8,000 feet of elevation change. The course features three major climbs of Lower Mt. Baldy Road, Glendora Mountain Road, Upper Mt. Baldy Road. Registration opens Feb. 20.#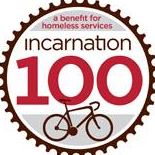 Incarnation 100 – June 8, 2019  The bike ride in Sonoma County benefits homeless services. Options of 100, 62, 45, and 30 miles. Presented by Church of the Incarnation.  #
Bike the Bridges — June 9, 2019 The fund-raiser for Special Olympics of Northern California offers four options — routes of 25 miles, 50K, 100K, and 100 miles. All routes pass over the Benicia and Carquinez Bridges. Free lunch to riders and discounts to beer festival. Starts at Martinez waterfront. #
Mendocino Monster — June 10, 2018 Two bike rides — the Scary Monster (100 miles) and Hairy Monster (62 miles) — leave from Mendocino Community College in Ukiah. Barbecue dinner at the end. Fund-raiser for Rotary Club.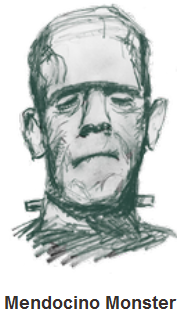 CF Cycle for Life – Half Moon Bay — June 16, 2018 The Cycle for Life bike rides raise money for research and treatment for cystic fibrosis, an inherited chronic disease that affects the lungs and digestive systems of some 30,000 adults and children in the US. Options of 25, 40 and 100 km in and around coastal Half Moon Bay.
Mile High Century — June 16, 2018   This ride has a ride history of more than 30 years. The Lake Almanor Basin Indian Valley bike ride meets at Chester Park. Three options — 108, 56 and 33 miles — are available. All riders get an Elks Lodge spaghetti feed.
Arthritis Bike Classic Marin — June 16, 2018  The charity bike ride begins at Stafford Regional Bike Park. Options of 23, 41, 61 or 102 miles are offered. Register here.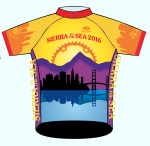 Sierra to the Sea Bicycle Tour — June 16-23, 2018 Covers some 420 miles from the Mother Lode in the Sierra Nevada, through the Sacramento and Napa Valleys to the Pacific Coast, ending at Golden Gate Park in San Francisco. The eight-day ride is designed for experienced cyclists and is limited to 160 riders. (Route changes in 2017.) Contact the Almaden Cycle Touring Club's website for information and registration.
Cycle the Sierras — June 16-20, 2017 (2018 TBA) The Sierra Nevada in Northern California is the locale for this fully supported annual bike ride. About 300 miles of bicycling with dinner, refreshments and camping at night. Registration limited to first 150 cyclists.
RBC GranFondo Silicon Valley — June 23, 2018  Starting in East Palo Alto, cyclists can choose options of 62 or 75 miles through the Coastal Range to within sight of the Pacific Coast. Limited to 1,000 participants, who can raise money for local charities.
Giro Bello — June 23, 2018 Three bike route options through Sonoma County wine country and geysers; 102, 68.2 and 29.2 miles. Presented by the Rotary Club of Santa Rosa to benefit their charitable projects. Starts at O'Reilly Media Campus in Sebastopol.
Climb to Kaiser — June 30, 2018 The bike ride has been rated as one of the 10 toughest by Bicycling magazine. The main ride climbs 13,000 feet in 155 miles; there's also the Tollhouse Century and the Millerton Metric Century. Sponsored by the Fresno Cycling Club..
Devil's Slide Ride — June 30, 2018 Options of 104, 61, or 37 miles include Highway 1 through Devil's Slide overlooking Pacific Ocean. Starts in Pacifica. Benefits people with developmental disabilities in San Mateo County.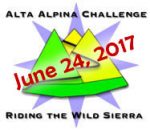 Riding the Wild Sierra — June 30, 2018    Four tough ride options: Wild Sierra Metric, Wild Sierra Century, 5 Pass Challenge, and 8 Pass Challenge Double Century. The bike rides take advantage of the many mountain passes in the Sierra that lead to the Turtle Rock Park starting point near Markleeville. Sag support and rest stops. Presented by Alta Pina Cycling Club.
Beach Babe Bicycling Classic —  (retired) A women's bike ride along the coast from Long Beach to Huntington Beach and back for two distance options of 15 or 38 miles. Part of California Girl Series
Palomar Challenge — June  TBA Three distance options (24, 35, or 64 miles) from Lake Henshaw to the summit of Mount Palomar; also, a timed climb to the summit is offered.
Back to California century bike rides calendar
Back to Biking Bis