2014

San Diego Century Bicycle Tour — See May  A 102-, 65- and 37-mile bike ride options are included in this year's Encinitas Sports and Fitness Festival. Bicyclists make their way up Dos Pico Peak on the century ride for a 30-mile descent to the finish. Sponsored by city of Encinitas.
Ride Ataxia NorCal  —  See May Options of 15, 30 or 50 miles or a metric century leaving Memorial Stadium in Davis.  Benefits the Friedreich's Ataxia Research Alliance, which is researching a cure for the debilitating, life-shortening neuro-muscular disorder. Outback Steakhouse provides post-ride food.
Ojai Valley Century — See May Four route options include the Double Metric Century and the Hammerhead Century (featuring a morning hillclimb). All rides leave from Libby Park in Ojai.

Auburn Century — See May Calling itself the wildest ride in the West, the bike ride features five bike ride options: 40, 60, 80, 106 and 126 miles. The century has 11,000 feet of climbing. Cyclists in the 80- and 106-mile routes can ride the Iowa Hill Time Trial, a timed-course up the 13.5% average grade, 1.75-mile climb. Organized by Auburn Endurance Events.
America's Most Beautiful Bike Ride – Lake Tahoe — June 1, 2014  A 72-mile bike ride around Lake Tahoe is the featured bike ride, although there is a 100-mile option that heads out to Truckee and back before circumnavigating the lake. A shorter route comprises a boat ride across the lake. Presented by Bike the West. (Registration opens Jan. 1, 2013)
Sequoia Century — June 1, 2014    Western Wheelers Bicycle Club of Palo Alto presents three fully supported challenging routes through the Santa Cruz Mountains of 56, 71 and 113 miles.
Fiesta Metric Century — June 7, 2014   This San Diego-based bike ride has 3 options — 20, 45 and 62 miles. Presented by Scripps Health.
 Los Angeles River Ridge — June 22, 2014  Four bike ride options — 36, 50, 70 and 100 miles — as well as family and kid ride options start at Shoreline Aquatic Park in Long Beach. Offered by Los Angeles Bicycle Coalition.
Tour de Cure – Silicon Valley — June 8, 2014 Starts at Hewlett Packard. Fund-raiser for American Diabetes Association.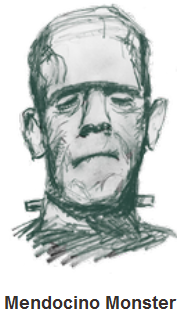 Mendocino Monster — June 8, 2014 Two bike rides — the Scary Monster (100 miles) and Hairy Monster (62 miles) — leave from Mendocino Community College in Ukiah. Barbecue dinner at the end. Fund-raiser for Rotary Club. 
Santa Clarita Century — June 14, 2014 Three options include100-, 50-, and 25-mile bike rides as well as a family-friendly ride. Begins at Valencia Town Center. Proceeds to the Santa Clarita Child and Family Center. Presented by Santa Clarita Velo Club.
Col. Allensworth Century – See October 2012
Sierra Century — See May  The event offers 3 routes that take cyclists through Meadow Vista and the foothill towns of Colfax, Applegate, and Newcastle. Homebased at Amador County Fairgrounds in Plymouth (camp at fairgrounds Friday night). Full rider support includes continental breakfast, unique cuisine at rest stops and complimentary post-ride pasta dinner; sponsored by Sacramento Wheelmen. (Limited to 1,500 cyclists.)
Mile High Century — June 14, 2014   This ride has a ride history of more than 30 years. The Lake Almanor Basin Indian Valley bike ride meets at Chester Park. Three options — 108, 56 and 33 miles — are available. All riders get an Elks Lodge spaghetti feed.
Sierra to the Sea Bicycle Tour — June 14-21, 2014 Covers some 420 miles from the Mother Lode in the Sierra Nevada, through the Sacramento and Napa Valleys to the Pacific Coast, ending at Golden Gate Park in San Francisco. The eight-day ride is designed for experienced cyclists and is limited to 130 riders. (A two-day Lake Tahoe option add two days of cycling before the main event). Contact the Almaden Cycle Touring Club's website for information and registration.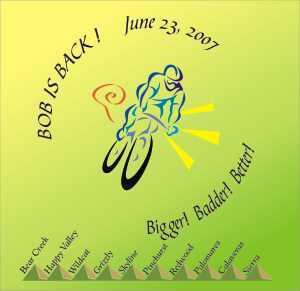 Best of the Bay — June 21, 2014  This mountainous super-century's includes options with or without the killer Sierra Road climb. Starts at Orinda Community Park. Sponsored by Cherry City Cyclists of San Leandro.
Palomar Challenge — June  Three distance options (24, 35, or 64 miles) from Lake Henshaw to the summit of Mount Palomar; also, a timed climb to the summit is offered.
Cycle the Sierras — June 21-25, 2014  The Sierra Nevada in Northern California is the locale for this fully supported annual bike ride. About 300 miles of bicycling with dinner, refreshments and camping at night. Registration limited to first 150 cyclists.
Climb to Kaiser — June 28, 2014  The bike ride has been rated as one of the 10 toughest by Bicycling magazine. The main ride climbs 13,000 feet in 155 miles; there's also the Tollhouse Century and the Millerton Metric Century. Sponsored by the Fresno Cycling Club.
Giro Bello — June 28, 2014 Three bike route options through Sonoma County wine country and geysers; 102, 68.2 and 29.2 miles. Presented by the Rotary Club of Santa Rosa to benefit their charitable projects. Starts at O'Reilly Media Campus in Sebastopol.
Riding the Wild Sierra — June 28, 2014   Four tough ride options: Wild Sierra Metric, Wild Sierra Century, 5 Pass Challenge, and 8 Pass Challenge Double Century. The bike rides take advantage of the many mountain passes in the Sierra that lead to the Turtle Rock Park starting point near Markleeville. Sag support and rest stops. Presented by Alta Pina Cycling Club.
Pasadena Marathon – June  This running event also features a 26.2-mile bike tour. Watch website for registration.
Back to California century bike rides calendar
Back to Biking Bis