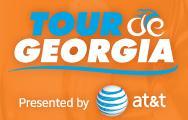 In case you were wondering, the Tour de Georgia will not roll out in 2010.
In spite of an effort to bring back the bike race next year, the cash-strapped Tour de Georgia Foundation was unable to find the sponsors to pay for the race for the second year in a row.
Tour de Georgia board member Tom Saddlemire told CyclingNews:
"The Board of Directors and our advisors did all we could to tailor a race to fit within the economic realities of today and we are understandably disappointed in this announcement, but we are committed to bringing back the Tour as soon as possible." …..