Updating to 2019
Valley River Ride — (retired) Two options follow the Green and Cedar river valleys out of Renton. A 35-mile ride rolls from Renton to Auburn on mostly protected bike trail; the 52-mile route branches off toward Maple Valley and returns via Cedar River Trail. Presented by Cascade Bicycle Club.
The Daffodil Classic — April 8, 2018 Three bicycle loops — 40, 62 or 102 miles — leaving Orting Middle School. Also an out-and-back on a bike trail that can be 1 to 30 miles. Sponsored by the Tacoma Wheelmen's Bicycle Club.
Emerald City Bike Ride – April 8, 2018 Ride the I-5 express lanes and the US 99 viaduct, both of which will be closed to vehicular traffic for this ride. Choose 3 miles or 12 miles. Presented by Cascade Bicycle Club.
Gran Fondo Goldendale — April 15, 2018 Ninety miles, plenty of climbing, from Goldendale High School. Presented by Vicious Cycle.
Tulip Pedal — April 21, 2018 Up to 60 miles of cycling; associated with Skagit Valley Tulip Festival. Leaves from La Conner Middle School between 7 and noon (site moved from Rexville Grange); sponsored by Skagit County Medic One.
Earth Day Ride — April 21, 2018 The Tacoma area ride starts at Cutters Point Coffee  in University Place, then rolls along scenic Chambers Bay, through historic and rustic Steilacoom, and through DuPont and back. Tacoma Washington Bicycle Club (TWBC)
Washington Bike Summit — April 29-30, 2018 Sponsored by the Cascade Bicycle Club, the annual two-day summit brings together advocates for bicycling and safe streets with professionals in planning, design, engineering, health, education, business and tourism. At Spokane Falls Community College. Registration required.
Ride for Major Taylor — April 28, 2018 Bike ride presented by the Cascade Bicycle Club is a fund-raiser for the Major Taylor Project. The program is a year-round youth development bicycling project serving eight schools in Seattle and two in Tacoma.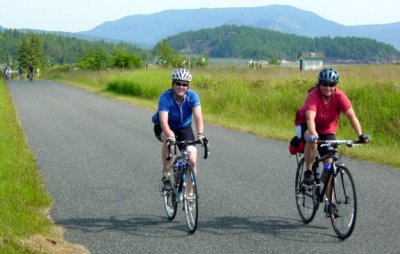 Bike Tour Lopez Island —  April 28, 2018 10 and 26-mile cycling loops around Lopez Island (early registration starts January; this one sells out)
Lilac Century & Family Fun ride ––April 29, 2019 Bike ride options of 15 miles to 100 miles.  The 100-mile ride and part of the 50-mile ride travel the west side of the Spokane River, through the Long Lake Area, and through the West Plains of Spokane. The 66-mile route follows the Centennial Trail to Nine Mile, around Long Lake, back to Nine Mile and then returns to Spokane Falls Community College. Presented by Spokane Aurora Northwest Rotary Club.
McClinchy Mile — April 29, 2018 The Snohomish County bike ride will be a memorial to the people affected by the Oso Landslide. The route will pass through the landslide zone on Highway 530 to Darrington on Saturday. Cyclists are encouraged to spend the night in the area and ride the Centennial Trail or Whitehorse Trail on Sunday. Sponsored by B.I.K.E.S. Club of Everett.
Northwest Crank — (TBA) This is a great way to build your base mileage for the summer. Hosted by Seattle International Randonneurs, the event is based in East Wenatchee and features five days of bike rides, as well as seminars and other bikey stuff.
Jump to May Bicycle Ride Calendar
Back to Washington Bicycle Ride Calendar main page