2013
Bicycle Alliance of Washington Open House — April 4, 2013 The bike advocacy alliance will host an open house from 5:30 to 7 p.m. at  its offices at 314 First Ave. NW, Seattle. Beer, chips and salsa. Photographs by an alliance member will be displayed as a part of First Thursday Art Walk in Pioneer Square.
The Daffodil Classic – April 14, 2013 Three long bicycle loops — 40, 62 or 102 miles — leaving Orting Middle School. Also an out-and-back on a bike trail that can be 1 to 30 miles. Sponsored by the Tacoma Wheelmen's Bicycle Club. (See 2013 Tacoma News-Tribune article about food offerings on the ride)
Tulip Pedal — April 20, 2013 Up to 60 miles of cycling; associated with Skagit Valley Tulip Festival. Leaves from La Conner Middle School between 7 and noon (site moved from Rexville Grange); sponsored by Skagit County Medic One.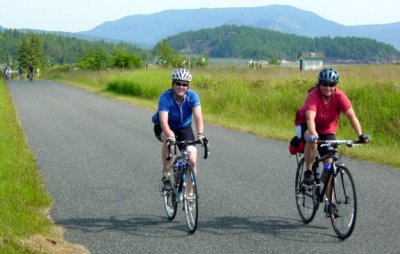 Northwest Crank – April 18-21, 2013  This is a great way to build your base mileage for the summer. Hosted by Seattle International Randonneurs, the event is based in East Wenatchee and features five days of bike rides, as well as seminars and other bikey stuff.
Group Health Yakima Ridges — Discontinued.
Bike Tour Lopez Island — April 27, 2013  10 and 26-mile cycling loops around Lopez Island (early registration starts mid January; this one sells out)
Lilac Century & Family Fun ride -- April 28, 2013 Bike ride options of 15 miles to 100 miles. New is the 66-mile route that follows the Centennial Trail to Nine Mile, Long Lake, then back to the start at Spokane Falls Community College. Presented by Spokane Aurora Northwest Rotary Club.
Vulcan Bike to Work Breakfast — See May 2013  Kickoff event for bike to work month in May. Check Cascade Bicycle Club link for exact date.
Jump to May Bicycle Ride Calendar
Back to Washington Bicycle Ride Calendar main page