Updating to 2014
Northwest Tandem Rally – July 3-7, 2014 Five days of supported and unsupported tandem bike riding in Pendleton, Oregon, this year.
Bicycle Sundays: Seattle — July 6 & 13, 2014 Lake Washington Boulevard closed to vehicular traffic from 10 a.m. to 6 p.m. between Mount Baker Beach and Seward Park.
World Naked Bike Ride – Seattle – July   Tentative meet up for a ride around Seattle is the Olympic Sculpture Park Beach.
Bicycle Sundays: Seattle — July 13, 2014  Lake Washington Boulevard closed to vehicular traffic from 10 a.m. to 6 p.m. between Mount Baker Beach and Seward Park.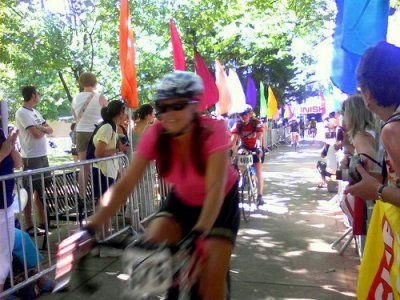 Seattle to Portland (STP) – July 12-13, 2014  Classic 200-mile bicycle ride in one or two days; registration caps at about 8,500. One of the top rides in the US. Cascade Bicycle Club. Sold out in April in 2010, so register early. SOLD OUT (check here for auctions/refunded tickets)
RedSpoke — July 16-20, 2014   Five-day, 300-mile fully supported bicycle tour from Redmond to Spokane; Rotary Club of Redmond
Cyclefest — July    At the Seward Park Ampitheatre. Features the best stage of the Tour de France (Stage 18) shown on the silver screen. Festivities start at 5 p.m. with family activities. Also, local racing series runs from 5 to 8 p.m. Sponsored by Cascade Bicycle Club.
Tour de Peaks — July 19, 2014 Riders are offered options of 25-, 50- or 100-mile loops against the Cascades in the Snoqualmie Valley. Rest stops and a block party in North Bend are featured. Sponsored by the Snoqualmie Valley Hospital and the Snoqualmie Valley Chamber of Commerce. Early registration discounts before July 12.
Ride the Roza Century — July 20, 2013  Follows the historic Roza Canal through the Yakima Valley past vineyards and orchards. Four mileage options of 25, 50, 60 and 100 miles begins in Prosser. Rest stops and a barbecue meal at the finish. Presented by the Kiwanis.
ALS Doubleday Bike Ride and Fundraiser — July 26-27, 2014  This two-day bike ride through the Skagit Valley raises money for the ALS Foundation to fight Lou Gehrig's disease. Free overnight camping at Mount Vernon High School. Three mileage and difficulty options the first day and two options the second.

RAMROD – July 31, 2014 Ride Around Mt. Rainier in One Day; 154 miles, 10,000 feet of elevation gain; registration for lottery March 1 – 31, 2012; announcement April 12. Check website in mid-February for more information
Bark Fooey — see August   A two-day Seattle to Vancouver bike tour with an overnight in the Bellingham area. Limited to 40 cyclists. Generally follows the RSVP route. Luggage sag to Bellingham and Vancouver; participants have to arrange transportation home.
Tour de Whatcom — July 27, 2013 Three mileage options for this bike ride — 25, 50 and 105 miles. Starts in Bellingham and tours rivers and lakes while in sight of snow-capped Mount Baker. Fund-raiser for Boys and Girls Clubs of Whatcom County.
Tour de Kitsap – July 28, 2013  Scenic loops of 5, 12, 32, 48, 72 and 100 miles around Kitsap County; leaves from Silverdale; sponsored by West Sound Cycling Club. Themed rest stops.

Spoke & Food – July 30, 2013  Bicyclists raise money by riding their bikes to one of the dozen or more participating restaurants; 20% of the dinner bill will be donated directly to the Family Works or Seattle, a food bank and resource center. This is Spoke & Food's third year. Check participating restaurants at website.
Jump to August Bicycle Ride Calendar