2018
Northwest Tandem Rally — July (see Oregon for 2018) The tandem rally visits Oregon in 2018, Boise, ID in 2019.
Bicycle Sundays: Seattle — July 8 and 15, 2018 Lake Washington Boulevard closed to vehicular traffic from 10 a.m. to 6 p.m. between Mount Baker Beach and Seward Park.
Wheels to Meals  — See June calendar Six bike routes travel the scenic roads of Pierce County, leaving from Puyallup. Distances of 10 to 75 miles . The bike ride is a fund-raiser ($100 in pledges) for the St. Leo Food Connection, which operates one of the state's largest food banks. Register
Probe: Perimeter Ride of Bellevue — July 9, 2017 (2018 TBA) The Cyclists of Greater Seattle present an 45-mile ride around the Eastside. Starts in Redmond.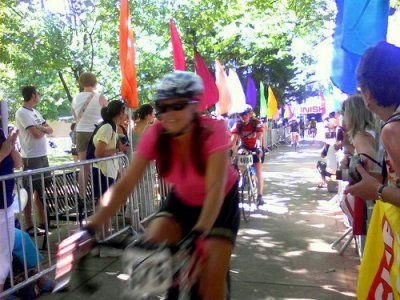 Seattle to Portland (STP) — July 14-15, 2018 Classic 200-mile bicycle ride in one or two days; registration caps at about 10,000. One of the top rides in the US. Cascade Bicycle Club. Sold out in April in 2010, so register early.
RedSpoke — July 18-22, 2018 Five-day, 300-mile fully supported bicycle tour from Redmond to Spokane; Rotary Club of Redmond
Timber Outdoor Music Festival — July 12-14, 2018 Music and mountain biking at Tolt MacDonald County Park in Carnation.
Tour de Chambers Bay — July 21, 2018 A 32-mile bicycle ride past the home of the 2015 U.S. Open. Features views of Puget Sound, Olympic Mountains and lush green forests, a ride through the paved paths of PowderWorks Park, and a downhill in University Place. Starts at Cutters Point Coffee in University Place. Created for Tacoma Washington Bicycle Club.
Tour de Whatcom — July 21, 2018 Four mileage options for this bike ride — 25, 50, 62  and 105 miles. Starts in Bellingham and tours rivers and lakes while in sight of snow-capped Mount Baker. Fund-raiser for Whatcom Mountain Bike Coalition.
Fondo on the Palouse — July 21, 2018 The bicycling event features three courses of 15, 50, and 100 miles, all beginning in Moscow, Idaho. The longer route goes through Pullman, WA.
Summer Seersucker Social — July 21, 2018  The ride is a flat 8 miles around La Conner coupled with a scavenger hunt. As you can tell from the name, the attire is seersucker. However, any other seasonally inspired clothing is more than welcome. If you are searching for a theme, then think "Great Gatsby" of the roaring 20's.
Ride Around Clark County — July 27, 2019 Five bicycle loops — 20 to 101 miles — pass plenty of Columbia River basin scenery. Starts at Pearson Air Museum. Sponsored by Vancouver Bicycle Club  
ALS Doubleday Bike Ride and Fundraiser — July 28, 2018 Charity bike ride for Evergreen Chapter of the ALS Foundation. Ride based in Snohomish.
RAMROD — July 26, 2018 Ride Around Mt. Rainier in One Day; 154 miles, 10,000 feet of elevation gain; registration for lottery; announcement April 12. Check website in mid-February for more information
Ride Around Washington (RAW) —  July 29 – Aug. 3, 2018 This bike tour visits the western part of the state in 2018,  from the Peace Arch to Port Townsend, and the Nooksack River to the western foothills of Mt. Baker. ( 250 rider limit )
Activis CF Cycle for Life – Seattle (Woodinville) — July 28, 2018 The Cycle for Life bike rides raise money for research and treatment for cystic fibrosis, an inherited chronic disease that affects the lungs and digestive systems of some 30,000 adults and children in the US. The fund-raisers typically feature a one-day bike ride with several mileage options.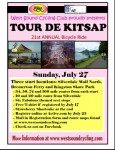 Route Canal (formerly Tour de Kitsap) — July 30, 2017 (2018 TBA) Six bike mileage options from 40 to 100 miles on the Kitsap Peninsula starting in Silverdale. Themed rest stops and strawberry shortcake at finish. Presented by West Sound Cycling Club. 
Spokane Valley Cycle Celebration — July 29, 2018 Three distance options of 10, 25 or 50 miles are available to participants. The rides start at the North Centennial Trailhead across from Mirabeau Point Park Meadows in Spokane Valley. Presented by ValleyFest.
Summer Seersucker Social — TBA
Jump to August Bicycle Ride Calendar