2017
Northwest Tandem Rally — July 1-4, 2017. The tandem rally visits Seattle in 2017.
Free Bike – Seattle July 1-10, 2016. Ten days of bicycling and related activities throughout Seattle area. Presented by Seattle Bike Blog, Pedaler's Fair and Swift Industries.
Bicycle Sundays: Seattle — July 2, 9, and 16, 2017  Lake Washington Boulevard closed to vehicular traffic from 10 a.m. to 6 p.m. between Mount Baker Beach and Seward Park.
Seattle Night Ride — July 7, 2017  Costumes and decorated bikes are welcome for this after-dark ride from Gas Works Park, along the Burke Gilman Trail and across the University Bridge to Lake Union. Presented by Cascade Bicycle Club.
Wheels to Meals  — July 8, 2017 Six bike routes travel the scenic roads of Pierce County, leaving from Puyallup. Distances of 10 to 75 miles . The bike ride is a fund-raiser ($100 in pledges) for the St. Leo Food Connection, which operates one of the state's largest food banks. Register
Tour de Chambers Bay — July 8, 2017 A 32-mile bicycle ride past the home of the 2015 U.S. Open. Features views of Puget Sound, Olympic Mountains and lush green forests, a ride through the paved paths of PowderWorks Park, and a downhill in University Place. Starts at Cutters Point Coffee in University Place. Created for Tacoma Washington Bicycle Club.
Probe: Perimeter Ride of Bellevue — July 9, 2017 The Cyclists of Greater Seattle present an 45-mile ride around the Eastside. Starts in Redmond.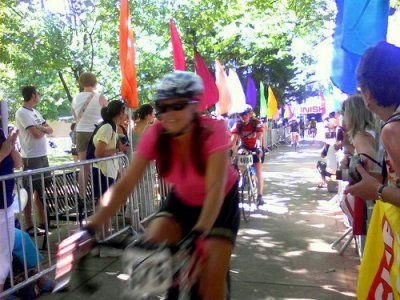 Seattle to Portland (STP) — July 15-16, 2017 Classic 200-mile bicycle ride in one or two days; registration caps at about 10,000. One of the top rides in the US. Cascade Bicycle Club. Sold out in April in 2010, so register early.
RedSpoke — July 19-23, 2017 Five-day, 300-mile fully supported bicycle tour from Redmond to Spokane; Rotary Club of Redmond
Timber Outdoor Music Festival — July 13-15, 2017 Music and mountain biking at Tolt MacDonald County Park in Carnation.
Tour de Whatcom — July 29, 2017  Four mileage options for this bike ride — 25, 50, 62  and 105 miles. Starts in Bellingham and tours rivers and lakes while in sight of snow-capped Mount Baker. Fund-raiser for Whatcom Mountain Bike Coalition.
ALS Doubleday Bike Ride and Fundraiser — July 29, 2017  Charity bike ride for Evergreen Chapter of the ALS Foundation. Ride based in Snohomish.
Spoke & Food-– TBA Bicyclists raise money by riding their bikes to one of the 20 participating restaurants; 20% of the dinner bill will be donated directly to the Hunger Intervention Program. This is Spoke & Food's fifth year. Check participating restaurants at website.
RAMROD — July 27, 2017 Ride Around Mt. Rainier in One Day; 154 miles, 10,000 feet of elevation gain; registration for lottery; announcement April 12. Check website in mid-February for more information
Ride Around Washington (RAW) —  July 29 – Aug. 5, 2017 This fully supported bicycle tour rolls from Metaline Falls to La Conner.  70-75 miles per day; presented by Cascade Bicycle Club ( 230 rider limit )
Activis CF Cycle for Life – Seattle (Woodinville) — July 29, 2017 The Cycle for Life bike rides raise money for research and treatment for cystic fibrosis, an inherited chronic disease that affects the lungs and digestive systems of some 30,000 adults and children in the US. The fund-raisers typically feature a one-day bike ride with several mileage options.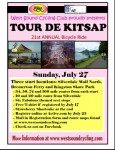 Route Canal (formerly Tour de Kitsap) — July 30, 2017 Cancelled for 2017 Six bike mileage options from 40 to 100 miles on the Kitsap Peninsula starting in Silverdale. Themed rest stops and strawberry shortcake at finish. Presented by West Sound Cycling Club. 
Spokane Valley Cycle Celebration — July 30, 2017 Three distance options of 10, 25 or 50 miles are available to participants. The rides start at the North Centennial Trailhead across from Mirabeau Point Park Meadows in Spokane Valley. Presented by ValleyFest.
Tour de Peaks — (Cancelled for 2016/2017) Riders are offered options of 25-, 50- or 100-mile loops against the Cascades in the Snoqualmie Valley. Rest stops and a block party in North Bend are featured. Sponsored by the Snoqualmie Valley Hospital and the Snoqualmie Valley Chamber of Commerce.
Summer Seersucker Social — TBA
Jump to August Bicycle Ride Calendar