(Update: Activist veteran zigs across nation to support soldiers, Olney, Illinois, April 3, 2008)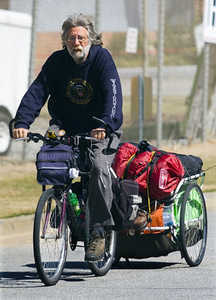 If you're a veteran and see this guy towing a bike trailer filled with his stuff across the southern US, you might want to stop and say hi.
He's Jerry Nelson, 56, a veteran of 15 years in the Navy and a Vietnam vet. He's pedaling cross-country to find some peace of mind.
After hiking last year from New Mexico to Washington DC, where he camped in front of the Vietnam Veterans Memorial, he's now pedaling his Trek 850 hardtail and pulling a Burley trailer to Oregon. Along the way he's spending nights at American Legion posts and speaking to veterans groups.
Vietnam
A reporter for the Columbus (GA) Ledger asked if the bike trip has helped:
"The short answer is 'yes.' I believe I'm able to control my feelings about the war. I know we all face our personal 'Vietnams.' So it's not just me. But there are some matters I am still having trouble getting my arms around."
Nelson undertook the hike when he got divorced, didn't have a job, and way trying to find his spirituality. He also wanted to honor shipmates who names are on The Wall. Now he's trying to raise awareness and trust in the Department of Veterans Affairs, which he admits most of his peers don't trust.
After leaving Columbus, he's headed to Opelika, Alabama.
I certainly wish him luck in completing both his journeys, the one on his bike and the one in his head.