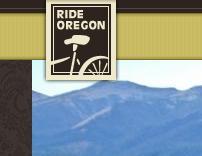 If you're planning a bike vacation to Oregon, you'll certainly want to include a stop at the Oregon Tourism Commission's Ride Oregon website.
I just stumbled across this resource recently and was amazed at the amount of bicycling information that's packed into the website.
There are some pretty pictures displayed on this big budget website, but there is also lots of solid, up-to-date information about bike travel in the state.
That's no wonder, when you see the steering committee and the contributors, which includes Jonathan Maus of BikePortland.org, Scott Bricker at Bicycle Transportation Alliance and the staff at Cycle Oregon.
Just the facts
Much of the information is calendar- and map-based. For instance, 90 mountain bike routes and 80 road routes are plotted on a map of Oregon with detailed descriptions about difficulty, length and locations.
Let's say I want to see what road rides are located near Eugene. I can browse through the list of rides associated with the state map until I come upon one I like — Rainbow to Oakridge. I click on the link and see it's a 65-mile route with extreme difficulty. Good. That sounds like a challenge.
I dig deeper and see a map of the route, which I can print out, and an elevation chart that tells me the summit is about 35 miles in. I also find that the route is actually 89 miles one-way, not 65. Oops. Looks like a glitch. It's 65 if you just ride to the summit and return. It pays to check these out in detail. There's a comment section on the map; I'll bring that to their attention.
More info
Hundreds of bike events, such as group rides, advocacy meetings, races, contests and bikey social meetups are included on the calendar.
There is a lot of bricks-and-mortar information at the website for bike travelers.
First off, the website tells how out-of-state visitors can get their bicycles to Oregon via plane or train.
You'll also find information about bike shops, bike tour companies, lodging, eating and attractions.
I get the impression that a beta version of the website has been up for a while, but the official launch was just last week.
This is certainly an excellent tool for bike travelers. Similar easy-to-use websites in all 50 states would certainly add convenience to bicycle touring.