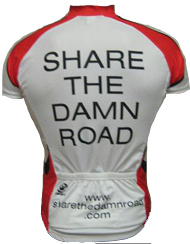 There's a jersey up ahead.
It's being worn by a guy who is riding the greatest invention of all time — the bicycle.
Emblazoned across the back is a message. More like a slogan.
"SHARE THE DAMN ROAD"
The motorist is confused. Is it meant to humor him or taunt him? Is he having a good day or a lousy day? What happens next?
The "Share the Damn Road" jersey and some others, such as "Don't Run Me Over" and "Don't Honk At Me," are ideas that sprang from the mind of pro cyclist Phil Gaimon.
Buzzed and honked at
Gaimon is a member of the Jelly Belly team. You may have read his "Living the Dream" blog posts at Bicycling.com.
He recently wrote that because he's a bike racer, he'll need something to augment his salary for the next few years so he launched this online cycling jersey business at Sharethedamnroad.com. Why the slogans?
"Since I started riding on the road, I've always been angry at getting buzzed or honked at by passing cars, and resented that they drive off too fast for me to give them a piece of my mind. Giant text on the back of a jersey was an obvious answer, and I've been writing down my ideas for years now."
Less confrontational
For those more comfortable wearing a less confrontational jersey, Gaimon also has penned other jerseys. One reads "3 Feet" with an arrow to remind drivers about the 3-foot passing margin requirement for passing in many states, and another jersey reads Infinite MPG, using the symbol for infinity.
Printed in reverse on the front of every jersey is a word that appears as "THANKS" in the motorists' rear view mirror. Nice sentiment.
Other messages
Others are offering cycling jerseys that carry a message to motorists as well.
Another pro cyclist, David Zabriskie of Team Garmin, launched the Yield to Life campaign last year to reduce the hostility between cyclists and motorists with "understanding, respect, and appreciation for all life on the road." Donors to that campaign can receive a "Yield to Life" jersey.
Another jersey that's more informational is the bright yellow "3 Feet Please" jersey. On the front it says: "It's the law." The jersey is a available at 3feetplease.com.