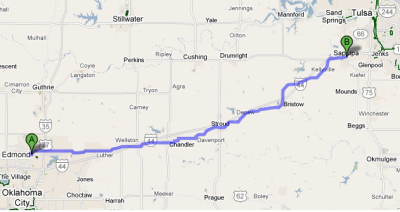 A 90-mile section of the Mother Road, Route 66, in Oklahoma would be designated a "Historic Bike Trail" under a bill submitted by a state legislator.
It's the latest move to transform the historic 2,400-mile highway from Chicago to Los Angeles into a long-distance bicycle route.
Adventure Cycling Association announced in November that it had chosen the corridor of the iconic American highway as its next bicycle route, complete with detailed road maps and descriptions of roadside services.
Build shoulder
The bill (HB2049) by Republican Rep. Lewis Moore would designate Oklahoma Highway 66 as a Historic Bike Trail between the city limits of Sapulpa and Edmond, essentially from the outskirts of Tulsa to the neighborhood of Oklahoma City. (The approximate route is shown on Google maps above.)
In addition, the bill says that the Department of Transportation will mark the highway with Historic Bike Trail signs and, if funds are available, build a shoulder along the road for use by bicycle traffic.
Highway 66 is largely a two-lane road between the two cities with no shoulder to the right of the fog line.
In recent years the Tulsa-Oklahoma City route has been used for The Mother Road Ride, a charity bike ride for Bike MS. That ride returns to Highway 66 in 2011.
Supporters
The Oklahoma Bicycling Coalition wholeheartedly supports the bill and urges its members to contact their senators and representatives to support the legislation.
The Coalition says that last year it joined forces with the Oklahoma Department of Tourism and Recreation in an unsuccessful bid for a grant to conduct an economic impact study along the Highway 66 corridor.
As part of that effort, they created an online petition seeking support for a bicycle route along the old Route 66 corridor. Supporters can still sign the Oklahoma Route 66 Bicycle Corridor petition.
Adventure Cycling anticipates it will take 3 or 4 years to prepare the maps for the long-distance bike route. Since Route 66 was decommissioned in the 1980s, parts of its have been used for interstate highways or have fallen into serious disrepair.
More about Route 66 in Oklahoma.
Update: Also, see the Roger Kramer Cycling blog for a summary of what's happening to preserve Route 66 in Illinois, Missouri, Kansas, New Mexico, Arizona and California.