It turns out that Vashon Island in Washington state's Puget Sound isn't the only place in the US where a tree has enveloped a bicycle. But it remains the only known place where a "living" tree has done so.
The bike-in-a-tree is well known among cyclists in the Seattle area, and many have made the ferry ride over to Vashon Island to search out the rusty 50-year-old girl's bike embedded in a tree.
But word now comes from Edmond, Oklahoma, where a 73-year-old lumberjack stumbled across a Schwinn bicycle "fully engulfed by a tree," reports Tulsa's News on 6.
Gary Haskins told the reporter:
"I'd seen it once and then I went back to take another look at it and then it struck me…Wow. … This is without a doubt one of the most strangest things."
The bicycle stuck in a tree was such an amazing natural discovery for Haskins, that he promptly cut down the tree and sawed out the section that held the bike. Now, he's offering it for sale.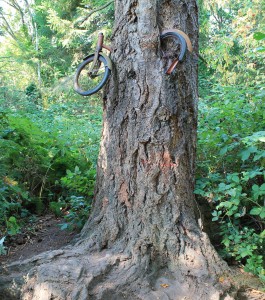 Thanks to Haskins, Vashon Island is again the only place I know of where a tree grows that holds a bicycle.
For more about the background of the Vashon Island bicycle tree, check out "That old bicycle lodged in a tree on Vashon Island…"