It's surprising to me that we're closing in on the 40-year anniversary of Bikecentennial — an event that has launched hundreds of thousands of bicyclists to ride across the US.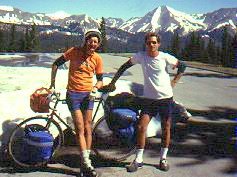 The original Bikecentennial coincided with the nation's Bicentennial in 1976. That first year, some 4,100 bicyclists took up the challenge to ride between Reedsport, Oregon, and Yorktown, Virginia, along a route that had been charted over the previous three years.
Today that route is known as the TransAmerica Trail (its western terminus is now Astoria), and the group that oversees it has been renamed Adventure Cycling Association. The nonprofit since mapped some 40,000 miles of bicycle routes that cris-cross the US and offers dozens of guided bicycle tours every year.
So it's no surprise that, next year, Adventure Cycling will be celebrating the Bikecentennial summer that started it all.
A number of bicycling events will mark the anniversary, but the biggest celebration will occur at the organization's headquarters in Missoula at the Montana Bicycle Celebration. Reunions, parties, bike rides, music and more will highlight the celebration from July 15-17, 2016.  The event coincides with the Tour of Montana bike expo.
There are other ways to mark the 40th anniversary:
The National Bike Travel Weekend is slated for June 3-5, 2016. That's when friends and families are encouraged to leave home on their bicycles and go for an overnight bike ride to a campground or nearby bed and breakfast inn. Many will be surprised at how quickly and completely their bicycle can take them away from the demands of their everyday lives.
The possibilities of bike riding through public lands is celebrated in the fall with Bike to Your National Park Day, Sept. 24, 2016. That's a fee-free day in state and national parks, and Adventure Cycling is encouraging folks to visit on their bicycles.
If none of these are suitable, try a "do-it-yourself" reunion. Adventure Cycling will make it possible to reunite with other cross-country bicyclists so you can create your own appropriate celebration.
The 40th anniversary activities aren't just for those intrepid bicycle adventurers who made that first trek. It's for all the free spirits who use their bicycles for travel.
Adventure Cycling is looking for people to register at the Bikecentennial 40th Anniversary webpage to note their interest in getting more information or participating in any of the events. There's also space to volunteer to help mark the anniversary.
Adventure Cycling celebrates 40 years of bicycle touring at Tumblr with photos from readers' photos of their bicycle tours.