The U.S. Bicycle Route Network continues to grow. Now standing at 11,053 miles, it is one-fifth of the way to achieving its goal of 50,000 miles of signed bicycle routes in the U.S.
The latest growth spurt came after the American Association of State Highway and Transportation Officials approved 2,141 miles of new routes in five states — Vermont, Georgia, Indiana, Kansas and Arizona. An alternate route — USBR 50A — was approved in Ohio, as well.
The Adventure Cycling Association, which has been spearheading the drive for a bicycle route network that cris-crosses the US, announced that the latest approvals puts U.S. Bicycle Routes in 23 states and the District of Columbia.
Washington state is among those, as the cross-state USBR Route 10 was approved last year.
Here's a quick rundown of the routes added to the U.S. Bicycle Route System: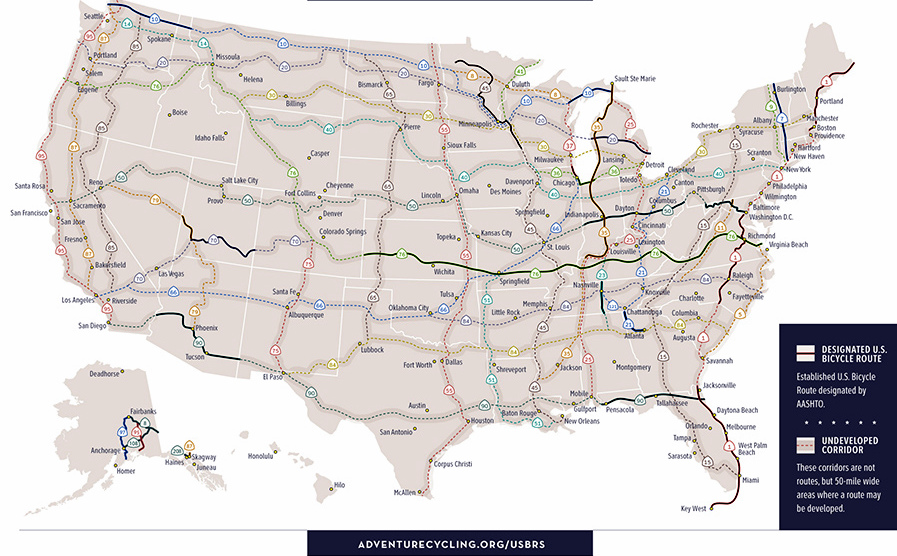 U.S. Bicycle Route 7 in Vermont (226.7 miles) — Includes the first part of the Western New England Greenway to be added to the list;
U.S. Bicycle Route 21 in Georgia (160.8 miles) — Runs across North Georgia from Atlanta to Chattanooga on the Tennessee border;
U.S. Bicycle Route 35, 36 and 50 in Indiana (610 miles) — USBR 35 is a north-south route that runs between the borders of Kentucky and Michigan (it hooks up with Michigan's USBR 35 for 865 miles in total length); USBR 36 runs 59 miles between the state lines of Illinois and Michigan; and USBR 50 is a 171-mile east-west route that intersects USBR 35 in Indianapolis.
U.S. Bicycle Route 76 in Kansas (487 miles) — This essentially the east-west Trans-American Trail, originally known as the BikeCentennial Trail;
U.S. Bicycle Route 90 in Arizona (573 miles) — An east-west route across the state that generally follows the Southern Tier Bicycle Trail;
U.S. Bicycle Route 50A in Ohio (32.3 miles) — An alternate route to USBR 50 that comprises the TJ Evans Trail, Hoover Scenic Trail, and Ohio to Erie Trail/Genoa Trail.
More details on the trails at Adventure Cycling Association.
Also, learn how to volunteer to work on the U.S. Bicycle Route project and how to find and ride one of the routes.