Four Eastern Washington towns have issued proclamations supporting the John Wayne Pioneer Trail, as the third and final public hearing on the fate of the rail-trail takes place in Ellensburg tonight.
The meeting is scheduled for 6 p.m. at the Hal Holmes Center, 209 N. Ruby St., Ellensburg. [More details at the Tekoa Trail & Trestle Association.]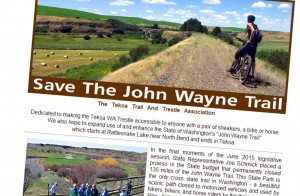 Although the attempted closure targeted 130-some miles of trail east of the Columbia River, trail advocates from eastern and western Washington are expected at tonight's meeting. The closure would destroy its future as a cross-state bicycle travel corridor.
Meanwhile, the Tekoa Trail & Trestle Association launched the Save the John Wayne Pioneer Trail website. It gives details about the controversy, a guide to saving the trail, as well as news articles and letters from those who support the trail.
The proposed closure was slipped into the state budget by Republican state Reps. Joseph Schmick and Mary Dye. A wording error that stated the trail would be closed "from the Columbia River to the Columbia River" negated the provision. The intent was to close the trail from the Columbia River to the town of Malden and gift the land to the adjacent property owners.
So far, the cities of Spokane, Pullman, Tekoa and Colfax have issued proclamations in favor of keeping the trail open. Ted Blaszak, president of the Tekoa Trail & Trestle Association and a member of the Tekoa City Council, said more towns along the old railroad corridor are likely to join up.
They see the potential economic benefit of the 253-mile cross-state trail as a bicycle tourist attraction.
Trail advocates raised concerns about the trail closure after the scheme became public. Schmick agreed to hold the three meetings to get public input about the future of the trail. Schmick and Dye originally said they wanted to close the trail because adjacent landowners complained about illegal dumping and trespassing.