Here's a reminder that May is National Bike Month.
We've already had Bike to School Day on May 9, and Cyclofemme this past Mother's Day on May 13.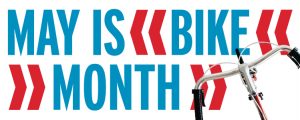 This week is Bike to Work Week, and Friday is Bike to Work Day in most cities. In Seattle, the Cascade Bicycle Club calls it Bike Everywhere Day.
Whoever thought of that name change is definitely on the right track. The overall idea of National Bike Month is to encourage people to ride their bikes — not just to work but also to the store and other errands.
Consider that 40% of all trips in the US are less than 2 miles. If the majority of us take those jaunts by bicycle, instead of car, van or pickup, we would help alleviate traffic congestion, improve air quality, and make ourselves healthier.
If you're out commuting or errand-running in the Seattle area on Friday, be sure to look out for the Bike Everywhere Celebration Stations where you can pick up water, snacks, and biking swag, as well as getting free help from a bike mechanic. See the map below: