Sometimes an illustration, or a fully drawn cartoon, is the best way to tell the story. That is as true in bicycling as in anything else.
Here are two examples of stories that used illustrations or cartoons to explain moments in bicycle history that caught my attention recently.
One is a cartoon by Taj Mihelich, founder of Norwalk, California-based Fairdale Bikes. It tells the story of overcoming fear and surviving a crash in a spectacular fashion.
There are more of these Amazing Moments in Bicycle History you can watch at Singletrackworld.com.
The other example is an article at Vermont's VTDigger. It tells how University of Vermont anthropologist Luis Vivanco draws some of his lectures in cartoons. He finds they get wider circulation than the scholarly dissertations seen by only a few academics.
His latest work explains the rise of bicycling in Vermont in the 1890s. Below is his illustration of "bicycle face" and sore throats, based on his research of newspaper and magazine articles at the time.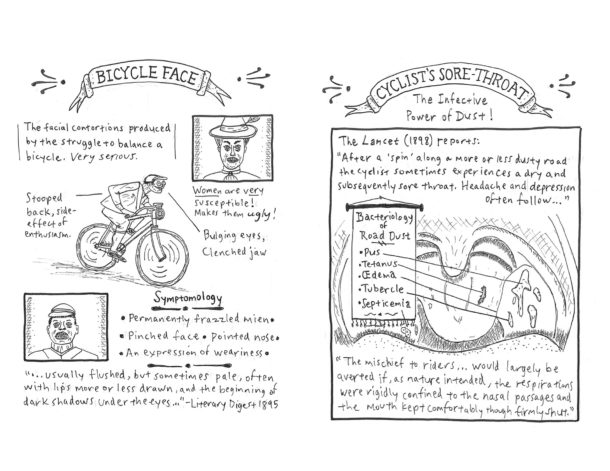 You can see more drawings from the anthropologist that studies Vermont's bicycle at VTDigger.