Monday, June 18, 1984
Ordway to Pueblo, Colo.
39 miles
Locator map
I'm reprinting the day-to-day journal entries of a cross-country bike tour my friend and I took in 1984. More about the TransAmerica Tour 1984
Gene's Journal
It's after midnight, and Bruce and I have just finished making basic overhauls and installing new parts on our bicycles. We used the "bicycle workshop" in the shed behind the home of our newfound friend — a 14-year-old in a house full of biking enthusiasts.
We got a late start this morning from Ordway after our epic 124-mile ride the day before. Fortunately the air had cleared this morning and we continued on good, old Route 96. In all, we'd ride this road for 241 miles, all the way from Dighton, Kansas to Pueblo, Colo. We first saw the Rockies — just a blue strip along the horizon — at Olney Springs and continued effortlessly into Pueblo, the biggest town on our trip and about our halfway point.
We made our way into downtown and found the YWCA (yes, women's) where our guidebook listed another hostel. Wrong again. From there we ended up at Bob's Bicycles, where we bought some bike gear and were introduced to Pat, who called his parents to see if we could spend the night.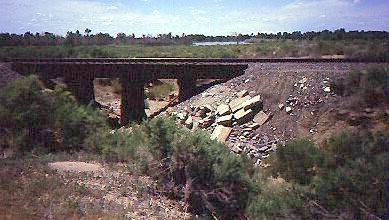 Pat's parents didn't mind taking in a couple of bicycle tourists and we can see why. There's plenty of room, as they live in a big old house on a tree-lined street. We really can't tell how many brothers and sisters Pat has because people are always coming and going. They love to bicycle, and a large part of their garage was devoted to bicycles and bike tools.
After dinner, Bruce, Pat and I stayed up late to overhaul our bikes. I had bought a new wheel (the spokes kept breaking on my old one) and new brake pads.
And now I just sit here amazed at how many new friends we've met on this trip who are willing to take care of us.
---
Headline: June 18, 1984 —
Swale, the 3-year-old winner of the Kentucky Derby and Belmont Stakes,
keeled over and died after a training ride. The horse was buried in an oaken casket with a silver lid….
---
Bruce's Journal
Tuesday morning now. We are in the kitchen of Duncan and Marilyn and their four children, Amy (who will be an AFS student next year in Norway), Patrick, a sophomore who works at the local bike shop; J.J. and Sarah. The youngest two are into tennis and soccer. Also Casey, the golden retriever.
We were adopted by the family when we met Patrick at Bob's Bike Shop yesterday afternoon. He called his mom at the owner's suggestion and we were invited over, which was great since the hostel at the YMCA was no longer a hostel and we were a day early in Pueblo.
We didn't leave Ordway until 10:30 and made our 50 miles before 3 p.m. We had a great pasta and beer lunch at the Pioneer on Main Street and then we went bike-part shopping. I bought two new tires and insoles for my shoes. Bis got tires, a new wheel, new brake shoes. All together, the bill was $91. What a haul.
We will meet Farrell and stay with him. We have more errands to run this morning: laundry, Bis's glasses need straightening, my shorts need sewn. It's nice to have a break from the riding, especially since we have busted our buns this past week.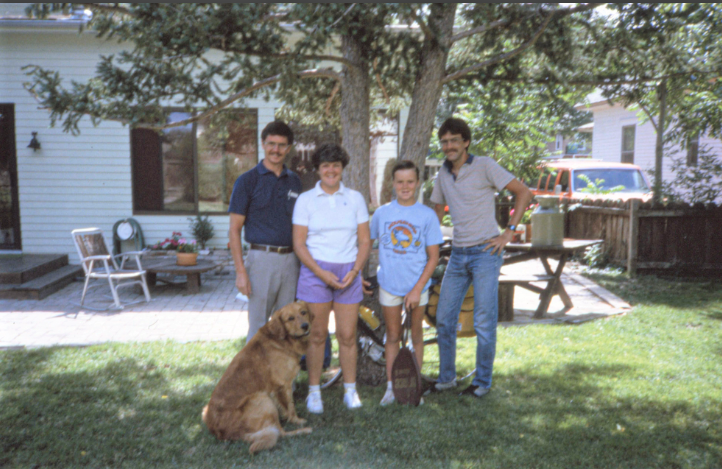 The Henricksons are such a nice family. Duncan works real estate out of his house, a roomy old three-story with nooks and crannies and great wood furniture like I like. A great piano also. Duncan and Patrick go touring together on their bikes and the family is a happy, close unit. It really is nice to see.
They adopted us with open arms; no reservations. And we had a great time being with the kids and the parents. We worked on our bikes last night in the workshop garage, and we are refreshed, refurbished and resupplied for the second leg of our journey.
It seems like all the people we meet are friendlier than the ones before them.
Duncan is also familiar with the Colorado routes we are taking and has given us some invaluable advice which I am sure we will accept. It's such a pleasant atmosphere here, I can't say enough about it.
Tomorrow:
Day 38: Just hanging out

View 1984 Bicycle Tour in a larger map