Tuesday, June 26, 1984
Durango to Pagosa Springs, Colo.
60 miles
Locator map
I'm reprinting the day-to-day journal entries of a cross-country bike tour my friend and I took in 1984. More about the TransAmerica Tour 1984
Bis' Journal
We hooked up with a German couple on the road today who taught us about a new health drink, although we have yet to try it while cycling.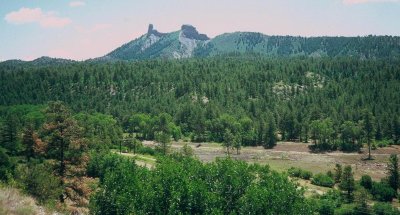 We packed up early at the hostel in Durango and took off. Anymore, I always feel better being back on the road, no matter how much I needed a rest day. It just feels better being on the bike.
Today we're following a new map behind the clear window in my handlebar bag. We're long-finished with the traditional Bikecentennial maps — that route veered north somewhere after Pueblo. We're on the Great Parks South Bicycle Route Extension map.
It's good to know that we're back on a route found suitable for bicyclists, although it's disconcerting to have California as our final destination and not be chasing our shadows in the morning. We're heading due south, and we'll go east before we swing back around toward the west. During the day we passed Chimney Rock (above), which was in our view much of the time. It's an archeological site and was home to several hundred people 1,000 years ago.
German cyclists
We made our first stop at a store in Bayfield and met Gunter and Elsa, two Germans visiting the Southwest for the second time. He works for Lufthansa and gets 7 weeks' vacation a year. Seven weeks! Gunter spoke English, Elsa didn't, as far as we could tell. He kept up a running conversation while we cycled along, his wife only cursed "Scheit" as she struggled up some long grades.
We stopped at another store in Piedra, where Bruce and I bought a couple of OJs and they bought two Coors. "Normally we drink wine, but they didn't have any," Gunter explained. They bought a couple of more beers at a stop near Pagosa Springs.
We all decided to stay at a KOA just north of Pagosa Springs. Gunter and Elsa took off, as rain delayed Bruce and me from cooking our dinner, which we didn't finish until dark. Just as I climbed into my sleeping bag, Gunter and Elsa showed up laughing and carrying on. They had ridden into town for dinner and were riding back after dark when they were stopped by a policeman for not having lights on their bikes. So they put one foot on a pedal and pushed their bikes like scooters, leading to a couple of near-accidents.
Wine jug
They also carried their nightly jug of red wine with them, which they had carried back all the way from town. We helped them drink it. "This is a very important part of our diet," Gunter explained.
Elsa hit the sack, but Gunter stayed up telling us about late-night dining in Germany and partying and such. We nearly finished that jug, and I slept very soundly that night at the KOA.
---
Headline: June 26, 1984 —
The US Senate voted 88-1 to delete aid to Nicaraguan rebels
from an emergency spending bill … (one of the actions that set up
the Iran-Contra scandal, in which Reagan Administration officials
sold arms to Iran,
using the proceeds to fund the Nicaraguan rebels…)
---
Bruce's Journal
We left Durango after breakfast at McDonald's, a trip to the gas station to re-tighten my headset and another trip to the laundromat because my sleeping bag had not fully dried. We made Bayfield about 15 miles down the road, where we met a German couple cycling our direction. Gunter and Elsa, 43 and 44, respectively. He's an air traffic controller in Frankfurt and this is their second bike tour in the West. Gunter spoke good English. Else understood but made little attempt to speak because her English was rusty.
We rode together for a while and at our first stop at a country store, Bis and I got juice and they both gulped down a Coors. I asked them if they always drank beer when they rode, and Gunter said, "only when we can't get wine."
Later, when they caught up to use at Pagosa Springs, they drank another beer.
KOA
It was a beautiful ride to Pagosa Springs and we camped, all of us, just outside of town at a KOA. No sooner than the tents were up it started to rain and continued steadily for almost two hours. I napped in the tent. Spaghetti for dinner that night (what else?). Gunter and Elsa waited out the rain, then rode back to town for dinner. They returned with a liter of Gallo Hearty Burgundy and we sat around the picnic table talking and drinking as night fell.
It was very interesting talking to a foreigner about our country and his [mostly because after all that wine, I couldn't understand what the hell he was saying anyway]. It was an enjoyable way to end the day.
Tomorrow:
Day 46: Back and forth over the Divide at Chama