Updating to 2021
Due to Covid-19, please verify your bike rides as they've likely been cancelled or postponed. Many charity bike rides are offering alternative fund-raising opportunities.
Breathe Bike Trek (Emigrant Trails Bike Trek) — 2021 TBA Three days of cycling in the Petaluma area. A fund-raiser for Breathe-California of Sacramento-Emigrant Trails.
Central Coast Double Century — Sept. 4, 2021 The bike ride leaves Paso Robles and climbs into the Santa Lucia Range and down the Salinas Valley; total 209 miles and 13,000 feet of climbing; part of the Triple Crown; there's also a 170-mile Central Coast Challenge.#
Gold Country Cycling Challenge — Sept. 11, 2021 Cyclists will tour the backcountry roads of Gold Country in Nevada County on half metric and 55-,75-mile and 100-mile bike routes. Also three gravel rides – a 63 mile, 42 mile and a 10 mile Empire Fun Ride sponsored by ​Big Brothers Big Sisters. Presented by Rotary Club of Grass Valley. Meets at Nevada County Fairgrounds in Grass Valley.
Grizzly Peak Century — Sept. 12, 2021 A 100-mile ride up Grizzly Peak in eastern suburbs of San Francisco Bay; leaves from Campolindo High School, Moraga; sponsored by Grizzly Peak Cyclists#
Ride 4 Diabetes — The charity ride for American Diabetes Association features options of 90k, 60k, 18k and Bunny routes in the West Valley of Santa Clara County. SAG, sweep, and rest stops on all routes. Lunch, entertainment and vendors are provided at the staging area DeAnza College, Cupertino.
Grizzly Century — 2020 TBA A 100-mile ride starting in North Fork to promote the Sierra Vista National Scenic Byway. Also, 63- and 25-mile loops.
Mile High Century — Rescheduled to Sept. 5, 2020 This ride has a ride history of more than 30 years. The Lake Almanor Basin Indian Valley bike ride meets at Chester Park. Three options — 108, 56 and 33 miles — are available. All riders get an Elks Lodge spaghetti feed.
Ojai Valley Century — Sept. 12, 2020 Four route options include the Double Metric Century and the Hammerhead Century (featuring a morning hillclimb). All rides leave from Libby Park in Ojai.
Tour de Fuzz — Sept. 12, 2020 Three Wine Country ride options; 50K, 100K and 100-mile. Also a finish-line party, all-you-can-eat "Pig BBQ", gourmet food, free beer, Sonoma wines, ice cream, live music and post-ride law enforcement expo.
Mammoth Gran Fondo (formerly Mammoth High Sierra Fall Century) — Sept. 12, 2020 A gran fondo and century bike ride tours the east side of the Sierra Nevada from Mammoth Lakes. It also has views of Mono Lake and White Mountains. Options of 30, 45, 60 and 100 miles
Amtrak Century — TBA A 100-mile bike ride from Irvine to San Diego with a return by private Amtrak train. Presented by the Orange County Wheelmen. ("Pirate" riders not welcomed.)
Best Buddies Challenge: Hearst Castle — Sept.12, 2020 A bike tour with three options — 100, 62, or 15 miles — to support those with intellectual disabilities. The long bike route goes from Carmel to San Simeon; others along Pacific Coast as well
Tour de Tahoe — Sept. 13, 2020 A 72-mile bicycle tour around Lake Tahoe that starts at Hard Rock Hotel & Casino Lake Tahoe (formerly Horizon Casino) on Highway 50, Stateline, South Shore Lake Tahoe, Nevada.
Ojai Valley Century — Sept. 12, 2020 Four route options include the Double Metric Century and the Hammerhead Century (featuring a morning hillclimb). All rides leave from Libby Park in Ojai.
Tour de Big Bear — Sept. 19, 2020 Five route options are offered in the mountains of Southern California — tours of 25, 50, 70, and 107 miles and a 125-mile Gran Fondo with 12,000 feet of climbing. Leaves from the Village at Big Bear Lake.
V3 Septemberfest (formerly V3Hopfest and Veterans Victory Velo) — Cancelled for 2020 Cyclists can choose 15, 30, 60, or 100 mile rides through the foothills of Mount Diablo, San Ramon Valley neighborhoods or the Livermore Valley vineyards. A fund-raiser for Sentinels of Freedom, a national nonprofit that helps severely wounded post-9/11 veterans complete their higher education. #
Unknown Coast Weekend — (Cancelled indefinitely) The two-day 100-mile trip visits the coastal towns of Ferndale, Honeydew and Petrolia. Includes bike riding along the Eel River and through the Avenue of the Giants. Sponsored by the Chico Velo Cycling Club.
Bike MS – Waves to Wine — Sept. 12-13, 2020 A two-day bike journey b.etween San Francisco and Healdsburg, California.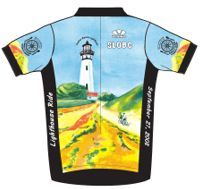 BORP Revolution Ride — Sept. 19, 2020 Five routes offered through the Sonoma County's Alexander Valley to raise money for adaptive sports and recreation programs. Options of 5K to 65 miles. Starts at Trentadue Winery in Geyserville. Presented by Bay Area Outreach and Recreation Program in Berkeley
Pablove Across America — Sept. 22-26, 2020 A 550-mile bike ride from the East Bay to LA. The route heads east into Yosemite and Sequoia national parks ending up in Los Angeles. A fund-raiser to support the battle against childhood cancer.
Rosarito Ensenada — Sept. 25, 2021 A 50-mile bike ride along the Pacific Coast from Rosarito Beach to Ensenada in Baja California. Mostly flat along the coast, there is a climb to the inland portion of the course.
Napa Ride to Defeat ALS — Sept. 26, 2020 Five bike rides options — 12, 27, Metric and Advanced Metric centuries, and a 100-miler — leaving Yountville. Cyclists will ride through the Napa Valley during grape harvest season, followed by a gourmet lunch, free hot showers, live music and wine tasting at the finish. Fund-raising for ALS is optional.
Sonoma County Backroad Challenge — Sept. 26, 2020 Features three bike ride options on Sonoma County's pastoral roads — 99, 70 and 35 miles. The loops start and finish at Lagunitas Brewery in Petaluma. Presented by Petaluma Sunrise Rotary.#
San Diego Century Bicycle Tour — Rescheduled to Sept. 26, 2020 A 102-, 65- and 37-mile bike ride options are included in this year's Encinitas Sports and Fitness Festival. Bicyclists make their way up Dos Pico Peak on the century ride for a 30-mile descent to the finish. Sponsored by city of Encinitas.#
NorCal AIDS Challenge (Sacramento) Sept. 30 – Oct. 3, 2021 This  330-mile bike ride in Central California to benefits HIV/AIDS services in the Sacramento Valley. There's also a shorter weekend option. Online support for training and fund-raising.#
Lighthouse 2019 Ride — Sept. 26, 2020 The bike ride offers two hilly centuries and a flat metric century. All rides begin at Morro Bay High School. Sponsored by the San Luis Obispo Bicycle Club. (Note: Register early!)
Santa Clarita Gran Fondo — 2020 TBA Featuring 100, 60 and 20 mile routes, this bicycle ride travels through the hills and mountains of Santa Clarita Valley.
Jump ahead to October